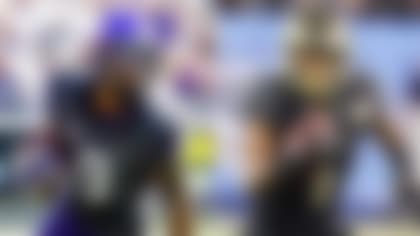 The lone returning finalist for the 2014 Biletnikoff Award, Colorado State's Rashard Higgins, is among 48 players selected to this year's watch list for the honor.
Other top talents on the 2015 Biletnikoff watch list, which was released Wednesday, include Baylor's Corey Coleman, Western Michigan's Corey Davis, TCU's Josh Doctson, Florida's Demarcus Robinson, UMass' Tajae Sharpe and Clemson's Mike Williams.
Among the notable players absent from the list: Pitt's Tyler Boyd, Ole Miss' Laquon Treadwell and Auburn's D'haquille Williams.
Players can be added to the watch list during the season. The award goes to the nation's top collegiate wide receiver.
Ten semifinalists for the award will be announced on Nov. 16 and three finalists will be named on Nov. 24. The winner will be presented on Dec. 10.
Schedule of award watch list releases:
Biletnikoff Award watch list
Victor Bolden, Oregon State
Devonte Boyd, UNLV
Daniel Braverman, Western Michigan
Ryan Burbrink, Bowling Green
KD Cannon, Baylor
Leonte Carroo, Rutgers
Rashon Ceaser, ULM
Corey Coleman, Baylor
Pharoh Cooper, South Carolina
River Cracraft, Washington State
Jared Dangerfield, Western Kentucky
Corey Davis, Western Michigan
Josh Doctson, TCU
Travin Dural, LSU
Alex Erickson, Wisconsin
William Fuller, Notre Dame
Jakeem Grant, Texas Tech
DaeSean Hamilton, Penn State
Donovan Harden, Georgia State
Carlos Harris, North Texas
Rashard Higgins, Colorado State
Ajalen Holley, ULM
Cayleb Jones, Arizona
Corey Jones, Toledo
Isaiah Jones, East Carolina
Marcus Kemp, Hawaii
Roger Lewis, Bowling Green
Keevan Lucas, Tulsa
Byron Marshall, Oregon
Mitch Mathews, BYU
Teldrick Morgan, New Mexico State
Jordan Payton, UCLA
Josh Reynolds, Texas A&M
Jalen Robinette, Air Force
Demarcus Robinson, Florida
Alonzo Russell, Toledo
Artavis Scott, Clemson
Hunter Sharp, Utah State
Tajae Sharpe, Massachusetts
Sterling Shepard, Oklahoma
Thomas Sperbeck, Boise State
Nelson Spruce, Colorado
Taywan Taylor, Western Kentucky
Trent Taylor, Louisiana Tech
Michael Thomas, Ohio State
Shaq Washington, Cincinnati
Mike Williams, Clemson
Ron Willoughby, Buffalo