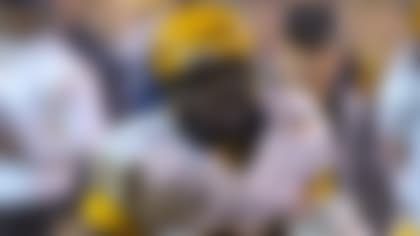 We're continuing our countdown to the top team in college football for 2014 and unveiling our teams in groups of eight, working backward from 128. Thus, the fourth batch of our rankings includes teams ranked 97th through 104th.
We'll include a look at each team's top players. Obviously, the better the team, the more "top players." Still, even teams that are going to struggle to win two or three games have players that are worth watching, and we'll let you know who they are.
Coach: Paul Haynes
2013 record: 4-8
Top players to watch: OT Jason Bitsko (6-foot-3, 280 pounds, junior); RB Trayion Durham (6-1, 248, senior); P/K Anthony Melchiori (5-11, 186, junior); TE Casey Pierce (6-4, 235, senior)
The outlook: The Golden Flashes won a school-record 11 games in 2012 and coach Darrell Hazell left for Purdue. Enter Haynes, a Kent State alum who had been on Ohio State's staff. While the Golden Flashes slumped last season, there is hope they can get back to .500 this fall. Durham is a bruising between-the-tackles runner who rushed for 1,346 yards and 14 TDs in 2012 before managing just 766 yards and six TDs last season. Bitkso is the best player on an iffy line. Pierce led the team with five TD receptions last season and needs to be a more frequently utilized option this season. Melchiori has a chance to finish in the top 10 nationally in punting. The back seven on defense could be good, especially the secondary. However, the front four is iffy. Other than a Sept. 13 trip to Ohio State, the schedule isn't that tough. The opener on Aug. 30 against Ohio is a big one; a win could show that Kent State -- which has won four of the past five in the series -- will be in the running to finish as high as second in the MAC East.
Coach: Kyle Flood
2013 record: 6-7
Top players to watch: WR Leonte Carroo (6-1, 200, junior); DT Darius Hamilton (6-4, 260, junior); RB Paul James (6-0, 210, junior); G Kaleb Johnson (6-4, 30-5, senior); TE Tyler Kroft (6-6, 240, junior); LB Steve Longa (6-1, 220, sophomore); OT Keith Lumpkin (6-8, 315, junior); G Chris Muller (6-6, 300, sophomore)
The outlook: From a financial standpoint, Rutgers' move into the Big Ten is an absolute no-brainer. The flip side: The Scarlet Knights seem likely to get pummeled in football (and men's basketball) for a while. Flood is entering his third season, but is on the hot seat. He hopes hiring Ralph Friedgen as offensive coordinator can stave off the wolves; Friedgen is good, but is he that good? Senior QB Gary Nova is as inconsistent as they come, but there are some offensive pieces -- notably Carroo, who has good speed, and James -- that lend some hope. The line underachieved last season, and that obviously must change, especially with the improved competition Rutgers will be seeing this fall. Johnson will be a four-year starter; he spent the first two seasons at right tackle before moving inside last season. He can be a devastating run blocker. Lumpkin fits the "prototype left tackle" mold, and Muller is a big, physical guy. All three, though, must play with more consistency. Hamilton is a former mega-recruit who has played well but not starred; he needs to get bigger and stronger, but has a high ceiling. Longa played well as a redshirt freshman last season; he is active and is especially good against the run. Still, while there is some talent, it wouldn't be a surprise if Rutgers goes winless in Big Ten play.
Coach: Willie Taggart
2013 record: 2-10.
Top players to watch: G Quinterrius Eatmon (6-6, 319, senior); SS Nate Godwin (5-10, 197, sophomore); K Marvin Kloss (6-0, 196, senior); DT/DE Elkino Watson (6-2, 289, senior)
The outlook: Taggart's first season was surprisingly bad because of an absolutely woeful offense (seven games with 13 or fewer points, and only once did the Bulls score more than 23). Finding a capable quarterback is a must; the Bulls also need a feature back and a go-to receiver to emerge. Eatmon is moving inside after starting for three seasons at right tackle; he has the ability to be a big-time run blocker. Watson has played both end and tackle, and while he is a squatty guy, he has the ability to be disruptive at both spots. Godwin was productive as a true freshman, and might already be the best player in the secondary. Kloss has a huge leg -- 11 field goals from at least 40 yards out last season, including four of more than 50 yards -- and has produced touchbacks on about 40 percent of his career kickoffs. The non-conference schedule is a tough one, including a visit to Wisconsin, but the AAC is such that this flawed team still has a shot at a 6-6 record and a bowl bid.
Coach: Larry Blakeney
2013 record: 6-6
Top players to watch: OT Antonio Garcia (6-6, 290, sophomore); WR Bryan Holmes (5-11, 180, junior); OT Terrence Jones (6-3, 325, senior); DE Tyler Roberts (6-2, 231, junior)
The outlook: The Trojans had enjoyed five seasons in a row with at least eight wins, but haven't been above .500 in the past three seasons. Can this team turn the corner? There will be a new starting quarterback, but there are some nice skill-position players and the line should be strong. Holmes is a good athlete (4.48 in the 40, 38-inch vertical jump) who can get deep and doubles as a dangerous return man. Jones is a physical mauler who starts at right tackle and could play guard; Garcia, who missed the second half of the 2013 season with an injury, is a youngster to keep an eye on. Roberts has solid pass-rush skills, but the rest of the defensive line is questionable. The secondary was bad last season and remains worrisome. The Trojans miss Arkansas State and Texas State in league play, which is a plus. And they get league favorite Louisiana-Lafayette at home.
Check out special college football uniforms worn during the 2013 season.
Coach: Bob Diaco
2013 record: 3-9
Top players to watch: WR Geremy Davis (6-3, 216, senior); CB Byron Jones (6-1, 196, senior); C Alex Mateas (6-4, 309, senior); TE Sean McQuillan (6-3, 239, junior); FS Obi Melifonwu (6-3, 210, sophomore)
The outlook: Diaco arrives from Notre Dame, where he had been defensive coordinator, and is tasked with making UConn a legitimate presence in the AAC. The Huskies ended 2013 on a three-game winning streak, so there is a bit of momentum. Sophomore Casey Cochran gives the Huskies a legitimate quarterback for the first time in a while, and the more he throws to Davis, the better off UConn will be. Davis (71 receptions, 1,085 yards, three TDs) is underrated nationally; he has OK speed and does a nice job using his body and being physical. McQuillan is another who can be an important weapon in the passing game. Mateas, a Canadian who began his career at Penn State, is the only returning starter along the offensive line, so UConn seems likely to rely a bit less on the run than usual. One problem: UConn surrendered 42 sacks last season with an experienced group up front. Jones and Melifonwu are the standouts defensively. Jones' size intrigues NFL scouts, but he needs to show better instincts. Melifonwu played at a high level as a redshirt freshman last season; he covers a lot of ground in coverage and is active against the run. A 3-2 record coming out of September is a possibility -- but so is a 1-4 mark. AAC games against South Florida and Temple in late September will tell how the season is going to go.
Coach: Dan Enos
2013 record: 6-6
Top players to watch: C Nick Beamish (6-3, 310, junior); LB Justin Cherocci (6-0, 231, senior); WR Titus Davis (6-2, 190, senior); G Andy Phillips (6-3, 306, senior); DT Leterrius Walton (6-5, 323, senior); CB Jason Wilson (6-0, 185, senior)
The outlook: Enos is feeling a little bit of heat. When he took over, CMU might've been the best program in the league; now, the Chippewas are in the middle of the pack in the MAC. Davis is a stud; he has the talent to play for almost anybody (61 receptions for 1,109 yards -- 18.2 yards per catch -- and eight TDs last season). He has good size and has been clocked in less than 4.4 seconds in the 40. Beamish and Phillips are the headliners on a line that returns all five starters; Beamish -- who lettered in golf for four years in high school -- has started 25 consecutive games since redshirting as a true freshman. Walton is a big body with some quickness; he had 9.5 tackles for loss last season and just needs to play with more consistency. Cherocci is a tackle machine, with 253 stops in the past two seasons. Wilson is a converted wide receiver with good size; he has five picks and 12 pass breakups in the past two seasons.
Coach: Todd Monken
2013 record: 1-11
Top players to watch: SS Jacorius Cotton (5-11, 197, senior); LB Alan Howze (6-3, 230, senior); G Fred Moore (6-5, 310, senior); DT Rakeem Nunez-Roches (6-2, 305, junior); WR Markese Triplett (6-4, 229, senior); LB Terrick Wright (6-2, 228, junior)
The outlook: As bad as last season was for the Golden Eagles, at least they won once; they were winless in 2012. This season, Conference USA is so shallow that even a team coming off a one-won season has legit hopes for a bowl. If sophomore QB Nick Mullens can play consistent football, a 6-6 record will be within reach. Triplett's size makes him an intriguing prospect; he could grow into a tight end. A plus will be the returns of Cotton (academic suspension), Howze (injury) and Nunez-Roches (injury); all three have all-league potential. Their returns mean Southern Miss, which runs a 4-2-5 set, should be OK defensively.
Take a look at the top 10 players from Purdue to play in the NFL.
Coach: Darrell Hazell
2013 record: 1-11
Top players to watch: C Robert Kugler (6-3, 298, junior); RB Raheem Mostert (5-11, 190, senior); DE Ryan Russell (6-5, 273, senior); CB Frankie Williams (5-9, 189, junior)
The outlook: Hazell's first season with the Boilermakers was a disaster. They were horrendous offensively, and the run defense was equally as bad. Sophomore QB Danny Etling provides some semblance of hope that the offense can improve a bit. Mostert, who won the Big Ten 100-meters title, and backup Akeem Hunt give the Boilermakers some intriguing parts at tailback, but the line could be a problem; Kugler, whose dad, Sean, is the coach at UTEP, is the only returning starter up front. While Mostert's speed is noteworthy, he needs to show he can produce between the tackles. Russell, whose play slumped last season, is the key guy up front defensively. Williams heads a secondary that, if there is any kind of pass rush, could be solid. A 3-1 mark in non-conference play, which is attainable, is a must if Purdue has any hope of a bowl. Unfortunately for the Boilermakers, the beatable league opponents are on the road.