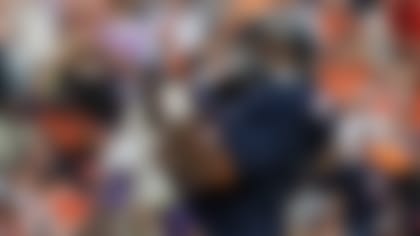 We're continuing our countdown to the top team in college football for 2014 and unveiling our teams in groups of eight, working backward from 128. Thus, the sixth batch of our rankings includes teams ranked 81st through 88th.
We'll include a look at each team's top players. Obviously, the better the team, the more "top players." Still, even teams that are going to struggle to win two or three games have players that are worth watching, and we'll let you know who they are.
Coach: Frank Solich
2013 record: 7-6
Top players to watch: DE Tarell Basham (6-foot-4, 250 pounds, sophomore); CB Devin Bass (5-9, 180, junior); WR Chase Cochran (6-2, 190, senior); DT Antwan Crutcher (6-2, 304, senior); SS Josh Kristoff (6-0, 203, senior); G Mike Lucas (6-4, 313, junior)
The outlook: Solich has guided the Bobcats to five consecutive winning seasons; the last time that happened at Ohio was a seven-season stretch from 1958-64. Ohio should be OK defensively, but the offense is a concern. Ohio needs a new starting quarterback, and the running backs don't look particularly dangerous. Cochran, on the other hand, is dangerous: He was tied for second nationally last season with four receptions covering at least 60 yards and had seven that covered at least 40 yards. Of his eight career TD receptions, four have covered at least 68 yards and he owns a career yards-per-catch average of 18.1 yards. But he needs the ball more: He has just 59 career catches. Lucas played guard and center last season, and should be in the mix for All-MAC honors as a guard. Basham is one of the best sophomores in the MAC; he spent most of last season as a reserve but still had 7.5 sacks, and his pass-rush skills stand out. Crutcher takes up a lot of space in the middle and is stout against the run. Bass had two picks and 15 pass breakups last season, and has good speed. Kristoff throws his body around and is a big help in run support. Ohio opens with three consecutive road games; the flip side is that most of the tough conference opponents have to visit Athens. A Sept. 6 trip to Kentucky gives Ohio a shot at beating an SEC team. While there are issues with the offensive backfield, Ohio could finish second in the MAC East and go bowling for the sixth consecutive season.
Coach: Dan McCarney
2013 record: 9-4
Top players to watch: LB Derek Akunne (6-0, 244, senior); CB Kenny Buyers (5-11, 177, junior); C Kaydon Kirby (6-3, 313, sophomore); SS Lairamie Lee (5-10, 195, senior); G Cyril Lemon (6-3, 304, senior); G Mason Y'Barbo (6-2, 307, senior)
The outlook: The Mean Green had a winning record last season for the first time since 2004, and it is expected to be one of the top two teams in the West Division of Conference USA this season. North Texas won with its rushing attack and a strong defense last season, but while the defense looks fine, the running game is a question this season. There will be a new quarterback, and UNT needs a new feature back. The line should be fine, thanks to a strong interior. Lemon is a road-grader and has started every game the past three seasons. Y'Barbo isn't quite as good, but, he, too, has started every game the past three seasons. Akunne has made 90 tackles in each of the past two seasons, but is the only returning starter at linebacker. Buyers and Lee are active against the run, and each had three picks last season. UNT plays at Texas and at Indiana, but those are the only two games in which there will be a noticeable difference in the talent level (truthfully, the talent disparity with Indiana resides only on offense). Another bowl bid is a distinct possibility.
Coach: Curtis Johnson
2013 record: 7-6
Top players to watch: OT Sean Donnelly (6-8, 297, senior); CB Lorenzo Doss (5-11, 187, junior); DE Royce LaFrance (6-4, 265, junior); LB Nico Marley (5-8, 180, sophomore); SS Darion Monroe (5-11, 197, junior); FS Sam Scofield (6-1, 186, senior); OT Arturo Uzdavinis (6-7, 300, junior)
The outlook: Last season was Johnson's second, and Tulane made its first bowl appearance since 2002 and just its second since going 12-0 in 1998. The competition gets a bit tougher this season with a move from Conference USA to the AAC -- the Green Wave also is moving into a new on-campus stadium -- but if the Green Wave can find a consistent quarterback and a competent rushing attack, it can go to bowls in back-to-back seasons for the first time since 1979-80. Donnelly and Uzdavinis -- who didn't take up football until he was a high school senior in Tampa -- might be the most imposing tackle duo, size-wise, in the FBS ranks. But the rest of the offense has issues. The defense, on the other hand, should be fine. LaFrance has some pass-rush skills. Marley, the grandson of music legend Bob Marley, is a small guy who flies around and delivers big hits. But the secondary is where the star resides: Doss is a legit big-timer who had seven picks and nine pass breakups last season. Doss, who has good speed and great instincts, has 12 interceptions in 24 career games. Monroe is a former corner who brings good coverage skills to strong safety. Scofield will be a three-year starter. He's moving from strong safety to free safety this season. Tulane plays two ACC teams and one Big Ten team in non-conference action, and it should hang tough in all three of those contests. It's not a stretch to think Tulane can make it to a bowl again. The question then would be how long Tulane would be able to keep Johnson, who has experience as an NFL assistant.
Coach: Mike London
2013 record: 2-10
Top players to watch: LB Henry Coley (6-2, 230, senior); DT David Dean (6-1, 290, junior); DE Eli Harold (6-4, 235, junior); SS Anthony Harris (6-1, 190, senior); CB Demetrious Nicholson (5-11, 185, senior); RB Kevin Parks (5-8, 205, senior); OT Eric Smith (6-5, 290, sophomore)
The outlook: London is on the hot seat; outside of Florida's Will Muschamp, his seat might be the hottest in the nation. London has won 18 games in four seasons, and eight of those wins came in 2011. He and his staff have recruited well, but their successes in February haven't carried over in the fall. Quarterback play has been a huge problem, and could be so again. Parks is a 1,000-yard rusher and also an excellent receiver. Smith became just the fourth true freshman tackle to start for UVa; the first was eventual first-rounder D'Brickashaw Ferguson. Dean is strong at the point of attack and can be disruptive. Harold is a high-level athlete who had 8.5 sacks last season and should get into double-digits this season in coordinator Jon Tenuta's aggressive scheme. Coley is one of the better linebackers in the ACC. The secondary could be excellent. Harris led the nation with eight interceptions last season and also is active in run support. Nicholson had problems staying healthy last season, but he is a legitimate cover corner with excellent speed. Speaking of good recruiting, Virginia signed two of the nation's top 11 prospects in S Quin Blanding and DT Andrew Brown, and both should play this fall. UVa opens with UCLA and has five of its first six games at home. But it wouldn't be a surprise if the Cavs go 2-4 in that stretch, and four of the final six games are on the road.
Take a look at the top 10 players from Illinois to play in the NFL.
Coach: Tim Beckman
2013 record: 4-8
Top players to watch: CB V'Angelo Bentley (5-10, 190, junior); TE Jon Davis (6-3, 240, junior); RB Josh Ferguson (5-10, 195, junior); G Michael Heitz (6-6, 310, senior); G Ted Karras (6-4, 310, junior); QB Wes Lunt (6-5, 225, sophomore); LB Mason Monheim (6-1, 235 junior)
The outlook: Beckman is entering his third season but already is on the hot seat. The defense has been atrocious in each of the past two seasons, and that must change. The offense has some potential, thanks to Lunt, an Illinois native who began his career at Oklahoma State (and started as a true freshman in 2012 before suffering an injury) and sat out last season after transferring. He has a good arm and will get ample opportunities to put it up in coordinator Bill Cubit's pass-happy attack. One issue: There is an underwhelming group of wide receivers. Ferguson is a solid runner and an excellent receiver. Davis needs to produce; he has the skill set to do so. The line could be OK, headed by the interior duo of Heitz and Karras. Karras is the grandnephew of the late Alex Karras, who was an NFL star/actor. Monheim should be among the league leaders in tackles even though he plays behind a defensive line that hasn't done much of late. Bentley is a speedy cover guy who doubles as a dangerous return man. A 3-1 start to the season seems likely, but the conference schedule is rough; road trips to Nebraska and Wisconsin are among the first three Big Ten games. It might take a bowl bid for Beckman to keep his job -- and it's hard to see this team getting to a bowl, though Lunt should make the Illini fun to watch.
Coach:Paul Rhoads
2013 record:3-9
Top players to watch:RB Aaron Wimberly (5-9, 173, senior), TE T.J. Bibbs (6-3, 252, senior), WR Quenton Bundrage (6-2, 189, junior), WR Allen Lazard (6-5, 210, freshman)
The outlook:The Cyclones have hovered around the .500 mark for several seasons as of late but took a step back in 2013 due to a laundry list of issues. The defensive outlook this year isn't good and Rhoads will have to work some magic with what very well might be the Big 12's worst unit. The offense won't be so bad with new coordinator Mark Mangino in charge and a number of quality skill-position players who can move the ball down the field. The schedule is tough, though, and even matching last year's three wins might be an accomplishment.
Check out special college football uniforms worn during the 2013 season.
Coach:Craig Bohl
2013 record:5-7
Top players to watch: RB Shaun Wick (5-10, 204, junior), WR Dominic Ruffran (6-0, 188, senior) DE Eddie Yarbrough (6-3, 257, junior), LB Mark Nzeocha (6-3, 235, senior)
The outlook: The Cowboys might have made one of the best hires of the offseason when they lured Bohl to Laramie after he dominated at the FCS level with North Dakota State. However, he has his work cut out for him, as the transition away from the spread offense won't be an easy one and the defense will be even more of a headache as he installs a more traditional 4-3. There's talent on the Wyoming roster, though, and the coaching staff knows how to win, even when facing a talent disadvantage, so anything is possible with this squad.
Coach: Dave Clawson
2013 record: 4-8
Top players to watch: LB Brandon Chubb (6-1, 245 pounds, junior); C Cory Helms (6-4, 290, sophomore); FS Ryan Janvion (5-11, 190, sophomore); CB Kevin Johnson (6-1, 175, senior); CB Merrill "Bud" Noel (5-10, 180, senior)
The outlook: Wake won the ACC title in 2006, but has suffered through five consecutive losing seasons; that led to the "retirement" of Jim Grobe. Clawson takes over after a successful run at Bowling Green. He is offensive-minded, but there isn't much to build on right now. Wake needs to find a new quarterback, a feature back and a go-to wide receiver. At least the line has some potential, headed by Helms, a rising star who made 11 starts last season as a true freshman. While the front four will be all-new, the secondary could be good. Johnson had three picks and 12 pass breakups last season, Noel is a former ACC defensive rookie of the year and Janvion -- a former small-school all-county high school player in Miami -- led the team with 95 tackles as a redshirt freshman. Chubb is good against the run; he had 87 tackles last season and should be among the league leaders in that category this season. The non-conference schedule lends hope that Wake can start 3-1, but it's hard to see this team -- with so many questions on offense -- winning more than a game or two in ACC play.