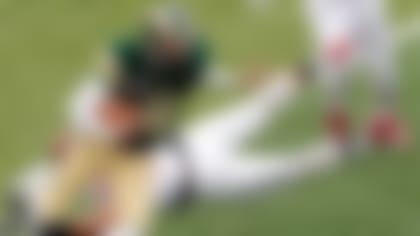 We're continuing our countdown to the top team in college football for 2014 and unveiling our teams in groups of eight, working backward from 128. Thus, the seventh batch of our rankings includes teams ranked 73rd through 80th.
We'll include a look at each team's top players. Obviously, the better the team, the more "top players." Still, even teams that are going to struggle to win two or three games have players that are worth watching, and we'll let you know who they are.
Coach:Jim McElwain
2013 record:8-6 (5-3 MWC)
Top players to watch:QB Garrett Grayson (6-foot-2, 220 pounds, senior), OL Ty Sambrailo (6-5, 310, senior), TE Kivon Cartwright (6-4, 245, senior), CB Bernard Blake (6-0, 180, senior)
The outlook:Thanks to a whacky win in their bowl game, the Rams were a surprise eight-win team a season ago and have plenty of momentum heading into 2014. There are concerns along both lines, at running back and perhaps in the secondary, but CSU has enough talent across the board to make it back to a bowl game at the very least. It might be difficult to match last season's win-loss mark, but the team seems firmly in that second tier of MWC teams that could challenge for the division if it catches a few breaks.
Coach:Rocky Long
2013 record:8-5 (6-2 MWC)
Top players to watch:QB Quinn Kaehler (6-4, 215, senior), WR Ezell Ruffin (6-1, 210, senior), OT Terry Poole (6-5, 310, senior), DT Christian Heyward (6-3, 300, junior)
The outlook:After a slow start to 2013, the Aztecs rallied and put together another quality season and a trip to a bowl game. One can probably expect much the same this year, although the schedule does them no favors with North Carolina, Oregon State, Fresno State and Boise State all on the road. Long and company will have to figure out something at running back, but having the underrated Kaehler back under center is a big plus to sling it to Ruffin. There will be plenty of new faces on defense, and how quickly they're able to get up to speed will determine if SDSU has another 8-5 season and postseason berth.
Check out special college football uniforms worn during the 2013 season.
Coach: Kevin Wilson.
2013 record: 5-7
Top players to watch: CB Tim Bennett (5-9, 186, senior); RB Tevin Coleman (6-1, 210, junior); G Dan Feeney (6-4, 305, sophomore); OT Jason Spriggs (6-7, 307, junior); QB Nate Sudfeld (6-5, 232, junior); WR Shane Wynn (5-7, 170, senior).
The outlook: This is Wilson's fourth season, and while IU has made strides offensively, the defense has been a sieve. The offense should be fine again -- but the defense remains questionable and Wilson is feeling the heat. Sudfeld is a great fit for Wilson's pass-friendly offense; he has a big arm and if everything goes well, he should flirt with 4,000 passing yards this season. One issue is the lack of a proven go-to receiver. Can Wynn, who is quick and elusive, be an 80-catch guy? His single-season high is 68 receptions. Coleman is an exciting talent. He averaged 7.3 yards per carry and had five rushes of at least 50 yards (tied for second-most nationally), eight of at least 40 yards (tied for the most) and nine of at least 30 yards (tied for fourth-most). He scored 12 rushing TDs and six covered at least 40 yards. Feeney, who missed last season with a foot injury, and Spriggs are high-caliber linemen with NFL potential. Bennett, who has good speed, played well last season, with one pick and an eye-opening 20 pass breakups. The schedule isn't doing Wilson any favors, with non-conference games against Bowling Green (the best team in the MAC), Missouri and North Texas (a contender in Conference USA). A Sept. 27 home game against Maryland is huge, as a loss in that one likely means IU begins 0-4 in league play.
Coach: Larry Coker.
2013 record: 7-5
Top players to watch: OT Cody Harris (6-5, 300, senior); G Scott Inskeep (6-4, 300, senior); DT Ashhad Mabry (6-3, 315, senior); CB Bennett Okotcha (6-0, 195, junior); DE Robert Singletary (6-2, 250, senior); FS Triston Wade (5-11, 170, senior).
The outlook: This is just the Roadrunners' fourth season of football, but they have a legit shot at winning the C-USA West Division title. Coker has done yeoman's work in a short time getting this program to this level. The Roadrunners want to rely on the run, and all five starting offensive linemen return; four are seniors, headed by Harris and Inskeep. Inskeep is a four-year starter who is a road-grader in the running game. Singletary, who began his career at Baylor, will be a full-time starter for the first time this season and should be one of the best pass rushers in the league. Mabry does a nice job mucking up things in the middle and is a big reason UTSA is tough against the run. Okotcha, who began his career at Oklahoma, has a good size/speed mix and can develop into a shutdown corner. Despite a lack of bulk, Wade makes a ton of tackles (94 last season) and has five picks and 10 pass breakups in the past two seasons. UTSA likely starts 0-3, but every other game is winnable. UTSA is allowed to go to a bowl for the first time this season, and it would be a surprise if the Roadrunners are home for the holidays.
77. Middle Tennessee State
Coach: Rick Stockstill.
2013 record: 8-5
Top players to watch: LB T.T. Barber (6-1, 221, junior); SS Kevin Byard (5-11, 221, junior); OT Darius Johnson (6-3, 287, junior); RB Jordan Parker (6-1, 220, junior).
The outlook: MTSU seems likely to be more of a running team this season because of a quarterback change; the three guys vying for the starting job are better runners than they are passers. That should be fine with Parker, a part-time starter last season who is a threat to reach 1,000 yards this season. Johnson is the best lineman; he has started each game the past two seasons. Barber is a big-play guy who is one reason MTSU had a plus-12 turnover margin last season; he had three picks and three fumble recoveries last season. Speaking of big-play guys, Byard might be the best safety in Conference USA. He has nine interceptions and has returned four for TDs in two seasons; he also is extremely active in run support and has 180 career tackles. The Blue Raiders have tough non-conference tests against BYU (at home) and Minnesota (road), and they also play at C-USA favorite Marshall. But every other game is winnable, and it would be a surprise if MTSU isn't bowl-eligible for the sixth time in nine seasons.
Coach: Derek Mason
2013 record: 9-4
Top players to watch: RB Jerron Seymour (5-7, 200, junior); OL Andrew Jelks (6-6, 305, sophomore); LB Caleb Azubike (6-4, 260, junior); LB Darreon Herring (6-1, 230, junior).
The outlook: Coming off the success of back-to-back nine-win seasons -- unheard of for Vanderbilt -- the Commodores will learn quickly what impact a new coaching staff and a new quarterback can have on an SEC program. Derek Mason takes over for James Franklin, bringing with him a defensive scheme switch to a 3-4. A tissue-soft non-conference schedule will help with the transition, but Vanderbilt has some significant holes to fill, particularly on offense and in the secondary. With a young receiving corps and a new starting quarterback, the Commodores could lean heavily on Seymour to move the chains.
Take a look at the top 10 players from SMU to play in the NFL.
Coach: June Jones.
2013 record: 5-7
Top players to watch: DE Beau Barnes (6-5, 241, senior); WR Darius Joseph (6-0, 195, junior); C Taylor Lasecki (6-3, 296, junior); FS Shakiel Randolph (6-5, 201, junior); LB Stephon Sanders (6-3, 250, senior).
The outlook: SMU's run of four consecutive bowl appearances came to an end last season, and it's a measure of what Jones has accomplished that the 2013 season led to some grumbling among fans. Remember that SMU was bowl-less from 1985 through 2008. Still, the Mustangs' performance last season was disappointing. SMU is looking for a quarterback (Texas A&M transfer Matt Joeckel, whose twin brother, Luke, plays offensive tackle for the Jacksonville Jaguars, might be the guy), a feature back and a receiver who can get deep. Joseph caught 103 passes last season -- but for just 808 yards (7.8 yards per catch). Lasecki, who has started each game the past two seasons, is a physical presence in the middle of the offensive line. Barnes has some pass-rush skills, and if he makes the same type of jump he made last season, he is going to get some NFL looks. Sanders, who will be a four-year starter, has some big-play ability. Rice transfer Cameron Nwosu (5-10, 240, senior) is eligible immediately and should help at linebacker. Randolph has been just a part-time starter in each of his first two seasons, but his size and athleticism make him an interesting prospect. SMU has games against Baylor, Texas A&M and TCU in the first month, and a 1-3 (or even 0-4) start is possible. It is going to be hard for SMU to get to a bowl, even in a weakened AAC.
Coach: Jeff Brohm.
2013 record: 8-4
Top players to watch: RB Leon Allen (6-foot-0, 235 pounds, junior); OT Cameron Clemmons (6-6, 305, senior); TE Mitchell Henry (6-4, 245, senior); OT Forrest Lamp (6-4, 296, sophomore); CB Cam Thomas (6-1, 190, senior).
The outlook: Brohm was promoted to coach from offensive coordinator when Bobby Petrino left to take over again at Louisville -- where Brohm was once his quarterback. The Hilltoppers look fine offensively, but the defense returns just two starters and linebacker is a big concern. Senior QB Brandon Doughty (6-3, 210) returns as the starter, and the main man in the backfield will be Allen, who will be starting for the first time but has shown he can be an effective receiver as well as a productive runner. Clemmons, who will be a four-year starter, and Lamp -- a former all-state player in high school who is one of numerous Floridians on the team brought in by former coach Willie Taggart -- form a nice tackle tandem. Henry needs to be a bigger part of the offense this season; he can get deep on occasion. The team's star is Thomas, who is one of the most talented players in Conference USA and one of the best cornerbacks outside of the "Big Five" conferences. A New Jersey native, Thomas has excellent size and good speed, and has eight interceptions and 17 pass breakups in the past two seasons. He is willing in run support and has the skill set to be a press-man corner. Western Kentucky plays seven road games, including each of its three games in September. The schedule eases considerably in the second half of the season, and while this team will have issues defensively, Conference USA is weak enough overall that WKU should be bowl-eligible.