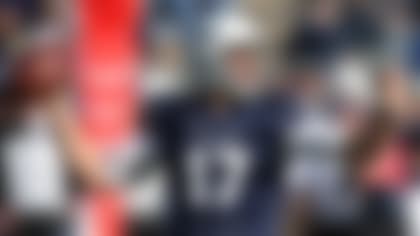 We're continuing our countdown to the top team in college football for 2014 and unveiling our teams in groups of eight, working backward from 128. Thus, the eighth batch of our rankings includes teams ranked 65th through 72nd.
We'll include a look at each team's top players. Obviously, the better the team, the more "top players." Still, even teams that are going to struggle to win two or three games have players that are worth watching, and we'll let you know who they are.
Coach: Rod Carey
2013 record: 12-2
Top players to watch: LB Jamaal Bass (5-foot-10, 220 pounds, senior); G Aidan Conlon (6-3, 297, junior); FS Dechane Durante (6-2, 197, senior); OT Tyler Loos (6-5, 303, senior); LB Boomer Mays (6-0, 244, junior); DE Jason Meehan (6-1, 250, senior); C Andrew Ness (6-3, 296, junior); RB Cameron Stingily (6-1, 244, senior)
The outlook: NIU might not be the best team in the MAC this season, but this is the best program. The Huskies have won 46 games in the past four seasons, but they were lucky to have back-to-back star quarterbacks (Chandler Harnish, then Jordan Lynch). But Lynch is gone after finishing third in the Heisman race, and the defensive line also is a big question. NIU still is going to run the ball, with Stingily -- who ran for 1,119 yards last season -- taking on a much bigger role. He is a downhill runner who had barely played before emerging as a key player last season. The line is physical and experienced. Ness has a chance to be one of the nation's top five or six centers in 2015, while Loos has overcome knee injuries and a broken leg to become one of the best linemen in the MAC. Meehan led the team in sacks despite playing as a reserve last season and should be among the league leaders in that category this fall. Bass is undersized but runs extremely well, while Mays is physical and good against the run. Durante, though, is the defensive star; he was overshadowed by eventual first-round pick Jimmie Ward last season, but Durante will be in the spotlight this fall. He's not as talented as Ward, but he's a hard hitter who is expected to have a big season, then be drafted. The non-conference schedule includes road trips to Northwestern, UNLV and Arkansas, and it could take a while for NIU to adjust to life post-Lynch. But once MAC play starts, NIU might well be favored in every game. Back-to-back games against Ball State and Toledo in early November will determine which team wins the MAC West.
Coach:Kyle Whittingham
2013 record:5-7
Top players to watch:WR Dres Anderson (6-1, 190, senior), OL Jeremiah Poutasi (6-5, 345, junior), DE Nate Orchard (6-3, 255, senior), S Eric Rowe (6-1, 205, senior)
The outlook:The Utes fell frustratingly short of six wins and a bowl game last season despite turning in the upset of the season against eventual conference champion Stanford. Quarterback Travis Wilson returns after being cleared by doctors, and he could be a great fit with new offensive coordinator Dave Christensen. The defense will be a work in progress, but could be better than last season's unit. Utah should be able to get back to a bowl game for the first time in three years, but a difficult schedule in the rough Pac-12 South will mean the Utes need to win a few games where they're not favored.
Coach: Pete Lembo
2013 record: 10-3
Top players to watch: RB Jahwan Edwards (5-10, 219, senior); LB Ben Ingle (6-0, 230, junior); SS Brian Jones (5-10, 202, senior); G Janel Schlachter (6-6, 316, junior); WR Jordan Williams (6-2, 224)
The outlook: With the departure of four-year starting QB Keith Wenning, this now is Edwards' offense. The line looks good, meaning Edwards should improve on his 1,110 yards from last season. He runs well between the tackles and also has a burst. Schlachter is a rising star in the MAC. Williams had 10 TD receptions as Ball State's No. 2 receiver last season, but while he is the unquestioned go-to guy, his stats likely will drop because Ball State is not going to be as effective throwing the ball. Ingle lacks height, but he is active and especially good against the run; he had 112 tackles last season. Jones is the leader in the secondary; he is active in run support. Lembo might be the best coach in the MAC, and if he can fill the hole at quarterback, the Cardinals could contend for the MAC West title. What seems more likely is a third-place finish in the division, but also a third consecutive bowl appearance. A Sept. 20 trip to division-rival Toledo will be a barometer for both teams' seasons.
Coach: Blake Anderson
2013 record: 8-5
Top players to watch: TE Darion Griswold (6-5, 264, junior); CB Rocky Hayes (5-11, 177, junior); LB Qushaun Lee (5-11, 225, senior); WR J.D. McKissic (5-11, 193, junior); DE Chris Stone (6-3, 252, junior); FS Sterling Young (6-2, 193, senior)
The outlook: Incredibly, Anderson is the Red Wolves' fifth coach in as many seasons. Among his predecessors in that span: Hugh Freeze and Gus Malzahn. Anderson, who had been offensive coordinator at North Carolina, takes over a talented squad -- and one that doesn't have that many key seniors. One issue is the offensive line, which has only one starter returning. New starting QB Fredi Knighten (5-11, 189) is a dangerous runner and OK passer who was recruited to the school by Malzahn. McKissic is a speedy go-to receiver, and he also is an excellent return man (he averaged 30.0 yards on kickoff returns last season, with a TD). Stone showed signs of becoming a solid pass rusher last season, impressive for a guy who was a pass-catching tight end in high school. Lee is undersized, but he is a tackle machine (234 in the past two seasons). And, man, for a little guy, Lee absolutely can lower the boom: He is a fierce hitter who covers a ton of ground. Young heads the Sun Belt's best secondary and should be the best defensive back in the league this season. He is a rangy guy who covers a lot of ground. Young is a four-year starter who lacks elite speed, but has great instincts and good ball skills. Hayes had three picks and 10 pass breakups last season; he is an excellent athlete who ran for 538 yards as a true freshman tailback in 2012. The non-conference schedule includes trips to Tennessee and Miami (Fla.) as well as a visit from Utah State, so a 1-3 start is possible. But other than a game against league favorite Louisiana-Lafayette, the Sun Belt road schedule isn't too daunting, and a Nov. 8 game against South Alabama is the only tough conference game on the home schedule. A fourth consecutive bowl bid beckons.
Coach: Dave Doeren
2013 record: 3-9
Top players to watch: G Alex Barr (6-7, 322, junior); QB Jacoby Brissett (6-4, 236, junior); CB Juston Burris (6-1, 207, junior); OT Tyson Chandler (6-7, 354, senior); OT Rob Crisp (6-7, 300, senior); SS Hakim Jones (6-2, 198, junior); TB Shadrach Thornton (6-1, 207, junior)
The outlook: After a 3-1 start last season, the Wolfpack fell apart in Doeren's first year with the team. The hope is that Brissett, who began his career at Florida and sat out last season after transferring, revs up a mediocre offense. Thornton is a nice all-around back, and he'll run behind a line that has potential and two huge tackles. Crisp was a consensus national top-50 prospect, but injuries (he missed all but two games last season with a concussion, and missed five games in 2012 with a back injury) and inconsistency have conspired to keep him from living up to the hype. He has the needed physical tools. So does Chandler, who is absolutely massive but also has lacked consistency. Barr played guard for the first time last fall after moving from tackle and showed a lot of potential. NCSU has switched to a 4-2-5 set on defense; the front four must improve, but the secondary could be good. Burris has excellent size and is physical against the run, and Jones is another who is solid in run support. Keep an eye on three defensive freshmen who could start: defensive end Kentavius Street, defensive tackle B.J. Hill and safety Josh Jones. Hill and Street, who is supposed to be a big-time pass rusher, are true freshmen. The non-conference schedule is a joke, but the first two ACC games are against Florida State and Clemson, and there are league road trips to Louisville and archrival North Carolina. If Brissett is as good as coaches expect, N.C. State should win six games and get back to a bowl.
Take a look at the top 10 players from Boston College to play in the NFL.
Coach: Steve Addazio
2013 record: 7-6
Top players to watch: LB Steven Daniels (6-0, 257, junior); C Andy Gallik (6-3, 299, senior); CB Bryce Jones (6-1, 174, junior); DE Brian Mihalik (6-9, 288, senior); FS Sean Sylvia (6-0, 200, senior); G Bobby Vardaro (6-5, 306, senior); SS Dominique Williams (6-0, 218, senior)
The outlook: Addazio's first season went better than expected, thanks to 2,000-yard rusher Andre Williams. But Williams is in the NFL now, and BC is looking for a new quarterback, a new feature back and a new go-to receiver. Gallik gives the Golden Eagles the best center in the ACC, and Vardaro is a top-notch run blocker. Daniels, who is a physical presence, is going to make a ton of tackles and could lead the ACC in that category. Mihalik's size makes him an intriguing prospect, but he never really has stood out (well, aside from his size). He did show some signs as last season progressed. If there is any kind of pass rush, the secondary could be quite good. Williams, especially, is a guy to watch. Jones has nice size, and while he needs to add bulk, he is more than willing in run support. He needs to show better ball skills, though. The non-conference schedule is a mix of tough (USC, Colorado State) and eminently winnable (Maine, UMass) contests. Other than a trip to Florida State, the league road games aren't that daunting. Still, the game against Colorado State could be the one that ultimately determines whether BC goes bowling again.
Coach:Brian Polian
2013 record:4-8
Top players to watch:QB Cody Fajardo (6-2, 215, senior), OT Kyle Roberts (6-6, 305, senior), DE Brock Hekking (6-4, 255, senior), LB Jonathan McNeal (6-1, 235, senior)
The outlook:Fajardo enters the season as the top quarterback in the Mountain West. His leadership should help the offense be even better than it was last season and more in line with those of years past for the Wolf Pack. The defense struggled often last season, but it returns just about everybody on the two-deep and should see a boost from the change at coordinator. The non-conference slate is softer than 2013, and the home schedule sets up nicely for Nevada to at least make some noise in the West Division.
Coach: Mark Stoops
2013 record: 2-10
Top players to watch: DE Bud Dupree (6-4, 265, senior); DE Za'Darius Smith (6-6, 265, senior); RB Jojo Kemp (5-10, 195, sophomore); WR Javess Blue (6-0, 190, senior); DB A.J. Stamps (6-0, 190, junior)
The outlook: In his second year leading the Wildcats, Stoops will rely heavily on senior defensive ends Dupree and Smith for a consistent pass rush, and the pair could prove to be the best sack tandem in the league. The quarterback position will be open to several youngsters with no real experience, not exactly an ideal situation for offensive coordinator Neal Brown. UK should go 3-1 in non-conference play, which would require a 3-5 SEC mark for bowl eligibility. That will be a tall order for this team, and it had better begin with a home win over Vanderbilt on Sept. 27.