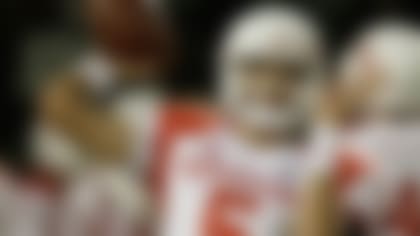 We're continuing our countdown to the top team in college football for 2014 and unveiling our teams in groups of eight, working backward from 128. Thus, the 10th batch of our rankings includes teams ranked 49th through 56th.
We'll include a look at each team's top players. Obviously, the better the team, the more "top players." Still, even teams that are going to struggle to win two or three games have players that are worth watching, and we'll let you know who they are.
Coach: Tony Levine
2013 record: 8-5
Top players to watch: WR Deontay Greenberry (6-foot-3, 198 pounds, junior); CB Lee Hightower (6-2, 192, junior); LB Derrick Mathews (6-0, 214, senior); DT Joey Mbu (6-3, 312, senior); SS Adrian McDonald (5-10, 191, junior); QB John O'Korn (6-4, 220, sophomore); FS Trevon Stewart (5-9, 192, junior)
The outlook: Houston bounced back from a 5-7 mark in 2012 with a solid 2013 campaign. O'Korn was one of the best true freshman quarterbacks in the nation and the Cougars appear set at that position for at least two more years. O'Korn -- who played his high school ball at powerhouse Fort Lauderdale (Fla.) St. Thomas Aquinas -- is a heady, instinctive guy with a nice arm, and has the skill set and surrounding talent to throw for 3,500 yards and 35 TDs this fall. Greenberry is the key part of that surrounding talent. He was a consensus national top-50 recruit in the 2012 signing class and unexpectedly spurned Notre Dame to sign with the Cougars. Greenberry has good size, speed and hands, and already has become adept at using his size to overpower smaller corners. Mbu has become incrementally better each season, and has the size, strength and quickness to be overpowering in the AAC. If he is not a first-team all-league performer, he will have had a disappointing senior season. Mathews is undersized, but runs well. He's extremely productive and can deliver a blow. He has 348 career tackles, the most of any current FBS player. The secondary could be good. Hightower, a transfer from Boise State, has excellent size, but must show consistency and maturity. Last season, McDonald had 99 tackles and six interceptions, while Stewart had four picks, seven pass breakups and 109 tackles. The Cougars have a solid group of skill-position players offensively, with a revamped line the only offensive question. Defensively, the corners must play better, which is why Hightower will be in the spotlight. Defensive coordinator David Gibbs favors an aggressive unit, and his guys forced 43 turnovers last season. Other than a trip to BYU, the non-conference schedule is easy, and the AAC schedule isn't all that difficult, either. The toughest league game is the first league game, on Oct. 2 against visiting Central Florida. A victory in that one stamps Houston as the team to beat in the league. But even if they lose, the Cougars could be a nine-win team.
Coach:Dana Holgorsen
2013 record:4-8
Top players to watch:RB Dreamius Smith (5-11, 217, senior), OL Quinton Spain (6-5, 335, senior), DE Shaquille Riddick (6-6, 242, senior), S Karl Joseph (5-10, 200, junior)
The outlook:After a disastrous 2013, Dana Holgorsen made several tweaks (Tony Gibson and Tom Bradley now run the defense, for example) to the program that should pay off this season. There's not a concern about depth -- there was in years past -- and Holgorsen might have the most weapons on offense he's had in Morgantown since that Orange Bowl romp. Opening against Alabama and a rough schedule to follow won't help with the turnaround, but the product on the field should be much improved.
Coach:Mike Gundy
2013 record:10-3
Top players to watch:WR Jhajuan Seales (6-2, 201, sophomore), OL Daniel Koenig (6-6, 310, senior), DT James Castleman (6-2, 296, senior), CB Kevin Peterson (5-11, 185, junior)
The outlook:The Cowboys are bracing for a step back from their usual nine-plus wins of the past few seasons, as a huge amount of roster turnover raises plenty of questions heading into 2014. The offensive line is a complete unknown without the steady hand of Joe Wickline coaching them, and signal-caller J.W. Walsh will need to show progress in the passing game if he's to going to keep the starting job. There are concerns on every level of the defense, so some young players will need to step up while seeing a huge increase in snaps after tasting action last year. The opener against Florida State might not be pretty, but the team might be able to become a tough out late in the Big 12 season.
Coach: Ruffin McNeill
2013 record: 10-3
Top players to watch: QB Shane Carden (6-2, 221, senior); LB Maurice Falls (6-3, 247, senior); WR Justin Hardy (6-0, 188, senior); OT Ike Harris (6-7, 304, junior); NT Terry Williams (6-1, 353, senior)
The outlook: ECU won double-digit games for just the second time in school history last season, but the Pirates are taking a small step up in competition this season with a move to the AAC from Conference USA. The move will be eased by the presence of Carden and Hardy, the best players at their positions in the AAC. Carden doesn't have a cannon arm, but still is a great fit in ECU's version of Mike Leach's "Air Raid" offense and has thrown for 7,255 yards and 56 TDs (and completed 68.6 percent of his passes) the past two seasons. A 4,000-yard, 35-TD season -- and a 75 percent completion rate -- is a legitimate goal this fall. It helps to have Hardy on the receiving end of his passes. Hardy has 266 career receptions and has averaged 101 receptions over the past two seasons, putting him within relatively easy reach of the NCAA career receptions record. Former Oklahoma star Ryan Broyles holds the record with 349, meaning Hardy needs 84 to own the mark. Hardy is athletic, has good speed and quickness, and also is a dangerous punt returner. Harris has intriguing size and pairs with Tre Robertson to give ECU a nice duo at tackle, but the interior of the offensive line is a concern. Williams takes up a ton of space in the middle of the defensive line, but must play with more consistency and focus. He has the ability to dominate, but that doesn't always show up. Falls is a big-time athlete who needs to produce to help a questionable linebacker group. ECU will have one of the most prolific passing offenses in the nation, but defense is a concern. There is a tough non-conference schedule (North Carolina, South Carolina and Virginia Tech), but the league schedule isn't that taxing. If the defense comes through, ECU could win nine games. Still, a seven-win season looks more likely.
Coach:Butch Jones
2013 record:5-7
Top players to watch: LB A.J. Johnson (6-2, 240, senior); WR Marquez North (6-4, 220, sophomore); LB Curt Maggitt (6-3, 245, junior); DB Brian Randolph (6-0, 200, junior); QB Justin Worley (6-4, 225, senior); QB Joshua Dobbs (6-3, 200, sophomore)
The outlook: Year Two under Butch Jones can't be much worse than last year's seven-loss season that saw the Volunteers' run defense pummeled by the league's top backs for most of the year. Johnson, an NFL prospect but one who has improvements to make, leads a linebacker corps that welcomes Maggitt back from injury. North gives the Tennessee offense a major receiving threat, but UT's quarterbacks -- be it Worley or Dobbs -- must be able to get him the ball more consistently than they did a year ago. The first real measuring stick will come in a Week 3 road test at Oklahoma.
Coach:Tim DeRuyter
2013 record:11-2
Top players to watch:QB Brandon Connette (6-2, 225, senior), WR Josh Harper (6-1, 184, senior), OL Cody Winchmann (6-6, 311, senior), S Derron Smith (5-11, 200, senior)
The outlook:Life without the nation's leading passer in 2013, Derek Carr, will be eased somewhat by the transfer of Connette from Duke, even if he'll bring more with his legs than his arm early on. The line returns plenty of experience, and the skill-position players shouldn't be a huge step back from last season's. The defense returns eight and will have to show significant improvement after being torched in the Bulldogs' two losses in 2013. Matching what they did in 2013 wins-wise will be tough, but there's enough depth on the roster to make it back to the Mountain West title game.
Take a look at iconic images through the years from one of the greatest rivalries in college football, the Army-Navy game.
Coach: Ken Niumatalolo
2013 record: 9-4
Top players to watch: FS Parrish Gaines (6-2, 200, senior); LB Chris Johnson (6-1, 207, senior); QB Keenan Reynolds (5-11, 195, junior); NT Bernard Sarra (6-1, 303, junior); G Jake Zuzek (6-2, 290, senior).
The outlook: Navy won nine games in 2013 for the third time in five seasons, and enjoyed a winning record for the 10th time in 11 seasons. With Reynolds' return, another winning season is a given. Reynolds rushed for 31 TDs last season; he is just the fourth FBS player in history with 30-plus rushing TDs. He isn't a great passer, but he doesn't have to be in Navy's triple-option offense. Reynolds already has been responsible for 344 points in his career (41 rushing TDs, 16 passing TDs, one two-point conversion), which is third-most in school history. There is a deep group of running backs, and they will run behind a good line. Zuzek, who has started every game the past two seasons, heads that experienced line. Sarra is a big presence along the defensive line, and he occasionally plays some end in Navy's 3-4 set. He has dropped 50 pounds from his freshman weight. Johnson, who is majoring in oceanography, played well last season after missing the 2012 season with a torn ACL. He covers a lot of ground against the run and also proved to be a savvy pass defender last season with three interceptions and three pass breakups. Gaines moved to free safety from cornerback midway through last season and handled his new position with aplomb. He has good size and speed, and heads a secondary that returns three starters. Other than games against Ohio State and Notre Dame, the schedule is such that Navy could (should?) win 10 games. Regardless, if they get to six wins, the Midshipmen automatically qualify for the Poinsettia Bowl -- and that means Navy will spend part of the holiday season in San Diego.
Coach: Matt Campbell
2013 record: 7-5
Top players to watch: K Jeremiah Detmer (5-8, 170, senior); DT Treyvon Hester (6-3, 290, sophomore); RB Kareem Hunt (5-11, 200, sophomore); G Greg Mancz (6-5, 300, senior); CB Cheatham Norrils (6-0, 195, senior); WR Alonzo Russell (6-4, 190, junior); LB Junior Sylvestre (6-0, 222, senior)
The outlook: Toledo had a winning record for the fourth consecutive time last season, but the season still was a bit of a disappointment. This season could be the same unless a competent quarterback emerges. The choice looks as if it will come down to sophomore Logan Woodside, Alabama transfer Phillip Ely -- a junior who wasn't close to being an SEC-caliber player -- or athletic sophomore Michael Julian. Hunt showed well in a backup role last season and should be a 1,000-yard back. Mancz, who has started 38 consecutive games, is one of the best interior linemen outside of the "Power Five" conferences. He heads a line that returns four starters and allowed a nation-low six sacks last season. Russell has good size and speed, but can the new quarterback get him the ball enough? Hester is a young talent to watch; he was solid against the run and showed some pass-rush skills as a redshirt freshman last season. He is a former all-state player at Pittsburgh's Penn Hills High -- the same high school that 2014 first-round pick Aaron Donald attended. Sylvestre, who is from south Florida, lacks size but has good speed (he ran the 200 meters in high school and was on a state-ranked 4x400-meter relay team) and is a big-play guy; he had 118 tackles, five sacks, 9.5 tackles for loss and three forced fumbles last season. Norrils has good size but lacks consistency; he still is Toledo's best defensive back, though. Detmer seemingly lacks a truly big leg (just two 50-yarders in his career), but he is remarkably accurate (48-of-55 in his career, including 15-of-18 from at least 40 yards out). As for the "seemingly" part, half of his 76 kickoffs last season were touchbacks, which is impressive. Toledo looks strong everywhere -- except at quarterback. If the new quarterback comes through, Toledo could win the MAC. The non-conference schedule is tough, but the MAC schedule is easily navigable except for back-to-back contests in November against Northern Illinois and Bowling Green. The game with NIU should determine the MAC West title.