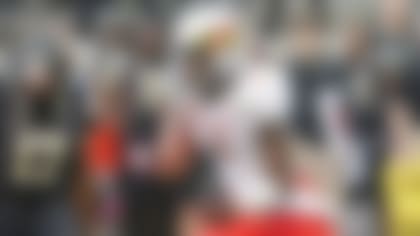 We're continuing our countdown to the top team in college football for 2014 and unveiling our teams in groups of eight, working backward from 128. Thus, the 11th batch of our rankings includes teams ranked 41st through 48th.
We'll include a look at each team's top players. Obviously, the better the team, the more "top players." Still, even teams that are going to struggle to win two or three games have players that are worth watching, and we'll let you know who they are.
Coach:Bryan Harsin
2013 record:8-5
Top players to watch:RB Jay Ajayi (5-foot-11, 220 pounds, junior), WR Matt Miller (6-3, 220, senior), DT Armand Nance (6-0, 311, junior), S Darian Thompson (6-2, 205, junior)
The outlook:It's a new era on the Broncos' famous blue turf with longtime coach Chris Petersen up the road in Washington. However, there are still plenty of connections with the past on the coaching staff, including up top in Harsin, a former Boise State quarterback. Petersen didn't leave the cupboard bare, and a young team from a season ago didn't lose too much, but will have to sort out some replacements along both lines. The run game figures to be the focus on offense, and Ajayi is up to task to handle the load as a workhorse who might be eyeing the 2015 NFL Draft. Almost all of the defense's back seven return and should be one of the better units out West if the new staff puts them in the right position. The schedule is manageable and a better record seems likely in 2014 if Boise State can avoid the injury trouble it suffered last year.
Coach:Gary Patterson
2013 record:4-8
Top players to watch:DE Devonte Fields (6-4, 240, sophomore), DT Chucky Hunter (6-1, 300, senior), S Sam Carter (6-0, 215, senior), CB Kevin White (5-10, 174, senior)
The outlook:After a near-constant presence in the top 15 as they produced double-digit win totals like clockwork, life in the Big 12 has been an adjustment for the Horned Frogs, to say the least. They're primed to take a huge step forward in 2014, though, and might be the darkhorse to watch out for given who returns and who is coaching. Texas A&M transfer Matt Joeckel will provide a steady hand at quarterback after TCU dealt with uneven play at the position for two seasons. Joeckel will mesh well with the newly installed Air Raid offense. Teams won't want to mess with this defense, especially if Fields lives up to his potential. However, Fields has been separated from the team, as of this writing, pending the results on an assault-case investigation. If things break right for TCU, 10 wins is not completely out of the question.
Coach: Dino Babers
2013 record: 10-4
Top players to watch: WR Chris Gallon (6-4, 223, junior); RB Travis Greene (5-10, 181, junior); C Alex Huettel (6-3, 292, junior); QB Matt Johnson (6-0, 215, junior); LB D.J. Lynch (6-0, 250, senior); LB Gabe Martin (6-1, 229, senior); FS Ryland Ward (5-10, 206, senior)
The outlook: Bowling Green shocked Northern Illinois in the MAC title game last season, then coach Dave Clawson left for Wake Forest. Babers comes from Eastern Illinois, where his high-powered pass offense keyed by Jimmy Garoppolo made the scoreboard go "boom." Johnson, who was excellent as a first-time starter last season (3,467 yards, 25 TDs), should go bonkers in this offense, with 4,000 yards and 35 TDs looking like a cinch. Gallon is a big-time athlete with size and speed who starred in high school at powerhouse Orlando Dr. Phillips but had some off-field issues. He missed half of last season with a torn ACL, and if he is healthy, he should have 80 receptions in this offense. Greene ran for 1,594 yards and 11 TDs last season, and while the offensive focal point will be the passing attack, Greene is going to get the ball a lot, too. He was signed as a wide receiver, so he could become a huge weapon in the passing game. Huettel has moved to center from guard and will contend for All-MAC honors. Lynch and Martin are two of the MAC's best linebackers. Lynch lacks ideal height (he might be 5-11, not 6-0), but he is heady, runs well and has big-play ability. Martin was hampered by a torn ACL last season, but was a first-team All-MAC guy in 2012. Ward flies around and makes a lot of tackles; he also had two picks and five pass breakups last season. There are two games against Big Ten teams: at home against Indiana (eminently winnable, though IU did hammer BG last season) and on the road at Wisconsin (probably too much to ask for an upset). But the other two non-conference games aren't that tough and the Falcons are head and shoulders above everyone else in the MAC East; they also look to be the best team in the league overall. It wouldn't be a surprise if they're 9-1 going into the final two regular-season games, against Toledo and Ball State. And it wouldn't be a surprise if they finish 11-1 in the regular season.
Take a look ahead to the 2014 college football season with the best quarterbacks to follow this fall.
Coach:James Franklin
2013 record: 7-5
Top players to watch: SS Adrian Amos (6-0, 209, senior); DE Deion Barnes (6-4, 255, junior); TE Kyle Carter (6-3, 241, junior); QB Christian Hackenberg (6-4, 234, sophomore); LB Mike Hull (6-0, 232, senior); TE Jesse James (6-7, 254, junior); DT Austin Johnson (6-4, 313, sophomore); CB Jordan Lucas (6-0, 198, junior); DE C.J. Olaniyan (6-3, 252, senior); OT Donovan Smith (6-5, 335, junior); TB Zach Zwinak (6-1, 233, senior)
The outlook: Bill O'Brien did yeoman's work in two seasons with the Nittany Lions, then left to coach the Houston Texans. Enter Franklin, a Pennsylvania native who did even better work in his three seasons at Vanderbilt. Franklin takes over a team that has some definite star power but also some concerns. Quarterback is not a concern: Hackenberg is a burgeoning star -- maybe even a burgeoning superstar. He threw for 2,955 yards and 20 TDs last season, but could suffer a bit this season because there are no proven wide receivers on the roster. Still, a 3,500-yard, 25-TD season is a legit goal. There isn't necessarily an elite running back, but there is some talent at the position. Zwinak plays tailback for the Nittany Lions, but has NFL potential as a fullback. Smith is the only returning starter on the offensive line and has a high ceiling; he is heading into his third season as a starter. Tight end is a deep position. James is a huge target who still is developing as a receiver, while Carter was good as a freshman in 2012 but mediocre last season. The same could be said for Barnes, who didn't make the expected improvement last season; he has the physical tools to be a dangerous pass rusher. Olaniyan also has some pass-rush skills, and he played consistently last fall, unlike Barnes. Johnson is a star on the rise; he's big and physical, but also quick enough to be disruptive. Hull is a grinder who is good against the run; he won't wow you with his athleticism, but he generally gets to where he needs to be. Lucas has a nice size/speed mix; he had three picks and 13 pass breakups last season and also is more than willing in run support. He has a chance to be a first-team All-Big Ten performer. Amos is a converted corner with OK size and good toughness. The opener against Central Florida in Dublin, Ireland, will be difficult, but that is the only tough non-conference game. Indeed, the schedule as a whole isn't all that daunting. Yes, there are games against Michigan State and Ohio State, but the Nittany Lions avoid the three best teams in the Big Ten West -- Iowa, Nebraska and Wisconsin. It's not a stretch to think this team could win 10 games if everything breaks right. Heck, even if things go poorly (i.e., no true No. 1 receiver emerges and the offensive line never comes together), the Nittany Lions still should win seven.
Coach:Mike Leach
2013 record:6-7
Top players to watch:QB Connor Halliday (6-4, 190, senior), WR Vince Mayle (6-2, 219, senior), LB Darryl Monroe (6-1, 235, junior), DT Xavier Cooper (6-4, 303, junior)
The outlook:After a surprising trip to a bowl game last season that ended in a brutal loss, Leach and company are looking to continue making progress on the Palouse in 2014. The offense should be among the best in the country through the air, and Halliday will have no shortage of quality targets in the passing game. The thing holding back the Cougars from making more noise in the Pac-12 North will once again be the defense, which has quality players, better depth and at least some sort of identity. That's not to say they'll be great, however, especially as the secondary will be very young and very inexperienced. A second consecutive bowl game appearance and six wins will still be viewed as progress for the program, but it will take all they have on both sides of the ball to exceed a .500 record this season.
Check out the alternate college football uniforms worn during the 2013 season.
Coach: Randy Edsall
2013 record: 7-6
Top players to watch: QB C.J. Brown (6-3, 218, senior); FS Sean Davis (6-1, 200, junior); WR Stefon Diggs (6-0, 190, junior); CB Jeremiah Johnson (5-11, 193, senior); NT Darius Kilgo (6-3, 319, senior); LB Matt Robinson (6-3, 245, senior)
The outlook: Maryland is not going to light up the Big Ten, but the Terps are much better prepared for the move than fellow newcomer Rutgers. Diggs' return from a broken leg should be a huge boost to the offense. Diggs is an electrifying talent with the ball in his hands; he is valuable on deep patterns and simple crossing routes. He's valuable as a return man and on jet sweeps, too. Brown doesn't necessarily have a high ceiling, but he's a solid college quarterback with dual-threat talent (he rushed for 12 TDs last season). The Terps' defense could be good. Kilgo is a space-eater who is stout against the run. Robinson is athletic and has good size, and possesses some pass-rush skills. Johnson missed all but two games last season with a toe injury, but he has a chance to be one of the better corners in the Big Ten. Davis is an active guy who led the Terps with 102 tackles last season. Edsall looks to have a solid core in place, and if the offensive line comes through, Maryland's offense should be effective. The defense returns nine starters and, at the least, should be a middle-of-the-pack unit in the Big Ten. If there is any kind of pass rush, the secondary will shine. The schedule is tough, though, and while this season's team is more talented than last season's, it's going to be difficult for the Terps to win more than seven games.
Coach:Rich Rodriguez
2013 record:8-5
Top players to watch:WR Austin Hill (6-2, 210, senior), OL Mickey Baucus (6-7, 305, senior), OL Fabbians Ebbele (6-8, 311, senior), S Tra'Mayne Bondurant (5-10, 198, senior)
The outlook:Rich Rodriguez has worked wonders in Tucson the past two seasons, overachieving to reach eight wins each year. He's used to replacing somebody at quarterback and has a wealth of options at the position that can help him win. Replacing All-American RB Ka'Deem Carey is a much taller task, though, and might make the Wildcats more pass-friendly than they have been under RichRod. The defense should continue to progress with additional depth, but will still be replacing a key contributor at each level. The Pac-12 South Division is one of the toughest in the country, and Arizona will be a player, although it will have a hard time finishing in the top two.
Take a look at the great players, coaches and teams that have shaped the history of college football.
Coach: Paul Chryst
2013 record: 7-6
Top players to watch: WR Tyler Boyd (6-2, 190, sophomore); RB James Conner (6-2, 250, sophomore); LB Anthony Gonzalez (6-3, 230, senior); TE J.P. Holtz (6-4, 245, junior); CB Lafayette Pitts (5-11, 195, junior); FS Ray Vinopal (5-10, 200, senior)
The outlook: Pitt's first season in the ACC ended with a bowl win, so it wasn't all bad. DT Aaron Donald was a one-man wrecking crew, but he now plays for the St. Louis Rams and will be missed. Boyd flourished as a true freshman, and he has a nice mix of size, speed and savvy. New QB Chad Voytik, who gives Pitt some dual-threat ability at the position, needs to get Boyd the ball as often as possible. But Conner deserves his touches, too; he is a physical, between-the-tackles runner who also should see time as a pass-rushing defensive end (seriously). Holtz should be a more important part of the passing attack this season; he has 40-catch potential. The line was a sieve last season, but experience and Voytik's mobility will help. Gonzalez, a former quarterback, is a surprisingly physical presence against the run. Pitts underachieved last season, but is athletic and has the ability to be a solid corner. Vinopal is a big hitter who covers a lot of ground; he was second on the team in tackles last season. The passing attack will suffer without strong-armed QB Tom Savage and WR Devin Street, but the offense as a whole could be better. The rushing attack should be extremely productive, and Voytik's presence helps in that regard. The defensive line sans Donald is a huge concern, but the back seven should be fine. Other than a game with Iowa, the non-conference schedule is not taxing, and Pitt's crossover games in the ACC do not include Florida State, Clemson or Louisville, which is big. If everything goes right, Pitt could win nine or even 10 games. What's more likely is seven or eight wins; if this team doesn't get to a bowl, the season will have been a big disappointment.