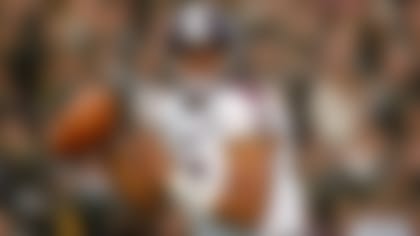 We're continuing our countdown to the top team in college football for 2014 and unveiling our teams in groups of eight, working backward from 128. Thus, the 12th batch of our rankings includes teams ranked 33rd through 40th.
We'll include a look at each team's top players. Obviously, the better the team, the more "top players." Still, even teams that are going to struggle to win two or three games have players that are worth watching, and we'll let you know who they are.
Coach:Matt Wells
2013 record:9-5
Top players to watch:QB Chuckie Keeton (6-foot-2, 200 pounds, senior), RB Joe Hill (5-11, 190, senior), LB Kyler Fackrell (6-5, 245, junior), S Brian Suite (6-3, 205, senior)
The outlook:Not many first-year head coaches can deal with the loss of their starting quarterback and running back in back-to-back weeks but still end up with nine wins at the end of the year like Wells did with the Aggies in 2013. Although he's in for more of a rebuilding job in Year Two, getting both Keeton and Hill back will make things a little easier on offense despite departures along the line and at wideout. The defense is in a little better shape, but defensive coordinator Todd Orlando still has his work cut out for him with three new starters in the secondary and a host of question marks elsewhere. The opener against Tennessee will be interesting, but avoiding Fresno State and San Diego State on the schedule will give Utah State a shot at making it back to the Mountain West title game if Keeton is back to his magic self.
Coach:Gary Pinkel
2013 record:12-2
Top players to watch: DE Markus Golden (6-3, 260, senior); QB Maty Mauk (6-0, 200, sophomore); OL Evan Boehm (6-3, 315, junior); CB Aarion Penton (5-10, 185, sophomore); LB Kentrell Brothers (6-1, 240, junior); DB Braylon Webb (6-0, 205, senior)
The outlook: After a shocking ascension to the SEC East title in only its second year in the SEC, Missouri can't go anywhere but down after losing a bevy of talent on offense, not to mention two defensive linemen in NFL draft picks Kony Ealy and Michael Sam. Mauk is an exciting young quarterback who is dangerous as a runner, but the weapons around him won't be nearly as dangerous as they were a year ago when he shared QB duties with James Franklin. Golden has the potential to be a highly disruptive pass rusher, something he showed last year in a part-time role.
Take a look at the great players, coaches and teams that have shaped the history of college football.
Coach: Al Golden
2013 record: 9-4
Top players to watch: DE Anthony Chickillo (6-4, 277, senior); WR Stacy Coley (6-1, 185, sophomore); WR Phillip Dorsett (5-10, 185, senior); OT Ereck Flowers (6-6, 322, junior); CB Ladarius Gunter (6-2, 198, senior); TB Duke Johnson (5-9, 206, junior); LB Denzel Perryman (6-0, 242, senior); TE Clive Walford (6-4, 263, senior)
The outlook: UM has lost at least four games for eight consecutive seasons, the longest such stretch for the school since the 1970s, and the fans are restless. The offense has some big-time playmakers, but the quarterback situation looks dire. Johnson is an explosive runner who is returning from a broken leg suffered midway through last season. He has good speed and toughness, and is equally at home running up the middle as he is outside the tackles. He was an excellent receiver in 2012, but barely saw the ball in that role last fall; he needs to be an important part of the passing game again. Coley and Dorsett are speedy guys on the outside. Coley was inconsistent as a true freshman -- he would make spectacular catches, then drop one he should have caught -- but he has speed and a high ceiling. Dorsett is more of a No. 2 or 3 receiver, but he's a No. 2 or 3 who can run by corners and get deep. Walford also is dangerous. He's a better receiver than blocker, and has the speed and savvy to get deep down the seam. Flowers is a physical presence at left tackle, and also is a good pass blocker with excellent footwork. Chickillo is a good athlete who has yet to put it all together; he probably would've been best served by redshirting as a true freshman in 2011, but UM coaches had to throw him in the fray. He showed some growth last season and should be a solid all-around end this fall. Perryman lacks height, but, man, the guy is a huge hitter. He'll be playing middle linebacker for the first time this fall, and 125 tackles is a legit goal for one of the most talented linebackers in the nation. Gunter is an intriguing prospect because of his height, and played relatively well last fall, when he had three picks and nine pass breakups. He still is far from elite, though. Senior Ryan Williams was supposed to start at quarterback, but he suffered a torn ACL in spring practice. He hopes to be back in late September, but who knows? Redshirt freshman Kevin Olsen, who has a strong arm but doesn't truly appear to be ready, and well-traveled senior Jake Heaps (BYU, then Kansas before moving on to UM this summer) are the guys vying for the starting job in Williams' absence. There are playmakers galore, but will Walford or the receivers get the ball consistently? And the defensive line needs to make huge strides. UM's run defense has been awful for the past four seasons. The non-conference schedule features tests against Cincinnati and Nebraska, and the season opens with a trip to Louisville. UM misses Clemson, which is a plus. But the conference schedule still is tough -- Miami plays Virginia Tech, North Carolina and Florida State in a late October/early November three-game stretch, for instance -- and if this team wins more than eight, Golden will have done a notable job.
Coach: David Cutcliffe
2013 record: 10-4
Top players to watch: LB Kelby Brown (6-2, 230, senior); SS Jeremy Cash (6-2, 205, junior); WR Jamison Crowder (5-9, 175, senior); TE Braxton Deaver (6-5, 240, senior); LB David Helton (6-4, 240, senior); G Laken Tomlinson (6-3, 330, senior)
The outlook: The Blue Devils are coming off their first-ever 10-win season and expectations are high. Tomlinson is one of the top guards nationally; he is athletic, physical and helps make a productive running game go. Crowder is quick, has great hands, runs crisp routes and always seems to be open. He also is a dangerous punt returner. His lack of bulk is a concern, but he has 184 receptions and 16 TD catches in the past two seasons. Deaver is an underrated tight end; he is a big weapon in Duke's offense and has the ability to get deep. Brown and Helton are one of the more productive linebacker duos nationally; they combined for 247 tackles last season. Helton has good size and instincts but lacks quickness; Brown can run and has big-play ability. Cash, who began his career at Ohio State, had 121 tackles last season, his first at Duke. He lacks elite speed, but is heady and a big hitter. He had four interceptions and four pass breakups last fall, and should vie for all-league honors even though the ACC is deep at safety. Senior QB Anthony Boone shared time with Brandon Connette last season, but Connette has transferred to Fresno State to be closer to his ill mother and Duke will miss him. Boone is a solid quarterback but must cut down on his mistakes. Duke was able to sneak up on people last season, but that won't be the case this fall. Still, the non-conference schedule is such that a 4-0 start seems assured. The first two ACC games are road contests against Miami (Fla.) and Georgia Tech, which will be a good gauge as to how the season will go for all three teams. Duke misses Clemson and Florida State in ACC division crossover games. Duke won't win 10 again, but the Blue Devils have the talent and coaching to win eight or nine. Duke went to back-to-back bowls for the first time last season; the Blue Devils will go to three consecutive bowls for the first time this season.
Check out the alternate college football uniforms worn during the 2013 season.
Coach: Frank Beamer
2013 record: 8-5
Top players to watch: FS Detrick Bonner (6-0, 194, senior); RB Trey Edmunds (6-1, 217, sophomore); CB Brandon Facyson (6-2, 191, sophomore); CB Kendall Fuller (5-11, 195, sophomore); SS Kyshoen Jarrett (5-11, 191, senior); DT Luther Maddy (6-1, 291, senior); TE Ryan Malleck (6-4, 241, junior); OT Jonathan McLaughlin (6-5, 314, sophomore)
The outlook: The Hokies have lost 11 games in the past two seasons; that's two more than they lost in the previous three seasons combined. Can the program regain its solid footing? The running game has been mediocre for the past two seasons, and the hope is Edmunds can help in that regard. Line play has been an issue, but McLaughlin appears to have a good upside. He started all 13 games at left tackle as a true freshman last season; he had the requisite growing pains but also looked quite good at times. Malleck's return from a shoulder injury that cost him all of last season should help the passing attack. Still, as usual, the defense is going to carry the team. Maddy is a stud. He is physical against the run and can provide a consistent pass rush, too; he had 6.5 sacks and 16 quarterback hurries last season. The secondary should be one of the top two or three nationally. Fuller's brother, Kyle, was the Chicago Bears' first-round pick in May -- and Kendall has a better upside. Kendall Fuller started 12 games last season as a true freshman and had six interceptions and 11 pass breakups; he also is good against the run. Facyson started nine times as a true freshman last season, and had five picks and eight breakups; he isn't as fast or as physical as Fuller, but he still is a big-time talent. The safeties are good, too. Jarrett began his Hokies career as a corner, but has starred as a strong safety the past two seasons. He is a big hitter with good coverage skills for a strong safety. Bonner is another converted corner, and he is a big-time athlete (38-inch vertical jump) who needs to play with more consistency. He does have 15 pass breakups in the past two seasons. Quarterback play was an issue the past two seasons with Logan Thomas -- but Hokies fans actually might be clamoring for Thomas this fall. There is no clear-cut replacement on the roster, and that obviously is a concern. The running game should be better than it was last season, but Tech still must make opponents respect the pass, which hasn't happened in a while. While Maddy is the only returning starter in the front seven, the defense should be fine. The secondary is deep, talented and experienced. The non-conference schedule includes games against East Carolina and Ohio State, but the good news for the Hokies is that they don't play Clemson and Florida State in ACC division crossover games. Still, there are league road games against Duke, North Carolina and Pitt, as well as a visit from Miami (Fla.). The ACC Coastal is wide open, but the offensive questions mean it's unlikely the Hokies win the division. This looks like an eight-win team.
Coach: Doc Holliday
2013 record: 10-4
Top players to watch: QB Rakeem Cato (6-0, 188, senior); LB Jermaine Holmes (5-11, 243, senior); C Chris Jasperse (6-4, 289, senior); FS A.J. Leggett (5-11, 190, sophomore); LB Evan McKelvey (6-1, 210, junior); DE Ra'Shawde Myers (6-4, 246, senior); DT James Rouse (6-5, 270, senior); WR Tommy Shuler (5-7, 190, senior); CB Corey Tindal (5-9, 175, sophomore)
The outlook: Holliday guided the Thundering Herd to a spot in the Conference USA title game last season, where Marshall lost to Rice. This season, the Herd will be expected to win the league. And if there's any team outside the "Power Five" equipped to go unbeaten, it's these guys. Cato might not have a pro future (there's not much demand for an NFL quarterback who is listed at 6-0 and 188 pounds), but he has a nice arm -- though he sometimes trusts it too much -- and is a perfect fit for this pass-happy attack. He has thrown for 10,176 yards and 91 TDs in his career; he has a great chance to finish in the top five in FBS history in TD passes (he needs 33 to move into fifth place and 42 for fourth). Shuler, who also was Cato's favorite target at Miami's Central High, has 316 receptions and 16 TD catches in the past two seasons; he can get deep but is most effective on shorter routes, where he can use his quickness and surprising toughness to get open. Jasperse is one of the best centers outside the "Power Five" conferences and will be a four-year starter. Holmes lacks height, but is a physical presence in the middle against the run. McKelvey is on the small side, but he runs well and always seems to be around the ball. Rouse is undersized for a tackle, but has good quickness and had six sacks last season. Myers never redshirted and it has taken a while for him to get going, but he appears primed for a big season; he has the ability to reach double digits in sacks. Tindal played at a high level as a redshirt freshman last season, with 61 tackles and six pass breakups; he's slight but runs well and is a hard hitter. Leggett is a great athlete with a huge upside; he had four interceptions and three pass breakups despite starting only once last fall. Leggett, a Miami native who attended four high schools, was considered one of the nation's top dozen corners in the 2012 recruiting class; he once was a UM commitment and also heavily considered Florida State and Nebraska, but academics were a concern and he ended up at Marshall. There are no "Power Five" opponents and the toughest road game is against Akron. The Herd should go unbeaten.
Take a look at college football's top underclassmen players to watch in the 2014 season.
Coach: Tommy Tuberville
2013 record: 9-4
Top players to watch: RB Ralph David Abernathy IV (5-7, 165, senior); C Deyshawn Bond (6-2, 287, sophomore); G Parker Ehinger (6-7, 292, junior); QB Gunner Kiel (6-4, 208, sophomore); OT Eric Lefeld (6-6, 309, senior); DE Silverberry Mouhon (6-4, 248, junior); WR Shaq Washington (5-9, 174, senior)
The outlook: Tuberville's first season went well; now the Bearcats have to build on it. Kiel gives them the opportunity to do so. He was considered the nation's No. 1 quarterback in the 2012 recruiting class and signed with Notre Dame; he transferred after his freshman season and sat out last fall. He has a strong arm and a solid group of receivers headed by Washington, who also is a good punt returner. Abernathy, the grandson of one of Martin Luther King's most trusted advisers, is an elusive playmaker as a runner, receiver and kick returner. Lefeld, who has a chance to be one of the top six senior tackles nationally, heads a strong line. Ehinger has great size and also has played tackle. Bond started every game last season as a true freshman. Mouhon has a great name and good pass-rush skills; he had 9.5 sacks last season and could flirt with a dozen this fall. A lot is riding on Kiel. The non-conference schedule includes a visit from Toledo and trips to Miami (Fla.) and Ohio State. But the conference schedule is much easier; the Bearcats don't play league favorite Central Florida, and get East Carolina and Houston at home. If Cincinnati has more than one conference loss, it will be a surprise.
Coach:Dan Mullen
2013 record:7-6
Top players to watch: QB Dak Prescott (6-2, 235, junior); WR Jameon Lewis (5-9, 185, senior); LB Benardrick McKinney (6-4, 250, junior); OL Dillon Day (6-4, 300, senior); DL Chris Jones (6-5, 310, sophomore); DB Justin Cox (6-3, 190, senior)
The outlook: Potentially the best Mississippi State team in years will feature one of the most exciting quarterbacks in the SEC in Prescott, a dual-threat athlete who will give defenses fits this year if healthy. McKinney is arguably the most talented linebacker in the entire SEC, and Jones is a budding star on the defensive line. The Bulldogs' non-conference schedule is a soft one, and it draws Vanderbilt and Kentucky for cross-divisional SEC opponents. Those factors alone should be good for six wins.