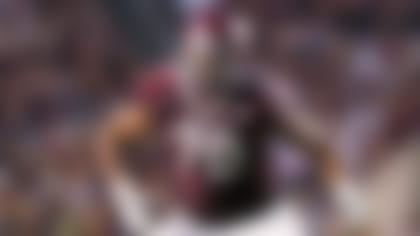 We're continuing our countdown to the top team in college football for 2014 and unveiling our teams in groups of eight, working backward from 128. Thus, the 13th batch of our rankings includes teams ranked 25th through 32nd.
We'll include a look at each team's top players. Obviously, the better the team, the more "top players." Still, even teams that are going to struggle to win two or three games have players that are worth watching, and we'll let you know who they are.
Coach:Kevin Sumlin.
2013 record:9-4
Top players to watch: OL Cedric Ogbuehi (6-foot-5, 300 pounds, senior); OL Jarvis Harrison (6-4, 325, senior); OL Mike Matthews (6-2, 285, junior); CB Deshazor Everett (6-0, 190, senior); QB Kyle Allen (6-3, 205, freshman); WR Malcome Kennedy (6-3, 205, senior).
The outlook: The post-Johnny Football Era begins with a dominant offensive line, a rebuilding defense and a quarterback battle that will extend into fall camp. Word around College Station is that true freshman Kyle Allen has the inside track for the starting quarterback job, although Kenny Hill might hold him off, at least to begin the season. Last year's horrifically bad Texas A&M defense returns most of its starters, but it remains to be seen whether that's a good thing or a bad thing. A season-opening game at South Carolina will be a fiery test early, but the Aggies' non-conference schedule is a weak one.
Coach:Charlie Strong.
2013 record:8-5 (7-2 Big 12)
Top players to watch:RB Malcolm Brown (5-11, 225, senior), RB Johnathan Gray (5-11, 207, junior), DE Cedric Reed (6-5, 258, senior), DT Malcom Brown (6-3, 315, junior)
The outlook:The Longhorns were not as bad as some made them out to be last season -- early losses to BYU and Ole Miss colored perception -- but by no means were they a top-25 team either. The quarterback position is a riddle wrapped in a mystery inside of an enigma, and whatever positive play the Longhorns get from the spot will likely be celebrated on Sixth Street. There's plenty of talent all over the roster, and new coach Charlie Strong is somebody who has been able to maximize talent in previous stops and that stands as a sharp contrast to previous Texas staffs. The run game should be a focal point on offense, and the defense has enough quality players to make a surprise jump compared to last year. There's plenty of potential with this team, but growing pains under Strong and offensive coordinator Shawn Watson's conservative style might hamper the record a bit.
Coach:Bronco Mendenhall.
2013 record:8-5
Top players to watch:WR Ross Apo (6-3, 207, senior), WR Jordan Leslie (6-3, 210, senior), OL Michael Yeck (6-8, 292, senior), LB Alani Fua (6-5, 215, senior)
The outlook:The Cougars have gone 8-5 two seasons in a row and there's a reason to be optimistic in Provo, Utah, that such a streak will be snapped in 2014. The offense should be more consistent while retaining the ability to hit big plays, and while the loss of Kyle Van Noy and others will be felt on defense, solid recruiting and good coaching should be enough -- in theory -- to stay above water on that side of the ball. The schedule is much more manageable than years past, and a return to 10 wins is certainly doable with few (if any) top-25 teams on the slate.
Coach:Kliff Kingsbury.
2013 record:8-5 (4-5 Big 12)
Top players to watch: QB Davis Webb (6-4, 195, sophomore), WR Bradley Marquez (5-10, 200, senior), OL Le'Raven Clark (6-5, 320, junior), RB/LB Kenny Williams (5-9, 225, senior)
The outlook:The Red Raiders were a team of steaks last season (7-0 before going 0-5), but a big bowl win and the promise of Webb as a true freshman have Tech fans optimistic going into fall camp. There's zero depth behind him at quarterback, however, so a solid offensive line will have to keep him upright long enough to find weapons on the outside like Jakeem Grant, Marquez and a host of others. Stopping the run better is once again the task of the defense, and several transfers (including Williams from the offense) should shore up the front seven going into 2014. The secondary and special teams will likely be weak links, but there's time for Kingsbury and his staff to get everybody up to speed before they hit the back-loaded schedule once again.
Take a look ahead to the 2014 college football season with the best wide receivers to follow this fall.
Coach: Bobby Petrino.
2013 record: 12-1
Top players to watch: RB Dominique Brown (6-2, 233, senior); OT Jamon Brown (6-6, 346, senior); LB Keith Brown (6-1, 236, sophomore); TE Gerald Christian (6-3, 244, senior); RB Michael Dyer (5-9, 213, senior); CB Charles Gaines (5-11, 190, junior); QB Will Gardner (6-5, 226, sophomore); LB Lorenzo Mauldin (6-4, 244, senior); G John Miller (6-2, 325, senior); WR DeVante Parker (6-3, 208, senior); C Jake Smith (6-4, 307, senior).
The outlook: The prodigal son returns. Petrino first made a name for himself a decade ago as Louisville's coach, and now he's back -- older and, hopefully for his sake, wiser. He takes over a team moving from the AAC into the much tougher ACC. But it's a team with a lot of key upperclassmen, and it's also a program on more solid footing now than when he left in 2006. While star QB Teddy Bridgewater now is in the NFL, Gardner looks to have a high ceiling. He has a stronger arm than Bridgewater, but accuracy will be a concern, as will his overall knowledge of the offense. It helps that he is surrounded by a lot of offensive talent. There is a deep group of tailbacks headed by Dominique Brown and Dyer, the well-traveled former Auburn star. Brown is a physical runner who also is a good receiver, while Dyer -- if fully invested in the process -- is a home-run threat with great explosiveness and surprising power. Parker is a phenomenal athlete (he's No. 1 on this list), and a huge weapon in the red zone because of his size and leaping ability. Christian, who began his career at Florida, is an athletic guy who should play a much bigger role in the offense under Petrino, who likes tight ends who can get deep. Jamon Brown is massive and can be a road-grader in the running game. Miller has struggled with his consistency, but when he is at his best, he's a top-flight mauler inside. Smith will be a four-year starter; he began his career at guard before moving to center last season. Mauldin had 9.5 sacks as an end in last season's 4-3 defense, but has been moved to outside linebacker in the Cardinals' new 3-4 set. He still will be unleashed against opposing passers, though he occasionally is going to drop into coverage. Keith Brown has a ton of talent, but played in only three games last season because of a knee injury. He can be a legit difference-maker if healthy, and his return likely is one reason coaches are quite comfortable going to the 3-4. One issue: The defensive line features three new starters, so the linebackers had better play well. Gaines, who has good speed and is a dangerous kick returner, is the best player in a secondary that has lost both starting safeties, including first-round pick Calvin Pryor. Gaines, who had five picks and seven pass breakups last season, can't take as many chances this season because of unproven safeties. If Louisville can get past Miami (Fla.) in its opener, it should be 6-0 when it heads to Clemson on Oct. 11; the game against the Tigers opens the second half of the schedule, which is much tougher than the first half and also features games against Florida State and Notre Dame. Still, this team has the talent to win nine or even 10 games and cause some waves in its first season in the ACC.
Coach:Will Muschamp.
2013 record:4-8
Top players to watch: LB Dante Fowler (6-3, 265, junior); CB Vernon Hargreaves (5-11, 190, sophomore); LB Antonio Morrison (6-1, 230, junior); OL Chaz Green (6-5, 300, senior); QB Jeff Driskel (6-4, 240, junior); RB Kelvin Taylor (5-10, 215, sophomore).
The outlook: Florida fans will be expecting a big turnaround from last year's 4-8 train wreck, and it will have to begin with a revamped offense under new coordinator Kurt Roper. Green returns from injury to anchor the offensive line, and Driskel might finally be ready to put together an effective, healthy season at quarterback. Fowler should be UF's top pass rusher on defense, and could be an early entry candidate with a big season. Tough road games at Alabama and at Florida State highlight a difficult schedule for the Gators.
Coach: George O'Leary.
2013 record: 12-1
Top players to watch: SS Clayton Geathers (6-2, 208, senior); CB Jacoby Glenn (6-0, 178, sophomore); WR Rannell Hall (6-1, 200, senior); WR Breshad Perriman (6-2, 214, junior); LB Terrance Plummer (6-1, 241, senior); RB William Stanback (5-11, 221, sophomore); G Torrian Wilson (6-3, 305, senior).
The outlook: UCF is coming off the best year in school history -- and one that is going to be hard to top. UCF won a BCS bowl and saw its best player, QB Blake Bortles, go third overall in the 2014 NFL Draft. UCF will not be as good offensively without Bortles, but on paper the Knights still look to be the best team in the AAC. The new quarterback should be Justin Holman (6-4, 207, sophomore), and the key for him is avoiding mistakes and letting his talented teammates do the heavy lifting. Stanback was effective as the No. 2 tailback last season and has 1,000-yard potential as the starter; he is tough and possesses a burst. Wilson is one of two starters returning on the line, but he is moving from tackle to guard, which probably is his best pro position, anyway. He has the ability to be a high-level run blocker. UCF is loaded at wide receiver. Hall and Perriman, whose dad, Brett, was an NFL wide receiver, have good size and can run. Both are big-play threats; each can get deep but also take a simple slant and turn it into a long TD. Former UAB star WR Jackie Williams (5-11, 190, senior) is eligible after sitting out last season following a transfer, and he is another weapon. Plummer is a tough, physical presence at middle linebacker. He had 110 tackles last season but also showed skill in pass coverage, with two picks and six pass breakups. Glenn was one of the better freshman corners nationally, with two picks and 15 pass breakups; he has shutdown potential, though he could stand to add some bulk. Geathers has a lot of former NFL players in his family and has the talent to eventually join them. He has good size, is a big hitter and covers a ton of ground. The first half of the schedule is tough, featuring games with Penn State (in Ireland), Missouri, Houston and BYU. It eases considerably in the second half, with only the regular-season finale against East Carolina looking like a difficult game. This looks like a nine-win team, maybe even 10.
Take a look ahead to the 2014 college football season with the best quarterbacks to follow this fall.
Coach: Brady Hoke.
2013 record: 7-6
Top players to watch: DE Frank Clark (6-2, 270, senior); WR Devin Funchess (6-5, 230, junior); QB Devin Gardner (6-4, 218, senior); DT Willie Henry (6-2, 297, sophomore); G Kyle Kalis (6-5, 304, sophomore); CB Jabrill Peppers (6-1, 202, freshman); LB James Ross (6-1, 225, junior); LB Jake Ryan (6-3, 235, senior).
The outlook: Hoke went 11-2 in his first season, taking the Wolverines to a BCS game in 2011. But Michigan has lost a combined 11 games in the past two seasons and Hoke's seat has become warm; it doesn't help that, right now, Michigan is a distinct No. 2 in its state behind "little brother" Michigan State. Last season's rush offense was a disaster that can be blamed mostly on the line but also on the backs. Kalis appears to have the highest upside among the linemen, but must become more consistent. Speaking of consistency, Gardner was consistently inconsistent last season. He was recruited to be a spread quarterback by former coach Rich Rodriguez, but has struggled the past two seasons in a pro-style attack. He can hurt opposing defenses with his legs and needs to be allowed to do that more often. He has a strong arm but frequently makes mind-numbingly poor decisions. It's up to new offensive coordinator Doug Nussmeier, who had held the same job at Alabama, to help develop that needed consistency. Then again, the biggest help would be if there were a competent rushing attack. Funchess played tight end last season, but coaches seem set on him playing wide receiver this fall. He is a big target who can overpower smaller corners, but while he was a fast tight end, his speed doesn't necessarily stand out at wide receiver. The defense did a nice job last season, especially considering how ineffective the offense was most of the time. Clark is a big-time athlete who still is learning the nuances of playing defensive end; he has the potential for double-digit sacks. Henry showed enough as a redshirt freshman last season to make you think he can develop into an all-conference performer down the road; he is stout at the point of attack. Ryan suffered a torn ACL in spring practice in 2013 but missed just five games last fall; still, he didn't appear to be close to 100 percent. If he is fully healthy, he can be a big-play guy who is active with his pass rush. Ross was a full-time starter for the first time last season and was second on the team with 85 tackles. He runs well but needs to make more big plays. Michigan returns both starting corners, but Peppers -- a true freshman who was considered one of the nation's top three recruits -- is going to see the field right away, in some role. Other than a trip to Notre Dame, the non-conference schedule isn't difficult. Nor is the schedule as a whole outside of games with Michigan State and Ohio State (Michigan misses Iowa, Nebraska and Wisconsin in division crossover games), and the potential exists for a nine- or 10-win season. Still, unless the running game comes around and Gardner shows more consistency, this also could be another seven-win season.