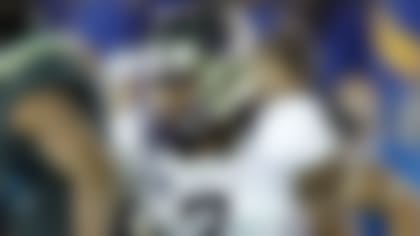 We're continuing our countdown to the top team in college football for 2014 and unveiling our teams in groups of eight, working backward from 128. Thus, the 14th batch of our rankings includes teams ranked 17th through 24th.
We'll include a look at each team's top players. Obviously, the better the team, the more "top players." Still, even teams that are going to struggle to win two or three games have players that are worth watching, and we'll let you know who they are.
Coach:Chris Petersen
2013 record:9-4 (5-4 Pac-12)
Top players to watch:WR Kasen Williams (6-foot-3, 221 pounds, senior), RB/LB Shaq Thompson (6-2, 225, junior), DL Hau'oli Kikaha (6-3, 260, senior), CB Marcus Peters (5-11, 193, junior)
The outlook:The Huskies made the best hire of the offseason when they lured Chris Petersen away from Boise State, but he'll quickly be thrown into the fire in a major conference as expectations will be high for 2014 on Montlake. Figuring things out at quarterback will be the first priority (Cyler Miles -- who is serving a one-game suspension -- or redshirt freshman Troy Williams are the leading candidates), but whoever is under center will have one of the best offensive lines in the conference protecting them and a wealth of skill position talent. The defense has the talent to be one of the best in the Pac-12, but will be a bit young in the back end. Washington should start 4-0 before the real test comes to Seattle in defending Pac-12 champ Stanford. A double-digit win total wouldn't be all that unexpected, but challenging the two top dogs in the division will be.
Coach: Dabo Swinney.
2013 record: 11-2
Top players to watch: CB Mackensie Alexander (5-11, 185, redshirt freshman); LB Stephone Anthony (6-2, 245, senior); DE Vic Beasley (6-2, 235, senior); DE Corey Crawford (6-5, 270, senior); DT Grady Jarrett (6-1, 295, senior); S Jayron Kearse (6-4, 205, sophomore); WR Charone Peake (6-2, 205, junior); WR Mike Williams (6-3, 205, sophomore).
The outlook: These are heady times for the Tigers, who seemed to have shed their "annual underachievers" tag and have enjoyed three consecutive 10-win seasons for just the second time in school history. There might be a slight dip this season because of the loss of QB Tajh Boyd and WR Sammy Watkins, but the Tigers still have a ton of talent, especially defensively. There is a lot of pressure on new starting QB Cole Stoudt (6-4, 210, senior), whose dad, Cliff, was an NFL quarterback. Cole Stoudt takes over an offense that is missing its top rusher and its top two receivers. Expect a tailback-by-committee approach, and those guys will run behind an OK line. Williams looks to have a huge ceiling; he has good size and speed, and came on strong down the stretch as a true freshman last season. Peake was a big recruit who hasn't lived up to the hype; he is an excellent athlete who missed 11 games last season with a torn ACL. If he is healthy and fully invested, he and Williams will be an exciting duo. The defense could be better than it was last season, when the Tigers were 10th nationally in total defense. The early departure of CB Bashaud Breeland to the NFL hurts, but there is ample talent. Beasley might be the best pass rusher in the nation. He is undersized, but extremely quick off the edge and he also has a nice bull rush; he is adequate against the run, too. Crawford is the "other" end and has the skill set to make a bigger impact than he has. If he lives up to his potential this season, Clemson will have a scary-good d-line. Jarrett is a squatty guy who makes a ton of tackles (83 last season) for an interior lineman; he had nine tackles for loss and 14 quarterback hurries last fall. Anthony is another former mega-recruit who came into his own last season, with 131 tackles, 9.5 tackles for loss and four sacks. He runs well laterally and generally arrives in a bad mood. If Anthony is not a first-team all-league performer, he will have had a disappointing season. Kearse -- whose uncle, Jevon, aka "The Freak," played in the NFL -- performed beyond expectations as a true freshman last season. He has intriguing size for a safety, runs well and is a solid tackler. Alexander was a mega-recruit in the 2013 class, redshirted last fall and is expected to take over Breeland's role as the top cover corner this fall. Alexander has the size, speed and skill set to be a shutdown guy. Clemson opens and closes the season with SEC opponents (Georgia and South Carolina), plays at Florida State (which mauled the Tigers last season), and plays host to Louisville and North Carolina. That's five tough games. The rest of the schedule? Seven wins, for sure. This team can get to 10 regular-season wins, but nine seems more likely. That would mean the Tigers would need to win their bowl game for their fourth consecutive 10-win season.
Take a look at the top 10 players from Kansas State to play in the NFL.
Coach:Bill Snyder
2013 record:8-5 (5-4 Big 12)
Top players to watch:WR Tyler Lockett (5-11, 175, senior), OL B.J. Finney (6-3, 303, senior), DE Ryan Mueller (6-2, 245, senior), LB Jonathan Truman (5-11, 219, senior)
The outlook:Bill Snyder quietly goes about his business in the Little Apple, and that contributes heavily to his Wildcats almost always entering the year underrated and ending the season as a quality top-20 team. One can probably expect much the same in 2014, but perhaps with the "dark horse" label to win the Big 12 this time around. Jake Waters and Lockett are a dangerous QB-WR duo and the former walk-on Mueller is one of the best pass rushers in the flyover states. The Wildcats' bandwagon will fill up real quickly if they can top Auburn at home on a Thursday night early in the season, but trips to Oklahoma and Baylor will be far more important to the conference race.
Coach:Todd Graham
2013 record:10-4 (8-1 Pac-12)
Top players to watch:QB Taylor Kelly (6-2, 211, senior), WR Jaelen Strong (6-4, 215, junior), OL Jamil Douglas (6-4, 300, senior), S Damarious Randall (6-0, 189, senior)
The outlook:The Sun Devils were undoubtedly one of 2013's surprise teams, compiling an 8-1 league mark in the tough Pac-12 to wind up hosting the conference championship game. Things ended roughly in the final two games, however, and now coach Todd Graham enters 2014 with plenty of question marks on both sides of the ball. Luckily Kelly is back to run the offense and few teams have as good of a trio as him, Strong and all-purpose back D.J. Foster. While there's plenty to get excited about on offense, the defense is undergoing some major changes after significant departures. There will be a few games to allow new starters to their legs under them, but the meat of the schedule is in the middle of the year and we'll likely know where ASU sits in the national and local pecking order by the end of October.
Check out the top 10 players from Notre Dame to play in the NFL.
Coach: Brian Kelly.
2013 record: 9-4
Top players to watch: K/P Kyle Brindza (6-1, 236, senior); WR DeVaris Daniels (6-2, 203, junior); DT Sheldon Day (6-2, 290, junior); QB Everett Golson (6-0, 200, junior); TE Ben Koyack (6-5, 261, senior); G Christian Lombard (6-5, 315, senior); CB Cody Riggs (5-9, 184, senior); CB KeiVarae Russell (5-11, 190, junior); LB Jaylon Smith (6-2, 230, sophomore); OT Ronnie Stanley (6-5, 318, junior); DE Ishaq Williams (6-5, 271, senior).
The outlook: The Irish followed up a trip to the national championship game in 2012 with a Pinstripe Bowl appearance in 2013. So, yes, 2013 was a disappointment. Then again, the Irish were without Golson, who was the starting quarterback in 2012 but missed last season for academic reasons. His return should provide a boost to the offense because of his dual-threat abilities. Golson is not going to be an NFL star -- heck, he might not even be an NFL player -- but he is a very good college quarterback who understands Kelly's offense. Expect a tailback-by-committee approach, and there is a nice group that should share carries. Daniels, whose dad, Phillip, was a longtime NFL defensive end, will be expected to make the jump from No. 2 receiver to go-to guy. He has a nice size/speed mix and can be a deep threat. Koyack will be a first-time starter; he also has the potential to be one of the first tight ends taken in the 2015 NFL Draft. He is a still-developing receiver, but could be a 40-catch guy this fall. Lombard and Stanley are the standouts along the line. Lombard is a good run blocker, while Stanley looks to have the footwork necessary to be a solid left tackle. There are high expectations for Day, who also should see time at end because he has some pass-rush ability. Williams is on this list not for what he has done but rather for what he could do: He is a good athlete who has been frustratingly inconsistent in his career. He should be able to provide a consistent pass rush. Smith might be the best sophomore linebacker in the nation. He arrived amid a ton of hype and began to live up to it last season as a true freshman. He was third on the team with 67 tackles and should lead the team in stops this fall. He is quick and physical, and has a big-time upside. The secondary should be a team strength. Russell was thrown into the fray as a true freshman in 2012 and more than held his own, and he showed further improvement last fall. Riggs, a transfer from Florida, should start opposite Russell. He started at corner and strong safety for Florida, and possesses a physical nature that will come in handy against the run. Brindza handles the kicking and punting as well as kickoffs, and does a nice job in all three facets; that versatility could lead to him being drafted next May. Notre Dame plays just three true road games this fall -- but those games are against Arizona State, Florida State and USC (the Irish also have three neutral-site games, though those are much easier: Navy, Purdue and Syracuse). There are home games against, among others, Louisville, Michigan, North Carolina and Stanford. Bottom line: This is a challenging schedule. But the talent is there to win nine games.
Coach: Bo Pelini.
2013 record: 9-4
Top players to watch: RB Ameer Abdullah (5-9, 195, senior); WR Kenny Bell (6-1, 185, senior); SS Corey Cooper (6-1, 215, senior); G Jake Cotton (6-6, 305, senior); DE Randy Gregory (6-6, 240, junior); DT Vincent Valentine (6-3, 320, sophomore).
The outlook: Nebraska has enjoyed six consecutive seasons of at least nine wins. The flipside: Nebraska has endured six consecutive seasons with four losses. Thus, the Pelini conundrum: Does the school replace him, or does it stick with him? The Cornhuskers return just nine full-time starters this season, but one of them is Abdullah, one of the best backs in the nation. While he has had fumbling issues, he still is an elite back. He has good (but not great) speed, is a physical runner, has shown excellent durability and is a dangerous receiver and return man. Bell is a solid all-around receiver who doubles as a good return man, but he has been underutilized in the passing attack. He should be a 65-catch guy. QB Tommy Armstrong Jr. (6-1, 220, sophomore) was thrust into the starting role last season when Taylor Martinez was injured; he predictably struggled, but he should be all the better for it this season. Cotton heads a line that improved last season, but while there is some experience up front, Cotton is the only returning starter and that could be an issue. Gregory is a stud and should vie for All-America honors. He lacks bulk and still needs technique work, but he has excellent speed off the edge and simply understands how to rush the passer. He had 9.5 sacks and 16 tackles for loss last season, his first after transferring in from junior college, and has the potential to rack up at least a dozen sacks this fall. Valentine looks to be a rising star; he is strong and physical and should be a disruptive force in the middle. Cooper is a physical safety who is at his best in run support. The non-conference schedule includes games at Fresno State and at home against Miami (Fla.), and there are conference road games against Michigan State, Wisconsin and Iowa. The home conference games should be a breeze, but that road slate is daunting. This has the look of -- everyone together now -- a nine-win team.
Check out the alternate college football uniforms worn during the 2013 season.
Coach: Larry Fedora.
2013 record: 7-6
Top players to watch: WR Quinshad Davis (6-4, 215, junior); NT Ethan Farmer (6-3, 295, senior); SS Dominique Green (5-11, 190, sophomore); P Tommy Hibbard (5-10, 200, senior); LB Norkeithus Otis (6-1, 235, senior); G Caleb Peterson (6-5, 295, sophomore); FS Tim Scott (5-11, 195, senior); WR Ryan Switzer (5-10, 180, sophomore); TE Jack Tabb (6-3, 250, senior); G Landon Turner (6-4, 315, junior); CB Brian Walker (5-11, 185, sophomore); QB Marquise Williams (6-2, 220, junior).
The outlook: Last season, Fedora's second at UNC, was a disappointment, but the Heels did rebound from a 1-5 start and have some momentum. Williams was pressed into starting duty when Bryn Renner was lost for the season, and responded well. He's not an NFL quarterback, but he is a solid dual-threat guy who improved as a passer last season. There is no standout tailback, but there is a nice group at the position. Davis has good size and needs to be more productive. Switzer was an electrifying return man as a true freshman last season, tying a FBS single-season record with five punt-return TDs, and needs to show he can be a well-rounded receiver this fall. Tabb, who also has played linebacker for the Heels, is a physical presence at tight end. While he's nowhere near as dangerous as a receiver as predecessor Eric Ebron, he could become an important part of the passing attack. Peterson and Turner have talent; they just need to show it consistently. Farmer emerged as an important player last season and needs to continue to show improvement; he is valuable against the run. Otis is a high-level athlete who had 7.5 sacks last season. He's another who needs to turn potential into more production. The secondary should be fine. Scott, who has good speed, is moving from corner and should fit right in at his new spot. Green was a true freshman standout last season; he is physical and has surprisingly good ball skills. Walker is another who played well as a true freshman; still, he will need to make a big leap from part-time starter to lockdown corner, and it may take another season. Hibbard is one of the better punters nationally. The ACC Coastal Division is wide open, and if UNC can run effectively -- something the Heels rarely have been able to do in the past six or seven seasons -- it can win the division. Defensively, there are some questions about the line, but Farmer is a good building block. There are two tough non-conference road games (East Carolina and Notre Dame), as well as road conference games against Clemson, Duke and Miami (Fla.), so the schedule is tough. Still, a seventh consecutive winning season looks to be a given, and if everything goes right, the Heels could win 10.
Coach:Hugh Freeze.
2013 record:8-5
Top players to watch: OL Laremy Tunsil (6-5, 315, sophomore); DL Robert Nkemdiche (6-4, 280, sophomore); QB Bo Wallace (6-4, 200, senior); WR Laquon Treadwell (6-2, 225, sophomore); DB Cody Prewitt (6-2, 210, senior); TE Evan Engram (6-3, 220, sophomore).
The outlook: Although Wallace is a senior quarterback, the heart and soul of the Rebels will be a sophomore class that made a major splash as freshmen last year, on both sides of the ball. Prewitt is one of the college game's hardest hitters at safety, and a speedy group of linebackers will give Ole Miss plenty of athleticism defensively. Another young player with high potential at Ole Miss is sophomore safety Tony Conner, who was the team's No. 3 tackler last year as a freshman. A brutal five-game stretch awaits in midseason in which the Rebels will face Alabama, Texas A&M, Tennessee, LSU and Auburn consecutively.