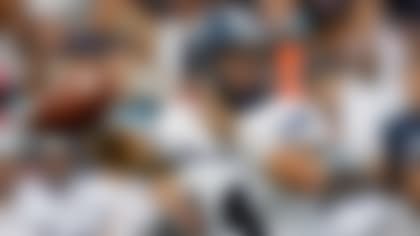 Today we begin our countdown to the top team in college football for 2014.
We're unveiling our teams in groups of eight, working backward from 128. Thus, the first batch of our rankings includes teams ranked 121st through 128th.
We'll include a look at each team's top players. Obviously, the better the team, the more "top players." Still, even teams that are going to struggle to win two or three games have players that are worth watching, and we'll let you know who they are.
Coach: Bobby Wilder
2013 record: 8-4
Top players to watch: QB Taylor Heinicke (6-1, 213, senior); SS Fellonte Misher (6-2, 207, junior); CB Reggie Owens (6-0, 190, senior); WR Antonio Vaughan (5-8, 172, senior)
The outlook: This is ODU's sixth season playing football, but its first in the FBS ranks. One positive: Heinicke has thrown for 4,000 yards in each of the past two seasons and is a great fit for the Monarchs' version of the spread. One negative: Star WR Larry Pinkard, who had 1,020 receiving yards last season, was dismissed from the team in early July, increasing the pressure on Vaughan, who now will be Heinicke's No. 1 target. ODU expected to have each of top three receivers back, but Pinkard was dismissed and Blair Roberts must redshirt because of a back injury. Misher, who has good size, made 95 tackles last season. ODU played five FBS opponents last season, going 1-4; the Monarchs gave up at least 35 points in each of those games, including 80 to North Carolina and 52 to East Carolina. Heinicke and the offense will produce, even with the questions at receiver, but the defense again could be sieve-like.
Coach: Bill Clark
2013 record: 2-10
Top players to watch: RB Jordan Howard (6-1, 228, sophomore); K Ty Long (6-2, 205, senior); P Hunter Mullins (6-3, 195, senior); WR Jamarcus Nelson (5-11, 160, senior)
The outlook: This is the first season for Clark, who was hired away from FCS program Jacksonville State. He takes over a program without much talent. Long and Mullins are among the nation's best at their positions and are the best players on the team. That's nice and all, but when a kicker and a punter are your best players, you're in trouble. Nelson is a legit deep threat -- he has averaged 19.97 yards on his 81 career catches (16 have gone for TDs, an impressive percentage) -- and could be devastating with a good quarterback. He also has two TDs as a return man.
Coach: Chris Creighton
2013 record: 2-10
Top players to watch: OT Lincoln Hansen (6-6, 299, senior); RB Bronson Hill (5-10, 210, senior); DL Pat O'Connor (6-4, 274, junior); TE Tyreese Russell (6-3, 238, senior); OT Andrew Wylie (6-5, 327, sophomore)
The outlook: Creighton is in his first season with the Eagles; he had success as coach at FCS member Drake and at Division III Wabash (Ind.), but this is one of the worst programs in the FBS ranks, with more than four wins only once in 18 seasons. Russell is the best at his position in the MAC and is a high-caliber tight end. Hansen, who plays right tackle, has all-league ability, and Wylie is a guy to keep an eye on because of his size and youth.
Take a look at the cheerleaders of college football in action during the 2013 season.
Coach: Paul Petrino
2013 record: 1-11
Top players to watch: DT Quayshawne Buckley (6-4, 305, senior); WR Dezmon Epps (5-10, 170, senior); DE Maxx Forde (6-3, 261, senior); C Mike Marboe (6-2, 296, senior)
The outlook: Idaho's coach is the oldest -- but less-accomplished -- Petrino brother; this will be his second season with the Vandals. Marboe is one of the best centers outside the "Power Five" conferences. Buckley had seven sacks and 16 tackles for loss last season. Epps is talented and would benefit from better quarterback play. That could come from redshirt freshman Matt Linehan, who is expected to be the starting quarterback; he is the son of former St. Louis Rams head coach/current Dallas Cowboys assistant Scott Linehan.
125. Florida International
Coach: Ron Turner
2013 record: 1-11
Top players to watch: G Jordan Budwig (6-4, 325, sophomore); FS Justin Halley (6-3, 200, senior); C Donald Senat (6-2, 285, senior); TE Jonnu Smith (6-2, 225, sophomore)
The outlook: Turner is entering his second season, but already is on the hot seat. FIU was brutal offensively last season, putting way too much pressure on a weak defense that couldn't handle the stress. FIU -- the alma mater of Indianapolis Colts WR T.Y. Hilton -- scored more than 13 points just twice and was held to 10 or fewer points eight times. True freshman QB Alex McGough could win the job and offer some hope. Budwig is a nice building block on the offensive line. Halley, who was coached by Keith Byars in high school, is a potential all-league guy, but his future might be in modeling: He already has done campaigns for, among others, Dolce & Gabbana and Givenchy.
Coach: Trent Miles
2013 record: 0-12
Top players to watch: S Tarris Batiste (6-1, 210, junior); WR Robert Davis (6-3, 198, sophomore); LB Joseph Peterson (6-0, 220, junior)
The outlook: The Panthers were one of two winless teams in the FBS ranks last season (they lost three times to FCS opponents), but they should be at least a little better this season. The secondary has potential, thanks to Batiste, who is expected to move from outside linebacker. Peterson makes a ton of tackles. Davis averaged 16.2 yards per catch last season, and the passing attack should be greatly improved this fall, meaning a big season could be in store for him.
Coach:Doug Martin
2013 record: 2-10
Top players to watch: G/OT Andy Cunningham (6-3, 306, junior); C Valerian Ume-Ezeoke (6-3, 295, senior)
The outlook: The Aggies have won more than three games only once in the past five seasons, and if they can surpass three victories this fall, this season will have been a rousing success. The defense needs to make marked improvement to even be called "mediocre," and there are no proven playmakers on offense. To make things worse, there is no clear-cut starter at quarterback. The offensive line could be good, though.
Coach: Mark Whipple
2013 record: 1-11
Top players to watch: LB Stanley Andre (6-foot-2, 240 pounds, senior); CB Trey Dudley-Giles (5-11, 185, junior); WR Tajae Sharpe (6-4, 200, junior); C Matt Sparks (6-4, 290, junior)
The outlook: This is Whipple's second go-round as the Minutemen's coach; he was in charge from 1998-2003 and led the school to the Division I-AA national title in 1998. He has NFL coaching experience, and most recently was quarterback coach of the Cleveland Browns in 2011-12. He takes over a team bereft of talent, especially offensively: The Minutemen were held to single-digit points six times last season. Sharpe could develop into one of the better receivers in the MAC under Whipple. Dudley-Giles is a good return man.
Mike Huguenin can be reached at mike.huguenin@nfl.com. You also can follow him on Twitter @MikeHuguenin.