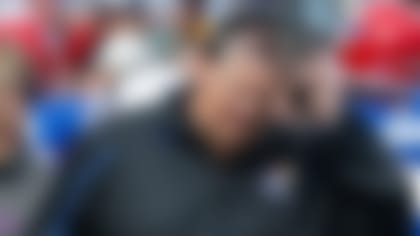 We're continuing our countdown to the top team in college football for 2014 and unveiling our teams in groups of eight, working backward from 128. Thus, the third batch of our rankings includes teams ranked 105th through 112th.
We'll include a look at each team's top players. Obviously, the better the team, the more "top players." Still, even teams that are going to struggle to win two or three games have players that are worth watching, and we'll let you know who they are.
Coach:Charlie Weis
2013 record:3-9 (1-8 Big 12)
Top players to watch:WR Nick Harwell (6-foot-1, 193 pounds, senior), WR Tony Pierson (5-10, 175, senior), LB Ben Heeney (6-0, 230, senior), S Isaiah Johnson (6-1, 210, senior)
The outlook:Kansas has been a regular at the bottom of the Big 12 of late, and there's not much to suggest it can move out of the cellar in 2014. Montell Cozart didn't inspire confidence at quarterback last year, but at least he has some talented targets at wideout if the offensive line can hold on long enough (no sure thing). The defense will fare much better than the offense, but it might be on the field too long for that to make a difference. The schedule isn't too daunting, but exceeding last year's three wins might be a tall task for Weis and company.
Coach: Todd Berry
2013 record: 6-6
Top players to watch: NT Gerrand Johnson (6-0, 280, junior); WR Rashan Ceasar (6-0, 188, junior); SS Mitch Lane (6-1, 209, junior); P Justin Manton (6-2, 201, senior); QB Pete Thomas (6-5, 235, senior); OT Joseph Treadwell (6-5, 324, senior)
The outlook: ULM isn't likely to contend for the Sun Belt title, but the Warhawks have a chance to be atop the second tier of teams in the league, so a bowl is a possibility. The non-conference schedule features three SEC teams, so there isn't likely to be much room for error in conference games. Thomas is a guy to keep an eye on. He was a coveted prep star from the San Diego area who started right away as a true freshman at Colorado State. He also started as a sophomore, but grew disenchanted and transferred to North Carolina State. But while sitting out in 2012, there was a coaching change. He started six games for the Wolfpack last season, but was a poor fit for the offense; he's a senior with immediate eligibility and has a huge arm, so scouts will be watching. Ceaser will be his go-to guy and doubles as a good punt returner; his dad, Curtis, played four games for the New York Jets as a receiver in 1995. Treadwell has started all 37 games in his college career and might be the best offensive lineman in the Sun Belt. Johnson, who began his college career at Missouri, is a fireplug in the middle of the line and made 10 tackles for loss last season. Lane is the key player in what could be one of the league's best secondaries. Manton has a big leg (45.8 yards per punt) and had touchbacks on almost 60 percent of his 53 kickoffs last season; he also kicks field goals for ULM, but is shaky in that role.
Coach:Ron Caragher
2013 record:6-6 (5-3 MWC)
Top players to watch:RB Jarrod Lawson (5-8, 190, sophomore), OL David Peterson (6-5, 297, senior), DT Travis Raciti (6-5, 290, senior), LB Christian Tago (6-2, 226, sophomore)
The outlook: It would be an understatement to say the Spartans' offense will take a step back after significant losses from last season. They'll need to figure out a replacement for David Fales at quarterback and the offensive line will need to jell early to help out a passing game that should benefit from a solid stable of backs. The defense should be pretty good, given the talent that returns, but still has to contain some quality offenses in the conference.
Coach: Charlie Partridge
2013 record: 6-6
Top players to watch: WR William Dukes (6-4, 190, senior); QB Jaquez Johnson (6-1, 225, junior); LB Andrae Kirk (6-2, 225, senior); C Braden Lyons (6-5, 295, senior); SS Damian Parms (6-2, 210, senior); CB D'Joun Smith (5-11, 190, senior)
The outlook: FAU ended last season on a four-game winning streak, but the last three wins were over teams that combined to win four games, so the .500 record was a bit misleading. Still, Conference USA is so weak that FAU has a legit shot at a bowl. Johnson and Lyons played well after transferring in from junior colleges last fall. Lyons started at tackle last season, but is moving inside this season. Johnson is mobile and has a nice arm. Dukes can be a big-play guy and should contend for all-league honors. Smith had seven picks (second nationally) and 13 pass breakups last season, and definitely is on NFL radars. He lacks elite speed, but he's tough and instinctive. Parms is active in coverage, and Kirk -- who will be a four-year starter and has 243 career tackles -- is tough against the run.
Coach:Troy Calhoun
2013 record:2-10 (0-8 MWC)
Top players to watch:OL Matt Rochell (6-3, 260, junior), WR Jalen Robinette (6-3, 220, sophomore), LB Dexter Walker (6-0, 205, junior), DE Alex Hansen (6-2, 260, junior)
The outlook:A fourth consecutive season of declining results in the win column will likely be reversed in 2014, but Air Force will need some help to make a huge turnaround. The Falcons have better depth, more experience and a sharper focus heading into the season -- that might just get them back into a bowl if things break right. The defense will have to come up with a decent pass rush, and the offense will need to take a step forward. The schedule sets up nicely for a solid improvement at Air Force, but it's still a ways away from being a good team.
Check out special college football uniforms worn during the 2013 season.
Coach: Matt Rhule
2013 record: 2-10
Top players to watch: K Kyle Friend (6-2, 305, junior); RB Kenneth Harper (6-0, 225, senior); LB Tyler Matakevich (6-1, 230, junior); CB Anthony Robey (5-10, 190, senior); QB P.J. Walker (6-1, 200, sophomore)
The outlook: The Owls won 26 games between 2009-11, but have won just six in the past two seasons. Walker was a revelation as a true freshman last season. He has a good arm and is mobile. He looks to be a star on the rise. Harper, who also is a solid receiver, is a tough inside runner and leads a nice group of tailbacks. But other than Friend, who is heading into his third season as the starter, the offensive line is a huge concern. Matakevich is a tackle machine and has a legit chance to make 150 stops this season. While he's not a pass rusher, he does a great job diagnosing plays and had 10.5 tackles for loss last season. Robey heads a secondary that has potential. The AAC isn't that strong, so if everything breaks right, the Owls could be a .500 team and go bowling.
Coach: Dennis Franchione
2013 record: 6-6
Top players to watch: RB Robert Lowe (5-10, 195, junior); CB Craig Mager (5-11, 190, senior); LB David Mayo (6-2, 228, senior); LB Michael Orakpo (6-1, 226, senior); C Charlie Will Tuttle (6-2, 297, senior).
The outlook: The Bobcats will be in their third season in the FBS ranks, and after going .500 last season (but 2-5 in the Sun Belt), the goal should be an upper-division league finish. The offense should do its part; it will be up to the defense. There's a nice group of linebackers; Orakpo, whose brother, Brian, is in the NFL, began his career at Colorado State and is an excellent athlete. Mager will be a four-year starter at corner and has five interceptions and 29 pass breakups in his career. Will Tuttle, who also has started at guard, headlines four returning starters along the offensive line, which is good news for Lowe and the rest of a deep group of tailbacks.
Coach: P.J. Fleck
2013 record: 1-11
Top players to watch: OT Willie Beavers (6-4, 309, junior); CB Donald Celiscar (5-11, 183, senior); SS Justin Currie (6-2, 204, senior); WR Corey Davis (6-2, 205, sophomore)
The outlook: Fleck brought in the MAC's best recruiting class, but as last season's record shows, the program definitely needs an influx of talent. Celiscar, a Florida native, might be the best DB in the MAC. Currie is a big hitter. Davis is a talent to keep an eye on; he had five 100-yard games as a true freshman last season and also had 96 yards (and a TD) against Michigan State's tough secondary (his brother, Titus, is a star receiver at Central Michigan). The schedule isn't overly difficult, and if the defense goes from awful to merely adequate, Western could be a middle-of-the-pack MAC squad. That's a big "if," though, considering the Broncos surrendered at least 26 points in every game and at least 35 points five times; consider, also, that the entire front seven on defense seems likely to be made up of new starters.