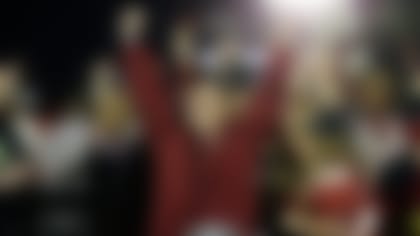 We're continuing our countdown to the top team in college football for 2014 and unveiling our teams in groups of eight, working backward from 128. Thus, the 16th batch of our rankings includes teams ranked first through eighth.
We'll include a look at each team's top players. Obviously, the better the team, the more "top players." Still, even teams that are going to struggle to win two or three games have players that are worth watching, and we'll let you know who they are.
Coach: Jimbo Fisher.
2013 record: 14-0
Top players to watch: K Roberto Aguayo (6-foot-1, 203 pounds, sophomore), CB Ronald Darby (5-11, 195, junior), DE Mario Edwards Jr. (6-3, 294, junior), OT Cameron Erving (6-6, 308, senior), DT Eddie Goldman (6-4, 320, junior), WR Rashad Greene (6-0, 180, senior); G Tre Jackson (6-4, 330, senior); DT Nile Lawrence-Stample (6-1, 314, junior), G Josue Matias (6-6, 325, senior), TE Nick O'Leary (6-3, 247, senior), FS Jalen Ramsey (6-1, 204, sophomore), LB Terrance Smith (6-4, 222, junior), RB Karlos Williams (6-1, 225 senior), CB P.J. Williams (6-0, 196, junior), QB Jameis Winston (6-4, 230, sophomore).
The outlook: Florida State is loaded -- the Seminoles have "a million prospects again" -- as it goes for a second consecutive national title. Go ahead and pencil in the Seminoles for a spot in the first four-team playoff; actually, go ahead and use a pen. Winston, the reigning Heisman winner, is the headliner. He threw for 40 TDs last season, and while he needs to work on his maturity and some mechanical issues, he is a scary proposition for opposing defensive coordinators. He has a strong arm and is mobile, and seems to ramp up his production in big games. He'll operate behind what might be the best line in the nation (at worst, it's a top-three unit). Jackson is the best guard in the nation, and Matias is close behind. Erving might be the best offensive tackle and seems a lock first-rounder. Karlos Williams didn't become a tailback until early September of last season, when he moved from safety. He is a good athlete with good speed, and he runs with almost a violent streak. O'Leary is a good all-around tight end. He has worked on becoming a better blocker, but most of his value comes because of his receiving ability. He has good hands, can find holes in zones and also can get deep. Greene might be the best senior receiver in the nation; he could stand to add some bulk, but he has deceptive speed, great hands and runs good routes. The issue for him (and Winston, too), is that there is no other proven receiver on the roster -- though there are a lot of young guys who certainly can run. Edwards has the talent to be one of the best ends in the nation. He is athletic, and while he is not necessarily a sack-master, he does have some pass-rush moves and also is stout against the run; he could play tackle if needed. Lawrence-Stample gets no publicity, but he mucks things up in the middle because of his strength. Goldman was a mega-recruit in the 2011 signing class and started playing like it last season; he has excellent size, moves well and also can play end. Smith is the only returning starter at linebacker. Last season was his first playing in the middle -- he had been playing on the outside -- and he played well; he moves well laterally and has intriguing size for a middle 'backer. The secondary is extremely deep, experienced and talented. Williams has good size, runs well and is physical. Darby has blazing speed and, like Williams, can be a shutdown guy. Ramsey, who was recruited by some schools as a corner, fit right in at safety last season as a true freshman. He, too, runs well and has above-average coverage skills for a safety. Aguayo won the Lou Groza Award as the nation's top kicker last season as a redshirt freshman; he has a strong leg and was 21-of-22 on field-goal attempts last season, including a 53-yarder. The schedule is tougher than it was last season -- it includes games with Oklahoma State, Clemson, Miami (Fla.), Louisville and Florida -- but the Seminoles will have more talent than every team they play. The only team that can beat FSU in the regular season? It's FSU itself. Unless these guys implode, they will be playing for the national title again.
Check out how Oregon's uniforms have evolved through the years.
Coach:Mark Helfrich
2013 record:11-2 (7-2 Pac-12
Top players to watch:QB Marcus Mariota (6-4, 215, junior), OL Tyler Johnstone (6-6, 277, junior), LB Tony Washington (6-3, 245, senior), CB Ifo Ekpre-Olomu (5-10, 195, senior).
The outlook:A knee injury to Marcus Mariota last season might have been the only thing that prevented the Ducks from taking on Florida State for the title last season, and a down year (at least by Oregon's standards) will likely serve as motivation heading into 2014. Eight starters are back on offense, which might feature the best one-two punch at tailback outside the SEC in Byron Marshall and Thomas Tyner. Finding a go-to receiver will be a priority after the loss of Bralon Addison, but that hasn't slowed Oregon down much in the past. The defense will have to discover what life is like without longtime coordinator Nick Aliotti, but veteran assistant Don Pellum has been around long enough to not make it a huge concern. Finding replacements at safety and along the defensive line might be more pressing, but the roster is filled with talented players who can make an impact. Is this finally the year for Oregon? The team has all the pieces and we'll know early enough when Michigan State comes to Eugene the second week of the season.
Coach:Nick Saban.
2013 record:11-2
Top players to watch: DB Landon Collins (6-0, 215, junior), DL A'Shawn Robinson (6-4, 320, sophomore), WR Amari Cooper (6-1, 202, junior), RB T.J. Yeldon (6-2, 220, junior), TE O.J. Howard (6-6, 238, sophomore), OL Cam Robinson (6-6, 325, freshman), QB Jacob Coker (6-5, 230, junior).
The outlook: Two players who have never played a down at Alabama will be counted upon heavily in QB Coker -- who is expected to win the job after transferring from FSU in the offseason -- and Cam Robinson -- who took over the left tackle position in the spring. Cooper and Collins are both strong candidates for early NFL draft entry as two of the top juniors in the nation at their respective positions, while A'Shawn Robinson will look to lead the team in sacks for the second consecutive season. UA opens the year on a neutral field against West Virginia, and a road trip to LSU looms as the toughest game on the schedule.
Check out the top 10 players from Oklahoma to play in the NFL.
Coach:Bob Stoops
2013 record:11-2 (7-2 Big 12)
Top players to watch:OT Daryl Williams (6-5, 321, senior), OL Adam Shead (6-f4, 316, senior), DL Charles Tapper (6-4, 261, junior), LB Eric Striker (6-0, 217, junior).
The outlook:Bowl games always seem to inflate some teams' reputations for the following season and that might be the case with the Sooners. After all, it wasn't until the end of the season that the team really found a rhythm and went from solid to spectacular. Still there's a lot to like about Bob Stoops' squad this year, from a more polished Trevor Knight under center to a defense that should be among the best at getting to the quarterback. The only thing that could hold OU back is a young and inexperienced wide receiving corps, and the lack of depth on the back end of the defense. But there's plenty of talent in Norman, a good coaching staff and plenty of optimism that the new college football playoff will feature Oklahoma.
Coach:Gus Malzahn.
2013 record:12-2
Top players to watch: OL Reese Dismukes (6-3, 295, senior), QB Nick Marshall (6-1, 210, senior), WR Sammie Coates (6-2, 200, junior), LB Cassanova McKinzy (6-3, 245, junior), Jonathon Mincy (5-10, 200, senior), OL Chad Slade (6-5, 315, senior), DL Gabe Wright (6-3, 285, senior), DE Carl Lawson (6-2, 260, sophomore).
The outlook: Offensively, quarterback Nick Marshall's improvement as a passer will go a long way to determine how effectively the Tigers can score without RB Tre Mason, who was a third-round selection by the St. Louis Rams in the 2014 NFL Draft. Marshall has a future NFL target to throw to in Coates, who received nearly 40 percent of the team's passing offense last year. Watch for bigger contributions this season from Corey Grant, a speedy running back who lacks size but has big-play capability. Lawson is rehabilitating a knee injury and will not be available to begin the season, which will be a setback for the Auburn pass rush. Auburn should handle three of its four non-conference opponents with ease, but a road trip to Kansas State could get sticky.
Coach: Urban Meyer.
2013 record: 12-2
Top players to watch: DT Michael Bennett (6-2, 288, senior), DE Joey Bosa (6-5, 285, sophomore), OT Taylor Decker (6-7, 315, junior), G Pat Elflein (6-3, 300, sophomore), RB Ezekiel Elliott (6-0, 225, sophomore), LB Curtis Grant (6-3, 240, senior), CB Doran Grant (5-11, 193, senior), TE Jeff Heuerman (6-5, 255, senior), QB Braxton Miller (6-2, 215, senior), LB Joshua Perry (6-4, 250, junior), S Tyvis Powell (6-3, 205, sophomore), WR Devin Smith (6-1, 197, senior), DE Noah Spence (6-3, 252, junior), DT Adolphus Washington (6-4, 288, junior).
The outlook: Ohio State had national championship aspirations last season, but ended up losing its final two games of the season. Miller is back for his final go-round at quarterback, and that means the offense -- regardless of concerns along the line -- is going to be just fine. Miller is an excellent fit for Meyer's version of the spread, and while he certainly can improve as a passer, he has accounted for 8,346 yards and 84 TDs in three seasons, including 3,054 yards and 32 TDs on the ground. There is no established feature back and the Buckeyes seem likely to play three tailbacks, though first crack likely goes to Elliott, who has good size and was a high school sprinter of some renown in Missouri. Smith has elite speed -- he has been clocked under 4.4 in the 40 -- and will be the go-to receiver, but he remains rather raw as a route runner and lacks consistency in all facets; he'll make a great catch on one drive, then do nothing the rest of the quarter. Heuerman has just 35 career receptions -- 26 of those came last season -- but he should be one of the top tight ends nationally. He is an excellent athlete and likely will be used in a variety of roles this fall. Decker is the only returning starter up front, and is moving to left tackle from the right side. He has star potential. So does Elflein, a physical guy who will be a first-time starter this fall; he has enough talent to vie for all-league honors. The defensive front is the best in the nation; it returns all four starters, along with a ton of depth. Bennett is a dynamo in the middle; he makes plays and generally gets things done. Bosa was magnificent as a true freshman, and while he is the third-best end in the Big Ten, the two guys ahead of him (Michigan State's Shilique Calhoun and Nebraska's Randy Gregory) are two of the top four ends nationally. Spence is a big-time pass rusher. Washington is a converted end who has good quickness and should become a disruptive force inside. Curtis Grant was a national recruit who is a high-level athlete, but his production never has matched his potential. Perry played well last season, and has all-league potential. Doran Grant (no relation to Curtis) has a nice size/speed mix and had three picks and 10 pass breakups last season. Powell looks to have a good upside. Powell was the main nickelback last season, and will have more responsibility as a safety this season. The non-conference schedule has some OK opponents (Cincinnati, Navy and Virginia Tech), but something really will have gone wrong if the Buckeyes lose any of those games. Ohio State misses the four best teams in the West Division in crossover games, and the Big Ten season likely hinges on one game -- and, no, it's not the finale against Michigan. Instead, it's a Nov. 8 trip to Michigan State, which is a division game for the first time. The winner can proceed to Indy for the league championship game.
Check out the best moves of college football cheerleaders during the 2013 season.
Coach: Mark Dantonio.
2013 record: 13-1
Top players to watch: C Jack Allen (6-2, 300, junior), DE Shilique Calhoun (6-4, 247, junior), OT Jack Conklin (6-6, 330, sophomore), QB Connor Cook (6-4, 219, junior), FS Kurtis Drummond (6-1, 200, senior), LB Taiwan Jones (6-3, 252, senior), RB Jeremy Langford (6-0, 205, senior), WR Tony Lippett (6-3, 190, senior), DE Marcus Rush (6-2, 255, senior), P Mike Sadler (6-0, 170, senior), CB Trae Waynes (6-1, 183, junior).
The outlook: It's a great time to be a Michigan State fan, as the Spartans are in the midst of the best four-season run (42 wins) in school history. Last season saw the Spartans win the outright Big Ten title for the first time since 1987 and just the second time since 1966. This season could be as memorable. Cook made great strides last season and has developed into a good passer even though there really is nothing special about the Spartans' receiving corps. He has a nice arm and surprising mobility. Langford, though, will be the focal point of a physical offense. He ran for 1,422 yards and 18 TDs last season, and handled a heavy workload. He's not a burner, but he is a productive plugger who punishes would-be tacklers. Conklin is a star on the rise -- not bad for a guy who originally was a walk-on from a town of a bit less than 4,000 people in west-central Michigan. He has excellent size and is a masher. Allen is a physical presence in the middle of the line and is heading into his third season as the starter. Lippett has good size and excellent speed, but the converted corner still is learning the nuances of wide receiver. He certainly has the athleticism to be a star, and should be the unquestioned go-to receiver this season. Calhoun and Drummond can stake claims to being the best at their positions in the nation. Calhoun is a big-time athlete who can wreak havoc; he had 7.5 sacks, 14 tackles for loss and 18 quarterback hurries last season, and also can be a force against the run. Rush lacks size, but is a high-motor guy. With everyone focused on Calhoun, Rush can make the occasional big play but always is tough vs. the run. Jones is the only returning starter at linebacker and is moving to the middle after playing on the outside. He started living up to his potential last season, and if he makes the same kind of jump this season, he will be a first-team all-league pick. Waynes was the "other" corner for the Spartans last season, when eventual first-round pick Darqueze Dennard was in the lineup. This season, Waynes will be the shutdown guy, and while he might not be as instinctual as Dennard, he is bigger and faster. (He and Wisconsin RB Melvin Gordon are former teammates at Bradford High in Kenosha, Wis.) Drummond is a force in the back end; he will be a three-year starter, and is equally tough against the run as the pass (four picks, six pass breakups last season). To top things off, the Spartans have Sadler, who might be the best punter in the nation. While the Spartans certainly have the talent to again win at least 10 games and the league title, the schedule is tougher this season. First, there's a Sept. 6 trip to Oregon in a contest that will match the Ducks' finesse against the Spartans' brawn. There's also a big cross-division game against Nebraska, as well as high-intensity home showdowns against Michigan and Ohio State. The game against Ohio State likely determines the Big Ten East Division title.
Coach:Steve Spurrier.
2013 record:11-2
Top players to watch: DL J.T. Surratt (6-2, 310, senior), OL Corey Robinson (6-8, 350, senior), QB Dylan Thompson (6-3, 220, senior), RB Mike Davis (5-9, 215, junior), WR Pharoh Cooper (5-11, 200, sophomore), G A.J. Cann (6-4, 320, senior), WR Damiere Byrd (5-9, 170, senior), TE Rory Anderson (6-5, 230, senior), LB Skai Moore (6-2, 210, sophomore).
The outlook: The South Carolina offense might have to carry this team, but with a dominating offensive line, a dynamic rusher and a quality quarterback, it is capable of doing just that. Steve Spurrier will have plenty of weapons to score with, but not as many to stop those of the opposition. Moore is undersized, but showed excellent speed and instincts last year to lead the team in tackles as a freshman. Surratt will be asked to anchor the line; Brison Williams the secondary. The Gamecocks open the season against Texas A&M, close it at Clemson, and face road tests at Florida and Auburn in between.