PITTSBURGH -- Happy quarterback, happy team?
"You can tell out here in practice," center Maurkice Pouncey said. "With Ben taking that bigger role, it's going to be a lot of help to us."
By "bigger role," he means "ownership." Roethlisberger spoke last week about a collective, from coordinator Todd Haley to assistants and players, tweaking the offense. Tuesday, running back Jonathan Dwyer said it was No. 7 who had very real input, who met repeatedly with Haley, who talked through what could work that didn't last year and who now "has a lot more power." Roethlisberger, in typical fashion, said "No," when asked if he could detail his input or the changes -- but he smiled when he said it.
And he did offer this: "We're growing and we're learning and we're communicating. This year, more of us know what's going on, so we can coach each other up instead of always having questions, going to coaches to get answers."
For all of his crazy dynamism and all of his successes, Roethlisberger has never been a film-room rat in the mold of the Manning brothers or Tom Brady. When Haley came in last year, replacing Roethlisberger's buddy Bruce Arians, there was an obvious -- and occasionally cringe-worthy -- feeling-out period. Fast-forward a year, and there were Haley and Roethlisberger, after practice broke up, talking casually on the fields behind the Steelers' facility, loose and -- gasp -- smiling.
Dwyer said there's a better relationship there. Pouncey agreed. And for as much as receiver Emmanuel Sanders likes to maintain that the Haley-Roethlisberger disconnect was a media fabrication, even he acknowledged there's a different vibe this year.
Debate: Go-to quarterbacks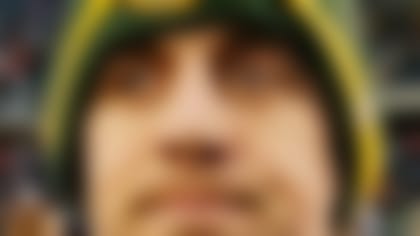 Aaron Rodgers is definitely clutch -- but would he be the best choice if you needed a win today? Our analysts debate go-to QBs. **More ...**
"They've grown to know each other, their families and things of that sort, so of course they've grown to get comfortable with each other," Sanders said.
The net result of that and of the time invested in meetings, Sanders said, is Haley giving Roethlisberger more control at the line of scrimmage. Roethlisberger won't be calling his own game, but he has more leeway in making check-downs and hot reads -- things he wasn't doing much of last year.
"Coach Haley came last year, and they were trying to get acclimated," Sanders said. "Coach Haley didn't know him and he didn't know Coach Haley. The more and more comfortable they get, the more and more control he's going to give Ben."
"I ran a 4.3, Antonio Brown ran a 4.3, (rookie Markus) Wheaton ran a 4.3," Sanders said, ticking off 40-yard dash times. "We all can run, we all can stretch the field."
Most everyone likes their team in May. Yet Burress was so convincing when he called tough veteran Jerricho Cotchery "Mr. Consistency" and then promised that the Steelers have everything they'll need on the receiving end in-house already.
Of course, sometimes a quarterback can make a superstar receiver. (See: Annual leading wideouts for Brady, Tom or Manning, Eli.) And a happy quarterback definitely can make happy teammates.