At the start of the fourth quarter last Saturday, Army trailed rival Air Force, 10-7, and was backed up against its own end zone, badly in need of a stand.
The Black Knights played well defensively in the Commander-in-Chief's Trophy game in Arlington, Texas, but they'd allowed the go-ahead touchdown on the previous drive and were running low on fuel. Army's offense had lost yards on the previous two drives and was stuck below 100 total yards.
"This We'll Defend" is the U.S. Army's motto, and edge rusher Andre Carter II -- who has a chance to be the first Army player drafted in Round 1 since 1947 -- took those words to heart. After a quiet first three quarters (three tackles), the 6-foot-7, 260-pound Carter suddenly announced his presence like a late-season Texas tornado.
On two straight plays, Carter broke into the backfield, registering a pair of tackles for losses (Carter was lucky not to be flagged for tripping on the first). On third down, he helped redirect a run play short of the goal line, and Army kept Air Force out of the end zone.
For the first time all game, too, his emotions boiled, as the typically reserved Carter capped those big plays with a fist pump and a yell. Yet, in the back of his mind, Carter remembered last year's Air Force game, in which he registered a showcase performance -- featuring a sack, a forced fumble and a tipped pass that led to an interception -- but also garnered an excessive-celebration penalty on the latter play in that 2021 contest. He wouldn't overdo it this time around.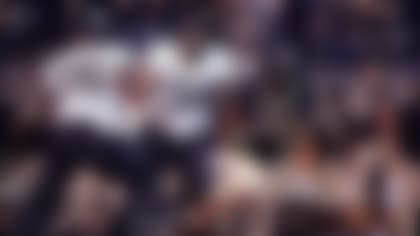 "It's a huge game for us, that and Navy," Carter told me this week. "Anytime you make a play in that situation, you get fired up. But there's a fine line between celebrating and keeping your emotions in check. It's tough because of the work we put in and the ramifications of that game. Sometimes you can't help it."
But it wasn't enough. Holding Air Force to a field goal kept Army in a one-score game, and twice more the defense forced punts, but the Black Knights' offense stalled in the 13-7 loss. It's been that kind of season for Army, which fell to 3-5 -- unfamiliar turf for a resurgent program that won 52 games (including four bowl games) over the previous six seasons.
"We've had a lot of success here," Army head coach Jeff Monken said. "What's hard is that, when you've had success and you slip backwards, it's ... agonizing."
It's also been a frustrating season for Carter, who took the country by storm in 2021 with 15.5 sacks (trailing only Alabama's Will Anderson Jr.) and four forced fumbles, becoming the school's first AP All-America selection since 1990 and emerging as a possible first-round pick in the 2023 NFL Draft.
Carter has 2.5 sacks this season -- all vs. UTSA in the second game -- and missed parts of three games after suffering a concussion against Wake Forest before returning to the lineup last week.
"Me along with everybody else, we've got to take a look at what we're doing and find ways we can get better," Carter said. "I definitely need to be better out there to help us get some wins."
To guarantee a non-losing season, Carter and his Army teammates likely must win out, starting with Saturday's game at Troy (3:30 p.m. ET on NFL Network) and closing with the all-important Navy game in December.
In every hallway, meeting room, weight room -- heck, every latrine -- in Army's athletic facility, the message is the same: "Beat Navy." Those signs, or versions of them, have hung on those walls since Teddy Roosevelt's days. But on some of those walls also hang pictures of Carter, right next to Army luminaries such as its Heisman Trophy winners (Doc Blanchard, Glenn Davis and Pete Dawkins) and legendary coach Earl "Red" Blaik.
Carter said the increased expectations on him weigh heavier when the team isn't winning.
"You can never be satisfied when you're losing," Carter said, "and I know I only have so much time to get something done about that."
The long road to West Point
Melissa Carter affectionately calls Andre II, the youngest of her five children, "a late bloomer." She's overseen his circuitous route through one California high school, two more in Texas, plus prep school in Connecticut, understanding that his path to success would be different.
Early on, she even worried he might be a troublesome kid.
"I was on every teacher's speed dial through middle school," she said sheepishly.
Carter had a penchant for being restless in school and just a little too rough with the other kids, most of whom were significantly smaller than the oversized child was.
"He'd want to play dodgeball and, well, you know, little Johnny's crying because he threw the ball at him," Melissa said. "Andre really thought he was playing a game, and if you asked how he'd feel if somebody threw a ball at him, he'd say, 'I would feel good.' "
When Carter was in first grade, the school district recommended a behavior therapist. But after a few sessions, the therapist reported back to Melissa that "there's nothing wrong with this kid," and that if the school gives the Carters any more trouble, "just tell them to cut the s---."
Andre Sr. convinced Melissa that Andre II would "figure it out." Dad was right: Andre II hasn't been a problem since before high school.
"He was this happy-go-lucky kid and just needed time to assimilate," Melissa said. "He's so even-tempered, and he gets along with everyone. He was just finding his way through the world."
Moving around as frequently as the Carters did "wasn't ideal for Dre," she notes; neither was switching positions late in his prep career, nor a season-ending back injury as a senior, with playing college football a goal. Carter spent his two years in Texas as a receiver and tight end, which he most wanted to play in college.
One problem: Carter wasn't receiving significant recruiting attention at Ridge Point High School (Missouri City, Texas), stuck on the depth chart behind former four-star recruit Mustapha Muhammad, who ended up at Michigan.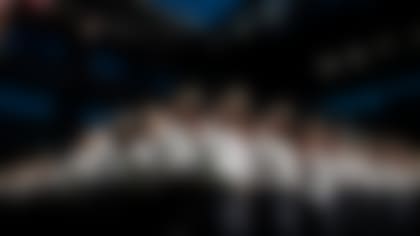 That's when Melissa went to work. She connected with former Cheshire Academy (Connecticut) head coach Dave Dykeman and started seriously considering the prep-school route for Andre, even if it meant using his college fund to pay for an extra year of high school. He wasn't sold at first, but she reminded him that he'd already come from a Midwest-bred family, lived in California and Texans and, so, why not Connecticut?
"Dre has always been extremely adaptable. He just finds ways to make a way for himself, you know?" she said. "He always got along with lots of different people and was so relatable, so I knew he'd be fine. But I think that quality, for his age, was unusual."
Carter moved to outside linebacker at Cheshire, partly because Dykeman needed help on defense. But they quickly realized they might have something special on their hands. Dykeman called John Loose, an Army assistant coach and good friend, to let him know as much.
Carter had melded fine in the rolling hills of tony Cheshire. But West Point? A different deal altogether -- the uniforms, the spartan regimen. Plus, Army was recruiting him for defense. Again, Carter needed convincing, initially.
"You look at a box score from Army, we throw the ball -- on a good game -- maybe five times," Carter said with a laugh, reflecting on how he was still holding out on his tight end dreams at the time. "It wasn't very appealing at first."
Once again, Carter trusted his parents.
Melissa, a former lawyer, and Andre Sr., who worked in the airline industry and later owned restaurants, always tried to give their kids the best opportunities they could. For Andre, Melissa felt, the chance to attend the United States Military Academy was just too rare to pass on. Once Andre was convinced he could still chase his NFL dreams with the Black Knights, he finally was sold.
"That's part of what makes me so proud of him," Melissa said. "He's now embraced everything that comes with West Point -- the responsibility, the duty, the honor. But he went there at first because he trusted us that it was the best choice for him. Not because he had a desire to serve and not because he thought this looked like a fun place to be."
Scouts have flocked to see Andre Carter II up close
When Nate Woody arrived at his new post as Army defensive coordinator in early 2020, he'd just come from Michigan, a program littered with future NFL players, especially in the pass-rush department. Aidan Hutchinson, David Ojabo, Kwity Paye, Josh Uche and Michael Danna were all NFL draft picks from that 2019 Wolverines defense.
Army, meanwhile, had only produced two draft picks since 1969, both seventh-rounders. Woody knew what he was walking into, and his first impression of Carter wasn't mind-blowing.
"He didn't stand out to me right off right off the bat," Woody admitted.
Having arrived in 2019 at 225 pounds, Carter was coming off a scout-team freshman season in which he mainly focused on bulking up. But once Woody put Carter through a few pass-rush drills in spring ball that year, the coach's impression quickly turned.
"I'd never really seen a 6-7 guy go through some stunts like that. His hips were just so fluid," Woody said. "I thought, my goodness, this guy really could be special."
By the end of that season, Carter earned a pass-rush role on Army's "Cheetah" package when they went nickel or dime on defense. He played well in a win over Georgia Southern, and again in the 15-0 shutout of Navy, then started the bowl game, a 24-21 loss to West Virginia.
In 2021, Carter won a starting job at the "Dog" rusher spot and took the country by storm. Three sacks in the opener at Georgia State, 1.5 against Western Kentucky, two more vs. Ball State and one in a near-upset of Wisconsin -- pretty soon, Carter was a household name. He'd finish his All-America season with a sack, a fourth-down tackle for loss and a fourth-quarter fumble recovery in a bowl-game win over Missouri.
Every NFL team made plans to send evaluators to West Point, if they hadn't already.
"There are pro scouts at our practices every day now, and I mean every single day," Monken said. "The difference (between last season)? Literally, the fact that they're here every day. Here to see Andre."
Some NFL scouts, after Carter first appeared on their radar, were surprised to find out that he was not the son of the former 49ers, Washington and Patriots pass rusher of the same name (with similar dimensions, to boot). But they saw the same loose, fluid bend that Woody did back in 2020. They were impressed at the way Carter moved as a 3-4 outside linebacker in a two-point stance -- sometimes rushing, sometimes dropping -- and shocked to see such a long specimen do it so easily.
"He's got good change of direction, he can run, he can cover, his ball skills are just tremendous," Woody said. "That time he spent at tight end paid off. Great timing, awareness, acceleration ... and that (81 1/2-inch) wingspan, man. He doesn't have to be (next to) a guy to bring him down."
Woody compared Carter favorably to Ojabo, a 2022 second-round pick of the Ravens who likely would have been a first-rounder had he not suffered an Achilles tear before the draft. Monken sees some physical similarities to ex-Bengal Michael Johnson, whom Monken coached at Georgia Tech.
Two NFC scouting directors we spoke with believe Carter can still crack Round 1, despite his dip in production. The first said Carter must get stronger, which Carter and his coaches agree with. The second said that, come testing time, Carter could wow NFL teams. Both directors felt breaking into the top 50 was a readily attainable possibility.
Carter's coaches also admit that Army's non-stop daily regimen -- from 6 a.m. to 9 p.m. most days -- has hurt his weight-adding process, pointing to the post-graduation gains made by former Black Knights and future NFL OTs Alejandro Villanueva and Brett Toth.
"This place isn't built for these guys getting the proper nutrition every single day," Monken said. "They're just pushing calories their way. We have no control over whatever they serve at the mess hall.
"But Andre is going to be enormous. I'm telling you, his strength and upper-body mass will increase exponentially after he graduates."
Carter had a chance to leave prior to this season. Those 15.5 sacks didn't just attract scouts; the rest of college football took notice, and in tow came a gaggle of bigger-school poachers looking to lure him into the transfer portal.
Carter wasn't having it. He rebuffed his suitors to stay at West Point.
"I really think it probably didn't have anything to do with football," Carter said. "It's a great opportunity to go to this school. Not many people have that opportunity, so it's something that I really value and cherish.
"I wasn't going to just leave my brothers and this institution to go play somewhere else. To serve in the Army, that's what I wanted to do."
Even if it took some convincing at first.