PHOENIX -- Tucked away behind the scenes in Foxborough, the New England Patriots are slow cooking a secret weapon: Bill Belichick's son.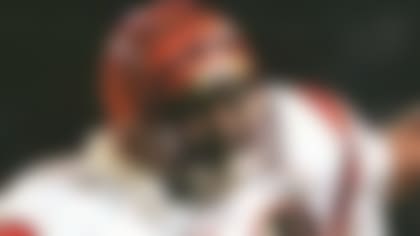 Super BowlSunday will cap Steve Belichick's third season as a Patriots coaching assistant, a role that requires long hours of toil for a notoriously challenging boss.
"Bill is a demanding guy," said running backs coach Ivan Fears. "All I'm going say is, just like anything else, whether Steve is the son or anybody else, if he's working for Bill, Bill is a demanding coach. Steve is learning, he's doing a hell of a job. That's got be a little tough for him, but I'm not going to go any further than that."
Pressed for details on Steve's daily duties, Fears laughed out loud: "I ain't getting into that one!"
The many Patriots we spoke with were unwilling to sing about Steve's specific role in New England, but the praise flowed freely.
"Just watching them from the outside, he's another one -- I mean, obviously the passion's in the family," special teams coach Scott O'Brien told Around The NFL. "They love what they do, and Steve works his butt off. A lot of times he doesn't even go home, and he just stays there. He's learning the game the way all young coaches should learn the game, and I think that's one thing Bill's always done. He's not only teaching players the game, but he's teaching coaches the game."
Named after his grandfather -- the former Hiram College and Navy coach who helped revolutionize modern scouting -- Steve joined the staff in 2012 after playing lacrosse at Rutgers and walking onto the football team as a long snapper under then-coach Greg Schiano. His duties in New England focus primarily on defense, according to staffers, but Bill asks his young assistants to spread their wings with a rich variety of tasks.
"I can't speak for Steve's projects, but (in my case) it was film breakdown, it's coaching, it's doing whatever Bill thinks you need to do to help the team," said linebackers aide Patrick Graham. "That's pretty much what we buy into."
Bill himself cracked a smile when talking about the process of working alongside his son.
"It's great," Belichick said. "It's great, I mean, there was a six-year period there where he was in prep school and college, Division I lacrosse player, played for a year. So, now the opportunity to be with him on a daily basis, see him and work with him and watch him grow and mature -- it's awesome. It's great."
Every assistant we interviewed gushed over the tight-knit nature of New England's coaching roster: long hours packed into the film room, breaking down the opponent, huddled over takeout food as day turns to night. Steve was talked about as just one of the guys, armed with a work ethic to rival his father's, with plenty of his nights ending on an office couch before waking for another long day of work.
"I'm a little biased," said offensive coordinator Josh McDaniels. "I grew up with my dad as a coach and I never worked for him as a coach, but I had the opportunity to play for him. I just think it's a tremendous opportunity for a father and a son to bond, share memories, work hard together and really chase a dream and commit themselves to something that's pretty special. I'm happy for Steve that he's had that opportunity, I'm happy for Bill that he's had that opportunity to work with him. It's been really a neat thing for all of us to see."
Players pegged Steve as an easy DNA match with his famously sullen father, but the younger Belichick has earned the reputation as highly approachable.
"Steve is a great coach. He's a huge help. He's a very personable guy," said pass rusher Chandler Jones. "If I needed anything, I could talk to Steve Belichick. I treat him like another coach, and he's a great friend."
Said linebacker Darius Fleming: "Steve's awesome. Really intelligent guy, knows the game in and out. I mean, I look at him just as I look at all the other coaches. He knows what he's talking about. If I have a question, he answers it right away. He's a younger guy, and he's like a friend also, but he's a hell of a coach."
Fleming called Steve "a little different" from his dad, adding, "he has that younger side, so he's not as serious as Bill is at times, but I can definitely see that attention to detail and the seriousness of how he takes his job."
Considering how much Bill learned and absorbed from his own coaching father, the concept of a third-generation Belichick rising to power in the NFL is downright scary -- and the closest thing we'd have to a football monarchy.
"I think he'll be a coach just like his dad one day," Fleming said of Steve. "I'm curious to see where he goes and how it ends up for him, but I have confidence he'll be just as good a coach as his dad is."