Yes, this is what you should be doing. Everybody should be watching every movie on this list, because it is that important. I've watched them all. I've gone back to enjoy some of the movies once again. This has been a labor of love and I'm glad you've all been along with me.
Best football movie ever nominees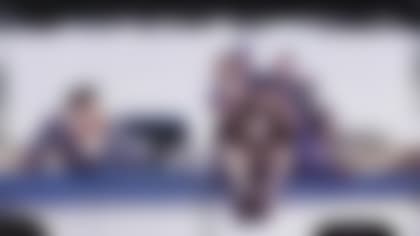 Adam Rank selects his nominees for Best Football Movie Ever. Did "Any Given Sunday" make the cut? "Varsity Blues"? "The Waterboy"? Check out the list. More ...
Well, you're a little late to the party, Ivan. We dismissed "Wildcats" last week. But let's look at the Sweet 16 as we continue to march forward.
One of my truly favorite movies in this bracket is "Lucas". One of the things I really like about this movie is the role played by Charlie Sheen. (Funny, many of these movies feature young actors who really showcase their talent before they go on to jump on couches or start 'winning' if you know what I mean.) But Sheen's Cappie is a rarity in these type of films, the football hero with a heart of gold. Did Cappie steal Maggie from Lucas? Yes. But Cappie also appoints himself as Lucas' protector, too. You don't get that a lot (if at all) in most sports movies. So, it was refreshing. Sheen played it well and it's something to really appreciate. All of that said, it's not going to be enough to knock off the juggernaut, "North Dallas Forty." Tough draw for "Lucas" for sure.
Well this happens in the tournament all of the time, two movies which pulled off the upset have advanced to the next round. The "Longest Yard" remake was probably the most maligned choices of those to move on. Look the remake is more re-watchable than the original. That's just the way it is. But now we have another Cinderella story in "Flash Gordon" which was just recently given a rebirth thanks in no small part to the movie "Ted" with Mark Walhberg. I tell you, this "Flash Gordon" is kind of a fun romp. The movie goes out of its way to be cheesy. "Star Wars: A New Hope" and "Star Wars: The Empire Strikes Back" preceded "Flash Gordon" and really upped the game of special effects artists everywhere. "Flash Gordon" went out of its way to look cheesy and maintain its roots from the 1930s. You have to appreciate that. Plus, the dialogue and many of the plot points are so over-the-top goofy, you can't help by have a good time. It's moving on.
Two giants for me, "Remember the Titans" is going to go up against "School Ties" to move on. I see a ton on Twitter and in the comments section (yes, I read it) for "Remember the Titans." But "School Ties" is a really strong movie, and you can't underestimate the work of Brendan Fraser. When the opening scene is Fraser fighting a motorcycle gang, I started to fear this was going to be some "Encino Man" farce, replete with an appearance by Pauly Shore. Thankfully, "School Ties" did a great job of really showing how prejudice can cloud your judgment. On the other hand, "Remember the Titans" kind of plays it safe here. Which makes this closer than most people would have expected.  I'm going to move "Remember the Titans" on. There are some problems, sure, but enough to get by.
Oh yeah, sorry about that.
The battle between "Rudy" and "Friday Night Lights" probably gave me the most fits. I love "Rudy" as a film. And I'm not a huge Notre Dame fan at all. In fact, I would rather root for USC than see Notre Dame win. That said, I tear up every time that little (expletive) makes that sack against Georgia Tech. Did you know the sack really happened? It's true. Unfortunately, not much of the rest of the movie is true. Not even the scene at the end when all of the players put their jerseys on the coach's desk so Rudy can dress in their place. And I love that scene. Even Vince Vaughn's character of Jaime O'Hara. I love when he gets kicked to the scout team! And the crowd didn't chant his name, either. (Sigh!) So, when it comes to realism, I'm going with "Friday Night Lights" as it really does a great job to capture how "football-is-life" Texas can be. Sorry "Rudy." At least you getting carried off the field was real. You just won't be cutting down the nets.
Let's stick with high school films as "All the Right Moves" takes on "Varsity Blues" in another brutal matchup. It's more than just high school football movies. Like "Lights," "Varsity Blues" takes a look at life as a high school football star in Texas. On the other side, we take a look at the football life in Pennsylvania. "Varsity Blues" tries to balance its poignant scenes with more hilarity. Like Tweeter taking off in a police car. "All the Right Moves" has more grit. Craig T. Nelson's character is more fleshed out than Jon Voight in this instance, too. There are many reasons why "All the Right Moves" is really good. The football scenes are meaningful. Tom Cruise is fantastic. He really captures the angst of a kid being caught in the wrong place at the wrong time. However, this is all about entertainment. For all of its faults, "Varsity Blues"is a very enjoyable movie. Plus, Ali Larter . I don't think I need to elaborate.
When you talk about movies that will make you cry, "Brian's Song" has to be at the top of the list. I could try to make a case for "The Last Boy Scout," but the movie was fortunate to go up against "Jerry Maguire" last week. The run will end here. I'm not even going to waste your time with this one. "Brian's Song" is going to move on.
"Against All Odds" kind of went against all odds (see what I did there) to advance last week, but it's not going to beat "The Program" in this round. This does set up a pretty nice narrative here as Jimmy Caan is going to be guaranteed a spot in the Final Four as either "The Program" or "Brian's Song" is going to move on. That's kind of cool. But "The Program" is really strong and I notice it gets a ton of support in the social media circles.