Let's be honest, if it came down to bare essentials, you could have a successful Super Bowl party with a big screen TV, a bowl of chips and a room of your pals. But wouldn't it be nice to bump it up to the next level and be the party of the year? Of course it would!
Here are our Top Ten Tips for a touchdown of a time:
Send these out early. As soon as you say "go" on the party being at your place, send out a "Save the Date" text, email or tweet. To really ensure people mark their calendars, send out an invite via Paperless Post where you can send reminders, set the tone of the party, track who's coming and who has not received the e-vite yet.
Everyone knows the stress of that early guest ringing the doorbell when you're sweeping the floor and moving furniture. Don't let that happen to you! Make sure you prepare ahead of time. That means clean the house, set out chairs, place serving platters out on the table or counter; do EVERYTHING but bring out the food. This will greatly reduce your stress and make sure that you are ready to go before the pre-game coverage starts.
What separates a dime-a-dozen party from a memorable one? Décor! I will always remember the time my father painted the den floor like a football field for one Super Bowl party when I was a kid. My mother was not too thrilled, but it was a hit! I'm not saying go to that extreme, but definitely bring in the big guns and make it festive. Skip balloons and go for linens and tissue poms in team colors. Linens are easily rented and you can make your own poms or buy them here. No need for candles or flowers; this is a football game NOT a wedding! Banners are a great addition; make your own or purchase a custom one.
Half of the Super Bowl fun is the accompanying pools! Make it even more exciting for guests by buying a couple of prizes (bottle of whiskey, movie passes) for the big winner at the party. Put them on display so people know what they're playing for. Super Bowl pools go way over your head? This how-to makes it simple!
Most guests will be in beer mode so have iced tubs ready to go. Make sure you have plenty of options available including a non-alcoholic punch, lemon/lime infused water and soft drinks. To up the ante, create a signature drink with a football name to greet guests upon arrival and get them in the game mood.
Make the menu planning easy and base it on the hometown of the teams! If you have a little extra in the budget, consider contacting your favorite local restaurant and see if they could deliver some of your favorite dishes in party form.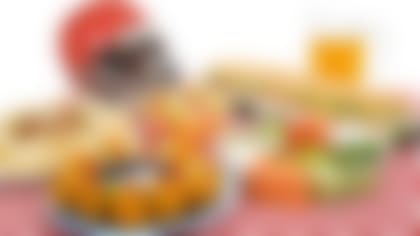 Sweets are a must for any party. Considering setting up a candy display in team colors (you can order candy in bulk from CandyWarehouse. Bake cookies and cupcakes and set out during half-time when guests will start craving sugar. Think easily accessible, handheld sweets for less stress on your part.
Your friends will think you're an absolute genius! Hire a babysitter from a certified agency who will provide games and fun for the younger kids who haven't quite developed a love of the game yet. Kid-proof a room in your house and let guests know that their kids are welcome and they can sit back and enjoy the party.
9) Favors (beer cozies, etc)
Yes, it is enough to feed guests, but it's that much nicer when you send them home with something. It doesn't have to break the bank, but a football cookie for the ride home, a keychain, or a beer koozie are wonderful "thank you for coming" gifts. Place in a bowl by the door and you're good to go!
Okay, here's the grand finale: The Photo Booth. You'll really impress guests AND give them a memento in photo form by setting up your own photo booth. Clear an area near the front door and hang a colorful cloth, a banner, or even streamers to create a backdrop. Encourage guests to mug for the camera (or phone camera) when they arrive. Add a helmet and football for props and watch the fun begin!
Michelle Lynn Buckley is the principal event designer and owner of Mint Julep Social Events. Her work has been published in several magazines and she has been a featured expert in a variety of publications and blogs. She was invited to discuss celebrity wedding details on E! Entertainment and has appeared on several nationally syndicated television programs including "Whose Wedding Is It Anyways" and TLC's "Battle of the Wedding Designers."