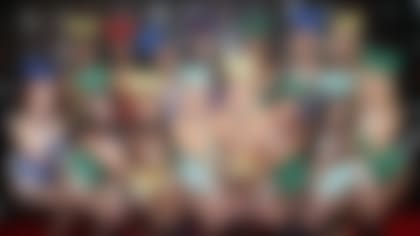 XLIX After Dark: The Playboy Party (2:30 a.m. MT)
I think I'm going to die.
The organizers of the Playboy bash at the W Hotel in Scottsdale have failed to adequately plan for one -- to me -- very obvious reality: A Friday night Super Bowl event thrown by Playboy is going to attract many, many, many humans.
So that's how I found myself trapped at the bottom of a staircase in the lobby of the W, surrounded by people pushing and yelling and flashing wristbands they hoped would prove their legitimacy and get them past the velvet rope. Overmatched security personnel were going hoarse as they ordered people to back up.
My two immediate thoughts:
1) "Oh cool, this is what it must have felt like to be an immigrant trapped on the lower deck of the Titanic."
2) In salty old police captain voice (probably Danny Glover): "I'm gettin' too old for this s*."
Through a series miscommunications between the event organizers and Playboy officials, my credentials were invalidated -- twice -- before I finally got into the party about 90 minutes after arrival. Shaq did not have the same problem. The Big Aristotle was led right past us and up the staircase during our Titanic portion of the evening.
With the help of a trying-her-best-in-grim-conditions event organizer, we finally got in through a back entrance elevator at around midnight. We were met by an even greater mass of bodies drinking wildly expensive clear beverages. (This was the first Super Bowl party of the week that didn't have an open bar. BOO!) The first pleasant surprise of the night came when Kanye's "Gold Digger" came on and a man cut the music and said, "We can't play the record if I'm here!"
It was Jamie Foxx, who then launched into a short rendition of "Gold Digger," much to the approval of the roaring audience of pro athletes, agents, yearning blondes and Jerry Bruckheimer and Michael Bay. Oh yeah, Jerry Bruckheimer and Michael Bay were at the party hanging out together. It was weird.
Nick Cannon was on the stage as well, and we're assuming the ensuing excitement (I mean, he is the host of America's Got Talent) led to the second potential calamity of the evening. Dozens and dozens of people had climbed onto the stage to dance, prompting the DJ to cut the music several times and make a series of alarming proclamations. I typed them on my iPhone because I'm a professional journalist.
"Yo, I ain't going to play any more records until we clear the stage! The stage about to break!"
"I'm telling you, you're going to be on the news in two minutes!"
"Guys! There's no need for you to be here. We don't like you! Except for Nick Cannon, you can stay!"
I like how the DJ's thought process quickly shifted from a legitimate crowd control and stage collapse concern to a more strident "Hot Chicks And Celebrities Only!" policy. It didn't matter. Nobody was listening to him anyway.
We left the party at about 1:30 a.m. and miraculously caught a cab back to Phoenix. I skipped the Nelly performance, a decision I may regret like my buddy who, in 1993, skipped MTV's Nirvana: Unplugged In New York taping to go to a WWF event at Madison Square Garden instead.
I will remember the Playboy party for bunnies and Shaq and $12 mixed drinks and almost being crushed to death in the lobby of a W Hotel. And, of course, the reminder that Pearl Harbor sucked.
The party scene explodes (5:50 p.m. MT)
We have reached Super Bowl weekend. Phoenix and Scottsdale -- the two areas where most of the action is this week -- will be overflowing with different parties. A mad influx of people has begun as well, with most people checking in for two nights of partying before the Patriots and Seahawks kick off Sunday afternoon.
Because I am an unrelenting professional, I will be covering the Playboy party at the W in Scottsdale tonight. If you're into mystery, head to Paradise Valley's Camelback Mountain, where ALL IN Magazine will host a three-day party at a secluded five-acre property. The Roots play the event on Friday night, followed by a high-stakes celebrity poker tournament on Saturday. Poker maniacs will recognize Phil Hellmuth, Vanessa Rousso and Chris Moneymaker, three names in the tournament. We've heard rumors of a possible George Clooney appearance. BUT WHAT ABOUT AMAL?
Other big parties tonight include ESPN The Party in Scottsdale, Leather & Laces in Phoenix and the Bud Light House of Whatever bash, also in Phoenix.
This could be my last post. Ever.
The NFL Films treatment (3 p.m. MT)
The photo above is not what it looks like when you're being interrogated for a suspected felony in the state of Arizona.
Rather, this is the viewpoint I had while answering questions for NFL Films for their next batch of Top 10 countdowns. I'm sure you've seen their shows before -- NFL Network devotes roughly 68 percent of their programming schedule to it during the offseason. It's the reason why Boston media personality -- and Top 10 staple -- Damon Amendolara haunts me in my dreams.
This was my first experience with the NFL Films people. They're based out in Mt. Laurel, New Jersey, while the NFL Media news operation handles its business in Culver City, California. I was interviewed by Jason Weber, a producer at NFL Films who will sit across from dozens of media types and entertainers before stitching together the next block of episodes. After he wraps up in Phoenix, he'll head to Indianapolis for the combine and continue to cull #hottakes and labored bits. I contributed plenty today!
Around The NFL boss Gregg Rosenthal has appeared in several of these Top 10 episodes, and we (read: I) love to give him grief about it when his face pops up on screen in the newsroom. What I've only now come to realize is that I've left myself wide open for the same petulant ridicule.
I need to make better life decisions.
Touching base with Not Walter White Guy (1:40 p.m. MT)
The pale dork on the left is me. The guy on the right is, quite obviously, Walter White.
Well, that's not true. That's Tony Bruno, radio/podcast host, Keith Olbermann regular and a staple on the Super Bowl scene for nearly three decades.
As the sun rose on Tuesday, I did not know who he was. This is a bad job by me. After Media Day, I half-jokingly wrote that Bruno was a Walter White impersonator. I even gave him a top-four spot in my power rankings of people who dressed up at Media Day.
Fans of Bruno's work did not miss this inclusion. I received a flurry of tweets explaining my oversight. Not long after, Bruno's people reached out to me for a sitdown on his podcast. I felt the need to comply.
"It has been the controversy going back to Media Day, which continues to simmer and must be put to rest finally," Bruno began our conversation. "As Dan Hanzus of NFL.com unfairly singled me out as a character -- as one of the few legitimate members of the media on Media Day -- called me a 'Not Walter White Guy.' Dan, how does that happen in the world of journalism that you aspire to be a part of?"
(Now that's a great way to begin an interview. The world of journalism that you aspire to be a part of!)
Bruno was all tongue-and-cheek and he and his producer, Robin, were very nice people. I explained the mix-up could be traced back to a total lack of professionalism on my part. As anyone that's read the Super Bowl XLIXperience blog can attest, this is a thread that runs through the whole project.
Our encounter ended with a handshake, a free T-shirt and a promise he'd bring our conversation up during his Friday appearance on Olbermann. So yeah, the DVR is set.