"Brady sure looks like a man who turned the 12th Man against us," Sherman tweeted at the time, attaching this well-traveled image: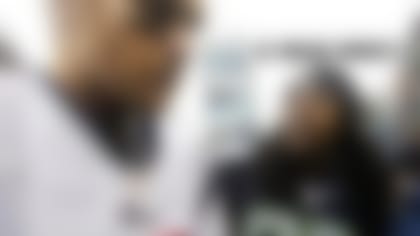 The tweet was later deleted by Sherman, but that didn't stop the photo from going viral -- or reporters on Wednesday from quizzing Sherman about the fracas ahead of Super Bowl XLIX.
"He was just pretty much saying we were nobodies and that we should come up to him after they got the win," Sherman said, adding: "So we should take that pretty well? We should just, ah, 'Cool. Can I get your autograph, too?'"
Sherman insists that Brady "said stuff like that throughout the game," defying the star passer's image as some holier-than-thou slice of Americana.
"Like I said before, I think people sometimes get a skewed view of Tom Brady," Sherman said. "That he's just a clean-cut, does everything right, and never says a bad word to anyone. And we know him to be otherwise. So, in that moment of him being himself, he said some things and we returned the favor. And unfortunately he apparently didn't remember what he said, etc., etc., but I'm sure in those moments of him yelling at the ref he's just saying, 'Good job, you're doing a fantastic job, keep it up.'"
It's fascinating to ponder what has become of Sherman since his well-planned spat with Brady. His Q rating has soared, along with his team. After almost willing himself into the public psyche, the All-Pro cornerback joked Wednesday: "I've become really cliché."
Sherman has earned the right to gab in the lead-up to his rematch with Brady. No doubt the suddenly social-media-savvy passer has plans of his own if he spoils Seattle's big day.