ASHBURN, Va. -- Robert Griffin III remains ahead of schedule in his rehabilitation from major knee surgery.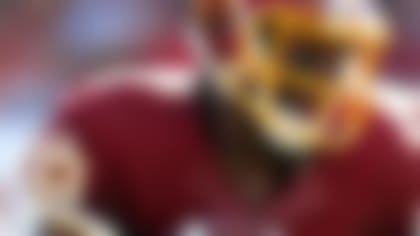 With the offseason under way, Around The League examines what's next for all 32 teams. Khalil Garriott tackles the 'Skins. More ...
Washington Redskins coach Mike Shanahan said Monday that Griffin's muscles are stronger than expected at this stage in the quarterback's recovery from the January surgery to repair two ligaments in the right knee.
Shanahan says Griffin is working out at Redskins Park twice a day for a combined six to seven hours.
The coach says he has "no idea" if Griffin will be ready for Week 1 of the regular season, but adds, "If work has anything to do with it, he probably will."
Griffin won the NFL's Offensive Rookie Of The Year award after leading the Redskins to the NFC East title.
Copyright 2013 by The Associated Press