When it comes to the Oakland Raiders, the needs are everywhere. For a franchise without a winning season since 2002, without a first-round draft pick in the 2011 and 2012 drafts, there's just no debating that. Thanks in part to the 2011 trade for Carson Palmer that contributed to the dismantling of the once-proud franchise, the Raiders are still working on the foundation.
Second-year general manager Reggie McKenzie knows this. Which is why he's not sweating the holes left unplugged after last week's draft. Yes, McKenzie ended up with 10 picks, but there were just too many weaknesses to effectively handle each one in his first full draft, after having just six selections in 2012.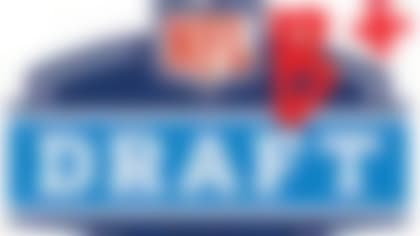 The draft is finally behind us. How did everybody do? Bucky Brooks breaks out the red pen and grades all 32 teams by division. More ...
"I could not address everything that I needed," McKenzie told NFL.com on Thursday from his office. "Because you're trying to get depth at some spots, you're trying to upgrade your special teams, let alone offense, defense. You want to get competitive depth."
Why not? There are only so many draft picks. And plus, just like McKenzie learned while working his way up the front-office ladder in Green Bay, it's about nabbing the best available player. Otherwise, you are reaching.
"You try to go with the best guys and then you address other areas with whatever else comes available this summer, training camp or at the cut-downs," McKenzie said. "You don't stop trying to upgrade your roster."
There are other times to fill holes. McKenzie said he'll spend his free time now scouring the waiver wire, and he wasn't joking. Given the talent issues on the roster, cut-down day will be a big one. It never stops.
The Raiders won't approach a comfort level talent-wise until next year's draft at the earliest. Perhaps after that, they can enter a game knowing they have been built, as opposed to continually building.
It will take time. The project is bigger than individual needs right now.
"That's what the draft is really for, to build that team, the core," McKenzie said. "You can't go in there and attack, 'We need this, we need that, we gotta have that guy.' You can get a solid player, but you're missing out on the difference maker. Can't do that."
What McKenzie believes he did was find difference makers. There was first-round cornerback D.J. Hayden, taken 12th overall after Oakland traded back from No. 3. Florida State's raw and talented offensive lineman Menelik Watson was nabbed in the second round. UConn outside linebacker Sio Moore came in the third round, and Arkansas quarterback Tyler Wilson was added to the mix in the fourth.
When McKenzie spoke of building the roster, he didn't just mean offense and defense. Special teams is often a measure of depth, and the Raiders needed help. It's about so much more than filling one hole.
The key members of the organization have a similar understanding. When coach Dennis Allen described the selection of Moore, he said, "The better your linebacker corps is, the better your special teams are going to be." The Raiders are dying to improve, and special teams can take you there fast.
Harrison: Post-draft Power Rankings
After the 2013 NFL Draft, Elliot Harrison updates his Power Rankings, with plenty of teams moving up and down the board. More ...
Depth is essential, which is why McKenzie let it be known that he was willing to trade down. He said he wasn't "pounding the pavement" to trade out of the top three, but everyone knew he was open to it. While McKenzie fielded a "handful of calls, there wasn't a whole lot of real offers beating down the door."
With that newly acquired second-round pick, the Raiders took Watson, the player McKenzie says he's most looking forward to seeing in person.
"I know he's champing at the bit to show himself," McKenzie said, "and I'm anxiously awaiting to see how the big fella picks things up and learns some technique."
And so, the Raiders continue to build slowly, looking to assemble the right roster the right way. This 10-player haul is part of it, but it's not the end. Maybe next year's draft will be a big step, but the addition never stops anyway. It's a constant mission to compile difference makers. And they're confident they snagged one in Hayden, who made scouts giggle once his health checked out.
"A lot of people just put so much emphasis on need and it's really hard to do that," McKenzie said. "I understand if some people think a certain player is better than another -- that's all opinion right there. But when you base it on what you feel is the best player, you gotta go with that."