LAKE FOREST, Ill. -- Marc Trestman and his band achieved a position of reasonable prominence on the Bar Mitzvah circuit when he was a teenager in Minnesota.
"Confirmations, too," he is quick to remind me. "Equal opportunity."
Such is Trestman, a stickler for detail, particularly on the subject of quarterbacking. The Chicago Bears' first-year head coach also is conversant in string theory, physics and philosophy. He can hold forth about "living in the moment." He advocates giving unreservedly while expecting nothing in return. He'll text players to inquire about their family lives.
But he's uncomfortable talking about himself, especially on camera. Sensing this, I bore in, requesting an on-the-record confession regarding his years as a boy in a band.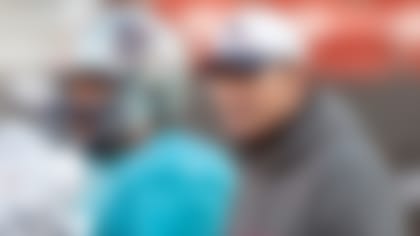 "Did you or did you not," I ask, "play Billy Joel?"
"No," he says. Still deadpan.
"No, sir. I'm from the Midwest."
Much to my relief, Trestman finally has begun to grin. His smile is endearing -- and, just the same, hard won.
At 57, Trestman has been coaching football -- mostly in the NFL but also at big-time colleges and in the Canadian Football League -- for most of his life. It's not a gentle vocation. Nor is it a meritocracy. What's typically referred to as "attention to detail" usually is, in fact, obsession. It can tear up the best of men -- and their families, too.
Trestman began his coaching career as a volunteer for Howard Schnellenberger at the University of Miami, where he already was working 18-hour days as a law student and a judge's clerk. By the time he was 52, Trestman says, he had worked for 17 head coaches, lived in 10 cities and 11 houses, and been fired seven times, including once on his honeymoon. He also spent three years selling municipal bonds.
For the record, Trestman disputes the notion that he'd wake up at 2:45 a.m. just to beat coach Jon Gruden to the office in Oakland. "We all had to get up early," he says. "Just to beat the traffic."
Then things really got bad. He was fired, along with the rest of the staff, as N.C. State's offensive coordinator in 2006.
"I had to do some self-evaluation and find out why some of the goals and things that I had ... weren't happening," Trestman says. "I went back and did a real self-study."
"What did you find out?" I ask.
"I was more focused on myself than on others. And when I was doing the work, I wasn't having any fun. And what I found out was that when you focus on others and give to others -- and do it with your heart -- you start becoming fulfilled."
Trestman was happily consulting for the New Orleans Saints in 2008, when, almost despite himself, he landed his first head-coaching job, with the CFL's Montreal Alouettes. He won a couple of Grey Cups. But more than that, it was a transformative experience.
"I never thought about my future, or where the job was taking me," he says. "I just wanted to do the best job teaching men how to be better leaders and fathers and husbands and teammates."
He's not saying that because it sounds good. I mean, who else would tell a player to go to Hollywood to pursue his dream of being an actor?
Still, coaching and caring often are antithetical. The coach has to cut men who aren't much more than boys. He will see them concussed and orthopedically impaired. Coaches care at their own peril.
"There's a lot more coaches than we want to believe who are coaching with the same type of philosophy," Trestman says.
Or as his boss, Bears general manager Phil Emery, insisted: "He's a good guy. And the good guys do win."
Emery played guard at Wayne State. He's a former scout and, before that, a former bouncer. He's not given to touchy-feely. Going into this season, he fired a popular, winning coach in Lovie Smith and let go of a Chicago icon in Brian Urlacher. Even riskier, however, was Emery's selection of Smith's successor.
Emery began with 19 candidates, 12 of whom he'd interview in person. He recalls receiving a call from an agent with a stable of prospective coaches.
"I've already got him on my list," Emery said.
The agent sounded shocked. "You're going to talk to Marc?" he asked.
"I planned on talking to him from the beginning."
Nine years had passed since Trestman's last NFL coaching gig. Then there was the CFL. For many GMs, five years in Canada might as well be five years on Mars. What's more, there was the scouting report. It cited Trestman's special aptitude for working with quarterbacks, of course. But as Yahoo's Les Carpenter reported, it also noted Trestman "doesn't relate well" and "struggles with other coaches."
"That was all in the past, though," Emery said, recalling their interview. "The man who sat in front of me was quite a bit different. I was really intrigued by his story and his honesty, about where he had gone as a coach and a person. About being frustrated in terms of where he was as a coach and a person. Who he was and where he wanted to go."
"He's really worried about making sure the guys are doing OK when they leave the building. He's texting guys all the time. ... The NFL, it's cutthroat. You got to win now. ... So it's a little bit different to get a guy who's worried about you as a person, not just as a player."
  -- Jay Cutler on Marc Trestman 

Emery instructed his staff to "keep digging," to find people whom Trestman coached with more recently in Canada.
It's not just that Emery liked Trestman. Or that he was impressed by his journey. Emery believes the most important relationship on a football team is that between the quarterback and the head coach. If Trestman could author a personal reformation, then couldn't he transform an abundantly talented quarterback with his own prickly reputation?
At 30, Cutler isn't merely in a contract year. He has the benefit of experience and, finally, the personnel to fully realize his gifts as an NFL quarterback. The stakes are too high to call the Cutler-Trestman collaboration an experiment, but it does pose an interesting question: At Cutler's relatively advanced age, does the coach try to change the quarterback or the man himself?
"Certain things you're going to be able to change," Cutler says. "Certain things I've been doing so long, it is what it is."
In terms of strategy, nothing much.
"He knows the game inside and out, but most coaches at this level do," Cutler says. "He's really worried about making sure the guys are doing OK when they leave the building. He's texting guys all the time. In the offseason: 'What are you up to?' 'Where are you going?' 'How's your family?' I think that's what kind of caught guys off guard at first. ... The NFL, it's cutthroat. You got to win now. ... So it's a little bit different to get a guy who's worried about you as a person, not just as a player.
"It took guys a little bit of time to see this guy's real. It's not just an act."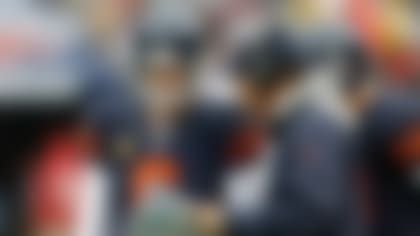 Win now. Winning is everything. Just win, baby.
Then you get a guy like Trestman, who talks about giving without expectation. I don't know how this will turn out. But I know I'm rooting for him.
Before leaving, I ask Trestman about his apprenticeship under Bud Grant, who won four Grey Cups and brought the Minnesota Vikings to four Super Bowls. Grant would stop practices so that players could observe a monarch butterfly or a red fox. He once asked Trestman if he knew where the Khyber Pass was. Trestman described his mentor as "Zen."
And I wonder if that's what Trestman aspires to be: the NFL's Zen coach. Is it even possible? Aren't those conflicting imperatives?
No, he insists. Forget "win now." That's the least of it.
"What I've learned," he says, "and what I try to teach, is that every moment is a this-is-it moment."
Doesn't matter if you're throwing touchdown passes. Or not playing Billy Joel.
Right now. This moment. It's on.