I hope you were bundled up on your couch this Sunday, taking in what turned out to be a phenomenal day of NFL action. There were wild finishes, great games, herculean individual efforts and ... snow! Just like we all hoped for, right? OK, maybe some of you aren't the biggest fans of snow, but I love the combination of football and a little freshly fallen powder. Now, did the snow slow down some of the Madden Next Gen team? You'll have to read on to see. And don't forget to vote! Only you can decide who will be the inaugural Madden Next Gen champion, and there are only a few weeks left. View the whole Next Gen team here for a refresher before reading on.
Just like Adam Rank predicted in Friday's look-ahead, it was a big day for Ryan Tannehill. Amid reports from pundits across the coutnry that Tannehill would "struggle" in the wintery conditions in Pittsburgh, Tannehill proved the haters wrong. He threw three touchdown passes behind 200 passing yards to help the Miami Dolphins keep their playoff hopes alive, and all but end the hopes of the Steelers. Tannehill should receive a healthy bump in his ratings, especially his ELUS and SPD, as he ripped off two scrambles for 56 rushing yards on Sunday as well. Ryan Kerrigan had been quiet for awhile, but that changed on Sunday. It's too bad it was in a blowout loss to the Kansas City Chiefs, but Kerrigan was a force all afternoon, notching eight total tackles with three of them for a loss. Kerrigan could see his TAK or PUR rise after his productive day. Lastly, while Tavon Austin's numbers look a tad pedestrian, they came on only two offensive touches. It's unfortunate that Austin suffered an ankle injury at the end of the game, as the kid out of West Virginia seems to be putting it together. I just wish the Rams would give him the ball more. He averaged almost 33 yards-per-touch on Sunday. What's it going to take to put the ball consistently in his hands?! There, rant over. Onto the next section.
Luke Kuechly had 11 total tackles in the Carolina Panthers' loss to the Saints, but he was consistently victimized in coverage by Jimmy Graham. That's not really a slight against Kuechly, as Graham is almost uncoverable, but it kept him out of the Top Performers bracket nonetheless. The Geno-coaster is back on the rails, at least for another week, as the rookie quarterback rebounded with an efficient performance, completing 16 of his 25 passes for 219 yards with one touchdown and one interception. His downward trend in the ratings could be reversed this week, or at the very least halted as the Madden ratings gods wait to see if he can do it again. Had Antonio Brown not stepped out of bounds on this ridiculous last-second play, I would have had no choice but to make him a Top Performer yet again. But, since he did step out, his stat line was only five catches for 137 yards and one touchdown. Just another day at the office for Brown.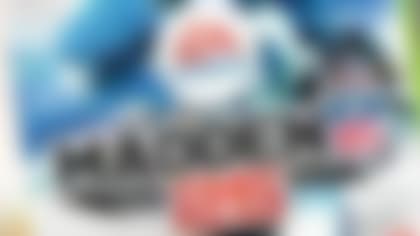 We're handing it off to you. Let your voice be heard. Help EA rate these NFL players for Madden NFL 25. More...
What a tough day for Alfred Morris. With his offense sputtering against the stingy Kansas City defense, Morris entered Trent Richardson-territory by gaining just 31 yards on 12 carries. Granted, this was an anomaly for Morris, not the norm as it is for Richardson. Speaking of anomalies, did anyone else see that TRich had 88 total yards on Sunday? Morris may suffer a slight hit in his ratings this week, but he'll bounce back. Even with Richardson's "breakout" performance, don't get too optimistic about the chances of his ratings making a big jump. Or even moving the needle. I have a feeling the ratings gods know what they're getting with TRich these days. Joining Morris on the Week 14 struggle bus was T.Y. Hilton. After Reggie Wayne went down with a season-ending injury, everyone assume Hilton would have no problem filling in as the No. 1 target in the Colts offense. While he's shown flashes, it appears Wayne's shoes may have been a bit too big for Hilton to fill alone this season. He had just two catches for seven yards on Sunday, while undrafted free-agent Da'Rick Rogers caught six passes for over 100 yards and two touchdowns. Hilton is likely a year away from a breakout season like Brown is having on the Madden Next Gen team.