As a concerned parent of a 20-month-old son, I wanted to make sure he could identify these eery pranksters. As someone who has a mild case of Coulrophobia it was important to me that he understand the enemy. Thus, I did a google image search of clowns and showed him the results.  He just laughed and started to point to their giant noses. I then did a search for "Tom Brady."  He started calling him "dad."  Then I typed in "Ryan Fitzpatrick." That's when he started bawling and whining and throwing his toys from his high chair like he was Odell Beckham Jr.
Yes, let's get to this week's ratings...
Leave it to the New York Jets to revive another opponent's career.  In Week 4, Seattle Seahawks tight end Jimmy Graham showed he's 100% recovered from the torn patellar tendon by catching six passes for 113 yards. It was his first back-to-back 100 yard game since 2013. A two-point bump was inevitable to a 90 OVR.
Are we ready to hand the "elite label" to Derek Carr yet? Against the Baltimore Ravens on the road he threw four touchdowns and zero interceptions. He leads the league in fourth quarter comebacks since the 2015 season began. The Silver and Black are back and Carr is up a tick to a 85 OVR.
The next Jim Brown? Not quite, but running back Isaiah Crowell has recorded the most rushing yards by a Cleveland Browns player through the first four games of the season since Brown did it in 1965. Crowell rushed for 112 yards against the Washington Redskins. He's second in the league in rushing which boosts him five points to an 82 OVR.
The most famous actor in the world isn't Tom Cruise or Will Smith. It's Shah Rukh Khan, The King of Bollywood and also it's most operatic and ostentatious. A bit like Odell Beckham. After his dismal three catch for 23 yards performance and sideline histrionics, it was obvious Beckham's rating would drop to 92 OVR. Maybe next time we'll take him to Mumbai instead of Munich.
Two picks, no touchdown passes.  A passer rating of 40.1.  James Winston is struggling.  He has eight interceptions on the season and the Tampa Bay Buccaneers are 1-3. Winston only dropped a point to 81 OVR, but if he continues his inconsistent play that number will continue to drop.
Six bold predictions for Week 5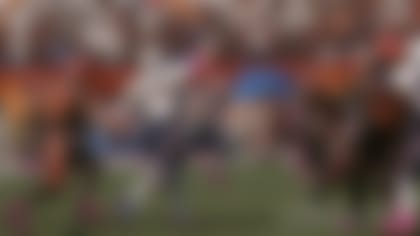 6. Guess who's back? "'Cause we need a little controversy/'Cause it feels so empty without me." Sing it Marshall Mathers. 259 days with Tom Brady off the field.  Well, now the poor Cleveland Browns shall feel his wrath as well as Bill Belichick, who faces his former team. But no. Tom Brady will come out rusty and throw two picks and the rushing attack of the Browns will run for 200 yards. Stunner. Browns 30-23.
4. Not a good week for our avian mascot types. The undefeated Eagles will get eaten alive by the Detroit Lions as Matthew Stafford will throw for 300 yards and two touchdowns. Carson Wentz will come back to Earth and throw his first interception. Eagles fans will return to constant disappointment.
3.Odell Beckham will bounce back from Week 4's disastrous performance and light up the Green Bay Packers for 150 yards and two touchdowns. Then the "Men in Black" will hit us with the Neuralyzer and we'll return to praising Beckham's greatness.
Amar Shah is a Digital Features Editor for NFL.com. You can send your creepy clown sightings to him on Twitter @amarshahism.