Even though I'm not entirely sure the Madden gods listen to our prayers, it appears that a few have been answered. Both Bobby Wagner and Ryan Tannehill rose in their OVR rating heading into Week 16. Justice has been served! Or has it? Even though 'tis the season of giving, the Madden gods served up some ratings coal for a few top players. You'll see what I mean shortly. The Next Gen team is made up of 25 of the brightest young stars in the NFL who are relying on you to vote for them and increase their Madden rating so they can be crowned the Madden Next Gen Champ!
Slow and steady wins the race; at least that's what I hope Bobby Wagner keeps telling himself. He had a run of six straight weeks with at least nine total tackles, and added four sacks and an interception during that timespan as well. Finally, he has been rewarded with a one-point bump up to an 88 OVR. Hopefully his performance -- and his rating trend -- continue in this upward trajectory. Ryan Tannehill received his due with a one-point increase to an 86 OVR after defeating the New England Patriots at home. He has thrown six touchdowns and only one interception in the last two weeks, so 86 feels a tad low. He faces the Buffalo Bills this Sunday, which could mean another ratings boost is on the horizon. Tyler Eifert jumped up to an 82 OVR after catching his second touchdown pass of the season last week and averaging 11 yards per catch in the game. It is likely too little, too late for him to make any waves in the Madden Next Gen race, but it was good to see Eifert making more plays nonetheless.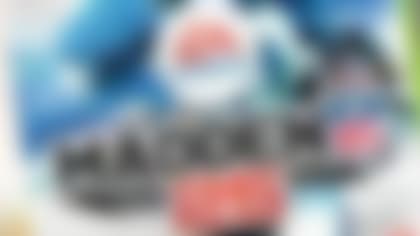 We're handing it off to you. Let your voice be heard. Help EA rate these NFL players for Madden NFL 25. More...
It looks like Trent Richardson's season-long ratings tumble may have finally stopped. Richardson gained over 100 all-purpose yards last week against the Houston Texans and even found the end zone, so it is no surprise to see him hold flat at an 80. Adam Rank's scheme to get Richardson down to a 50 OVR may have been thwarted. And it would've worked, too, if it weren't for that meddling Trent Richardson! Antonio Brown held steady at a 91 OVR, even after his outstanding game against the Bengals last week. Luke Kuechly remains firmly entrenched at 92, surprising no one. He's been arguably the most consistent performer on the Madden Next Gen squad all season.
My heart breaks for Alfred Morris. How in the world does his rating drop for a second straight week? He hit a rough patch in Weeks 14 and 15 when the Redskins were falling apart, but Morris got it together last week and rushed for 98 yards. But evidently, that wasn't good enough for the Madden ratings gods. Perhaps they're just punishing the entire Redskins team right now. Who knows? Patrick Peterson fell from a 93 OVR to a 92, but I guess that's what happens when you are so close to the top and your defense gives up 402 passing yards and four touchdown passes to Ryan Fitzpatrick. Something had to give. Lastly, Dion Jordan slipped to a 75 OVR. Jordan saw a few more snaps, but was handled by the Patriots offensive line. Jordan routinely rushed too deep into the pocket, and would be pushed out of the play with ease. I'd imagine his coaches will help him correct this flaw in the coming weeks. There's still time left for him to make a splash and turn his rating trend around.
- Follow Alex on Twitter @AlexGelhar for his musings on Madden, food, film and of course, the occasional insightful football comment