With most of Week 4 in the books, save the Miami Dolphins taking on the New Orleans Saints at the Superdome tonight, the majority of the Madden Next Gen team have already made their case on the gridiron for a ratings increase on the virtual gridiron. Let's take a look at who could see a ratings bump heading into Week 5, and who's trending downwards.
The Next Gen defense ruled the roost this Sunday, as the two biggest performers were both on the defensive side of the ball. Patrick Peterson played spoiler to rookie Mike Glennon's first NFL start, as he intercepted Glennon twice, the last one killing any chance of a comeback. It won't be long before Peterson is rated in Madden among the games elite cornerbacks, because that's what he is. Ryan Kerrigan made life miserable for Matt Flynn, sacking him twice and forcing a critical fumble as well that helped seal the victory for the Redskins. Kerrigan should be joining the 90+ rating club in no time at all. The lone shining star on offense for the Next Gen team was Antonio Brown, who built upon his stellar Week 3 performance by snagging 12 catches for 88 yards (including one he caught twice) in front of a packed house at Wembley Stadium in the NFL's first International game of the season.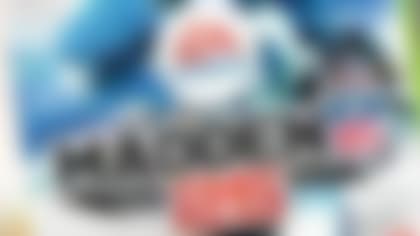 We're handing it off to you. Let your voice be heard. Help EA rate these NFL players for Madden NFL 25. More...
Nick Fairely scooped up a fumble and rumbled into the endzone for his first career touchdown, but didn't do much else statistically speaking. He did manhandle the Chicago Bears offensive line for most of the day, but couldn't make hay in the stat sheets which is really what Madden is all about. Colin Kaepernick rebounded from back-to-back dismal showings to help propel the 49ers to a victory over the Rams with his two touchdown passes and no interceptions. It still wasn't the type of performance we saw at the end of 2012, but it appears Kaepernick is on the right course once again. Bobby Wagner covered a ton of ground while playing against the Houston Texans at Reliant stadium, notching six solo tackles to help the Seahawks comeback and defeat the Texans in overtime. Filling in for the injured Steven Jackson, Jacquizz Rodgers racked up 88 yards from scrimmage, but ultimately couldn't help the Falcons defeat Tom Brady and the visiting New England Patriots. Lastly, Trent Richardson couldn't find much running room against the Jacksonville Jaguars, but still ground out 60 yards and a touchdown on 20 hard-faught carries.
New England Patriots pass-rusher Chandler Jones had a quiet day, and failed to generate much pressure even though he was battling a leaky Falcons offensive line. Running behind his newly appointed starting quarterback, Mike Glennon, Doug Martin had a rough going on Sunday. He was only able to find enough daylight for a 61 total yards, and no touchdowns. His day, however, wasn't as bad as a few of his other Next Gen teammates. Fresh off an OVR boost to 75, Geno Smith turned in the roughest start of his young career. The growing pains were evident as a staunch Titans defense forced Geno into two interceptions, two fumbles, and five sacks. One of the fumbles was also "returned" for a touchdown. For all his explosiveness in college, Rams rookie Tavon Austin is still trying to find a groove in the pros. He was held to just two catches for six yards on offense, and spent more time running side-to-side instead of up the field on punt returns. To top it all off, he lost a fumble, too.