INDIANAPOLIS -- The final day of the 2014 NFL Scouting Combine put the spotlight on defensive backs. While this group might lack the sizzle of some of the DB classes of years past, there are still plenty of potential difference makers in the bunch. Who helped/hurt their draft stock on the Lucas Oil Stadium turf Tuesday? Let's take a look ...
Justin Gilbert, CB, Oklahoma State: The Jim Thorpe Award finalist cemented his status as the premier corner in the 2014 class with his spectacular showing at the combine. Gilbert recorded the fastest time of the day in the 40-yard dash (4.37 seconds) while also showing impressive explosiveness with a 35.5-inch vertical and 10-foot-6 broad jump. Those traits were on full display when Gilbert dazzled during positional drills: He looked fluid in his transitions and turns while also exhibiting a quick and efficient backpedal. Gilbert flashes natural hands and awareness tracking balls down the field, validating his reputation as a playmaker. With teams desperately seeking big, athletic corners with ball skills, Gilbert will enter the conversation as a top-10 talent.
Bradley Roby, CB, Ohio State: Roby will re-enter the discussion of elite prospects following his exceptional performance in Indy. The ex-Buckeyes star clocked an impressive 4.39 40 while posting notable numbers in the vertical (38.5 inches) and broad (10-4) jumps. In positional drills, Roby showed outstanding footwork and short-area quickness. He smoothly executes turns and transitions from pedal to burst. Roby also flashed strong hands and superb ball skills in drills; he catches the ball like a receiver on the move, which enhances his value to teams looking for playmakers in the back end.
Schein: Combine truths, myths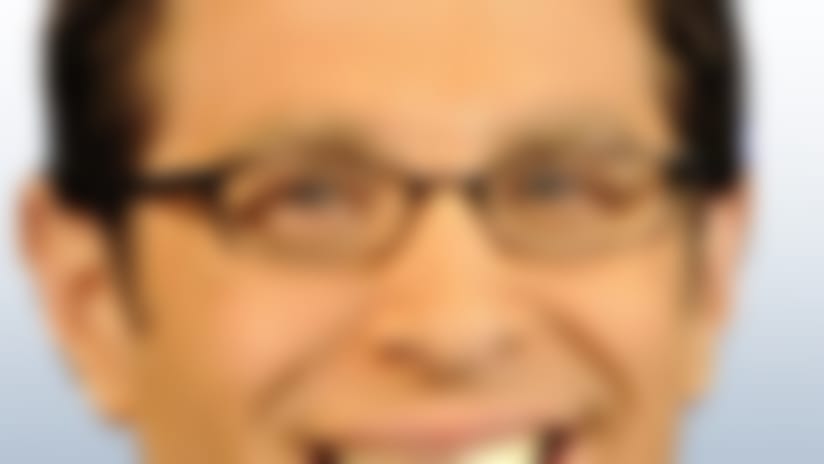 With combine-related rumors and hyperbole swirling, Adam Schein cuts through the hype, separating the truth from the myths. READ
Jason Verrett, CB, TCU: Verrett had already been on the fringes of Day 1 consideration thanks to his flawless game tape; this strong combine performance will undoubtedly thrust him into first-round chatter. He blazed the 40 in 4.38 seconds and posted one of the top vertical jumps (39.0) of the entire event. He followed up the strong showing in athletic drills with a terrific performance in the position-specific portion of the workout. Verrett dazzled scouts with his swivel hips and explosive breaks while also displaying strong hands and ball skills. Although Verrett's slender frame (he checked in at 5-foot-9, 189 pounds) will prompt some teams to look at him as a nickel back, the overall athleticism and skills showcased this weekend would make him a viable starter in most schemes.
Loucheiz Purifoy, CB, Florida: After being hailed as one of the top athletes in the SEC, Purifoy put on a dreadful performance at the combine. He clocked a pedestrian 4.61 40 and looked nothing like an explosive player while running through drills. He wasn't smooth or fluid in his turns, transitions and breaks. Additionally, Purifoy lacked the urgency most coaches desire in players with big-time potential. Although his size and special-teams ability will keep him afloat as a mid-round consideration, the early-round projections that initially surrounded his name are unreasonable based on his work on the Lucas Oil Stadium turf.
Stanley Jean-Baptiste, CB, Nebraska: The big, athletic cover man has been touted as a potential hidden gem by observers around the league, but his disappointing 40 time (4.61 seconds) could make him a hard sell to teams looking for speedy cornerbacks. Although his impressive vertical (41.5 inches, best among defensive backs and tied for second overall) and broad (10-8) jumps suggest he is an explosive athlete, Jean-Baptiste lacks the quick-twitch ability that coaches covet in corners. He could be destined for a move to safety at the next level.
Lamarcus Joyner, CB, Florida State: Joyner is an outstanding football player, but his diminutive dimensions (5-8, 184 pounds) and average athleticism will diminish his value on draft day. Teams are reluctant to spend a top pick on a player who falls below the prototypical standards for the position, particularly one without top speed (4.55 40) in the back end. Joyner's substandard size-speed combo will make him a tough sell in many war rooms.