In the NFL, speed matters. So it's little wonder that the 40-yard dash is annually one of the most hotly anticipated drills at the NFL Scouting Combine. Running a blistering time is one of the quickest ways for a prospect to build buzz, especially if he can nab the title of combine's fastest. Think of how receiver Marquise Goodwin turned heads in 2013 after he posted a 4.27-second 40 -- the best time in five years.
Who will go down as the fastest player in Indianapolis this year? Here's a list of five candidates with a great shot:
1) Justin Gilbert, CB, Oklahoma State
I asked several area scouts and personnel executives to give me the names of a few players that they thought would run blazing times, and Gilbert's name was easily the most mentioned during those discussions. He's a very big cornerback, checking in at 6-foot, 200 pounds -- and still, it's easy to notice his breakaway speed in the return game and his make-up speed in coverage. To use a scouting term, Gilbert has "easy speed." He doesn't labor when he runs and he picks up ground in a hurry. He's expected to run in the mid-to-low 4.3s.
2) Dri Archer, RB, Kent State
Archer battled injuries during the 2013 campaign, and his numbers subsequently took a dramatic hit; after rushing for 1,429 yards during his junior season, he was limited to 527 yards this fall. That said, when he's fully healthy, Archer is one of the most explosive players in the country. In the 2012 season, he recorded eight games in which he produced a run of 40 yards or more. Archer also has an impressive track-and-field résumé. He finished second in the 100-meter final of the Florida high school state track meet, beating out former Michigan quarterback and current Jacksonville Jaguars running back Denard Robinson, who took third. At last year's combine, Robinson ran a 4.43 40.
3) De'Anthony Thomas, RB, Oregon
Thomas had an extremely productive career at Oregon, averaging a ridiculous 7.8 yards per carry and posting four touchdowns on kick returns. Those numbers reflect his speed and explosiveness. He also has legitimate track speed, having posted the fastest time in the 200 meters (20.61 seconds) by a high school track athlete in the nation during the 2010 season; additionally, he competed on the Oregon track team. It wouldn't surprise anyone in the scouting community if Thomas ended up posting the fastest time in Indy.
4) Brandin Cooks, WR, Oregon State
Cooks has a track background (he set the Oregon State record in the 60-meter dash with a time of 6.81 seconds in 2012) and his suddenness was easy to spot when I studied him on tape. Everyone in Corvallis, Ore., has told NFL scouts that Cooks is going to test much better than former Beavers receiver Markus Wheaton, who ran the 40-yard dash in 4.45 seconds at last year's combine before being drafted in the third round by the Pittsburgh Steelers. I think Cooks has a legitimate shot at running a sub-4.40 40.
5) Paul Richardson, WR, Colorado
Debate: Most exciting prospect?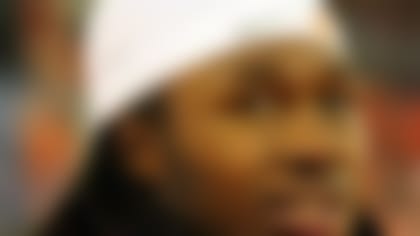 Sammy Watkins is just one of the prospects expected to dazzle at the combine. Our analysts discuss who they can't wait to see. **READ**
Though he has a very thin build, Richardson is an explosive athlete who bursts off the line of scrimmage in his release and can find another gear once the ball is in the air. He has been compared to Eagles receiver DeSean Jackson, who has a similar frame and explosiveness. I don't think Richardson is quite as polished as Jackson as a route-runner, but I do believe he can match Jackson's top speed. Richardson posted respectable track times while in high school (10.62 seconds in the 100-meter dash) and he should produce one of the best times at the combine.
Other top candidates: Sammy Watkins, WR, Clemson; Lache Seastrunk, RB, Baylor; Robert Herron, WR, Wyoming; Odell Beckham Jr., WR, LSU; Bradley Roby, CB, Ohio State; Tevin Reese, WR, Baylor.