New York Jets running back Mike Goodson was arrested Friday in New Jersey after state police said he and another man were found possibly intoxicated inside an SUV stopped on the interstate with marijuana and a loaded gun inside. 
The two men were found about 3:15 a.m. in a gray GMC Yukon that was stopped in the westbound center-left lane on Route 80 in Denville, state police spokesman Lt. Stephen Jones said. The SUV was first spotted by a tow truck driver. David Garrard's out. Who will the Jets turn to at QB? Forget about Mark Sanchez, Adam Schein says, and roll with Geno Smith. **More ...**
"He saw the condition of the situation, and he called 911," Jones said.
Troopers said they found marijuana, less than 50 grams, in Goodson's possession. When troopers searched the Yukon, they found a bit more marijuana and a loaded .45-caliber semiautomatic weapon, Jones said, with at least one hollow-point bullet inside.
Neither man admitted to owning the gun.
Goodson, 25, who was the passenger, was taken to a Denville hospital for evaluation because of his "apparent level of intoxication," Jones said. Garant Evans, 31, of Roselle, N.J., was the driver, and he was arrested at the scene on a charge of driving while intoxicated, Jones said.
Both men eventually were in custody. Goodson was charged with suspicion of possession of marijuana (less than 50 grams), possession of drug paraphernalia, possession of a loaded handgun, unlawful possession of a handgun and possession of hollow-point bullets.
Evans has the same charges, along with DWI and an additional charge for having possession of a gun despite a prior felony conviction.
Fallout from Garrard's departure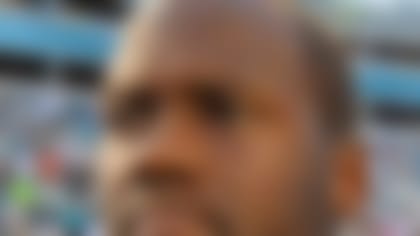 How does David Garrard's exit affect Mark Sanchez? Gregg Rosenthal says it's tougher for the Jets to cut the underachiever. **More ...**
Both men were being held Friday at the Morris County Correctional Facility. State police said bail for Goodson was set at $50,000, and bail for Evans was set at $150,000.
Goodson played his college football at Texas A&M. He spent three seasons with the Carolina Panthers, followed by one year with the Oakland Raiders. The coming season will be his first with the Jets.
The arrest makes Goodson the third Jets player to have trouble with the law this offseason. Earlier this month, defensive end Claude Davis and cornerback Cliff Harris were charged with marijuana possession -- and were released by the team the very next day.