Competition will be prevalent among the Jacksonville Jaguars in 2013. For a franchise that has received as thorough a facelift as possible in the past two years, creating battles at every spot is viewed as paramount. It'll be that way for the eventual No. 2 pick in the 2013 NFL Draft, and it'll be that way for the undrafted free agent.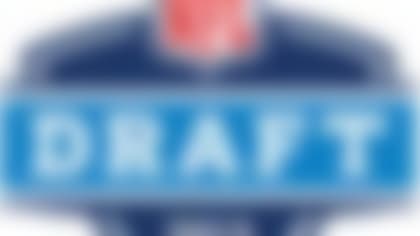 With the draft right around the corner, NFL.com ranks the top prospects available at every position on offense and defense. More ...
The organizational philosophy doesn't just apply to the field, though. In fact, as Jacksonville prepares to make the all-important second overall pick in the upcoming draft, the competitive fire extends to the entire process. It's one reason no one knows what the heck the Jags will do.
During a conversation with general manager David Caldwell on Thursday, I asked if he gets a kick out of the curiosity developing over the unveiling of his pick. And the former Atlanta Falcons executive running a draft room for the first time reflected on the reason the team is flying so far below the radar.
"It's not that I enjoy it or am intrigued by it, but it's a level of competition," Caldwell told me. "We don't want to help the guys in front of us or behind us to try and figure out where we're going to go with those picks. There's a strict level of competition. We want to compete through this draft and not just tip our hand."
The new GM Caldwell, new coach Bradley, new assistants, relatively new owner in Shad Khan ... and a draft philosophy that no one can put a finger on yet. If they fill a need, which one? In the varied public discourse of West Virginia quarterback Geno Smith, do the relatively silent Jags stealthily grab him? Or do they pull off a trade?
Canvassing a variety of opposing scouts and personnel gurus, it seems the Jags' method is working. No one quite knows what they will do.
Just ask those on the road scouting and trying to diagnose the landscape. Want to get a feel on who Jacksonville is picking? So do they. Want to know which way the draft will turn at No. 2? Good luck.
It's not that Caldwell and company are extra secretive or that they are trying to create that culture. They are just pragmatic about what information becomes public during the draft process. Caldwell makes it clear that three people will know the pick before the prospect picks up the phone: Caldwell, Bradley and Khan.
After all the movement at the QB position, where will Geno Smith end up? Bucky Brooks figures it out in his latest mock draft. More ...
The Jags' pick? Don't count on it.
"My approach to this whole thing is I've gone very silent," Caldwell said. "It's going to be a pretty close-knit group (that knows) what direction we're going to be heading."
Not that the entire organization won't be involved. Caldwell praised his scouts for their research thus far, and he said the new coaching staff had been invaluable in lending their evaluations during a scouting blitz before the team arrived for offseason conditioning earlier this week. All of this will be considered as the Jaguars try to begin the process of reversing a trend that's given the franchise zero winning seasons since 2007 and four head coaches since 2011.
Yet if you ask executives of teams picking in the top 15, the assumption from some is the Jags want to trade down. Why wouldn't they? Jacksonville has needs all over the place, so one would think they'd want picks.
Yes, Caldwell told me, he'd be open to dealing No. 2 for the right price. But ...
"We're ready to pick," Caldwell said. "So, we know that there's one to two players there that we really like, so we feel good about that. But we're open to all options on that aspect, too."
In general, Caldwell believes in need-based drafting, as long as it doesn't result in over-drafting. He won't be a drafter who takes the best player available, regardless of position (like, say, New York Giants GM Jerry Reese).
And yet, that adds to the guessing game. Look at the Jaguars' roster. At how many positions are they set? And even at the few that are, competition helps. During free agency, they never made an acquisition that limited their draft options to where they said, "OK, we're good here."
In other years, their needs might be obvious. Not this year. All options are on the table.
"When the need meets the talent, that's obviously where we'd like to select our players," Caldwell said. "We got the first pick in the second, fourth, and sixth-round of this draft and the second pick in the first, three, five and seven (rounds). Hopefully we're not in this position for years to come, so I wanted to be able to pick."
Safe to say, it's a pretty big draft for Caldwell and company. This, they believe, is the start of setting the foundation for a rebuilding process.
"Philosophically and fundamentally," Caldwell said, "we firmly believe in building through the draft."
The identity of the first building block is anyone's guess.