It's summer time at the NFL. During the next few weeks, we here at NFL.com will unveil our Most Underrated and Overrated Players of All Time for all 32 teams and allow users to determine their choices as well.
Given the Houston Texans' brief history, it was a tad difficult to assess the list, as many players have had very brief careers with the organization, and thus are hard to truly judge as overrated or underrated. Thankfully, Nick Scurfield from houstontexans.com offered his services to tackle the underrated list, while I went to work on the overrated. So, without further ado, let's get to the lists.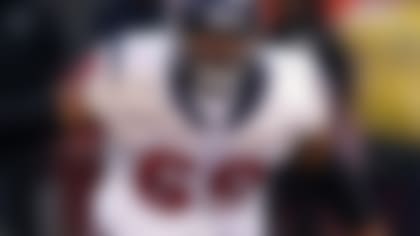 Chester Pitts -- G, 2002-09
Pitts, an original Texan, started the first 114 games in team history from 2002 to 2009. He played 3,884 consecutive snaps from 2002 to 2006 and missed only seven total plays in his first seven seasons, playing left tackle as a rookie before becoming a fixture at left guard. A 2009 knee injury ended his iron man streak, and he never made a Pro Bowl or earned All-Pro recognition. A second-round pick in the Texans' inaugural draft in 2002, Pitts first played organized football as a walk-on at San Diego State at the urging of eventual Texans teammate Ephraim Salaam, who found Pitts bagging groceries at a Ralph's near their college campus.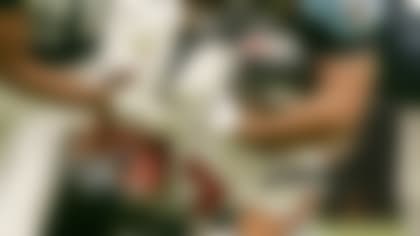 Domanick Williams -- RB, 2003-06
Williams, who changed his last name from Davis in 2007, had 3,195 rushing yards, 23 touchdowns and an average of 51 catches in three seasons (2003 to 2005) with the Texans before knee problems ended his career. He accomplished that behind an offensive line that allowed 153 sacks (51 per season) and with quarterback David Carr posting a cumulative passer rating of 77.8. A fourth-round draft pick out of LSU, Williams won the fan-voted 2003 Pepsi Rookie of the Year award but never received any other league accolades. He had back-to-back 1,000-yard rushing seasons to start his career and had 976 yards in 11 games in 2005 before a knee injury ended his season and, ultimately, his promising career.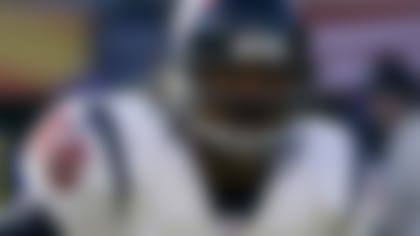 Jamie Sharper -- DE, 2002-04
Sharper led the expansion Texans in tackles in each of his three seasons with the team (2002 to 2004). He had 442 tackles in that span, tied for second-most in the NFL and more than the likes of London Fletcher (426), Keith Bulluck (416), Keith Brooking (386), Ray Lewis (368), Derrick Brooks (358) and Brian Urlacher (339). In 2003, he led the NFL with 166 tackles, a Texans single-season record and the fourth-most by any NFL player since 2002. Sharper also had 11.5 sacks, six forced fumbles and 21 passes defensed. He was a high-profile original Texan, coming off a Super Bowl title with the Baltimore Ravens in 2000 before he was selected in the 2002 Expansion Draft, but did not receive any Pro Bowl or All-Pro recognition in his nine-year NFL career.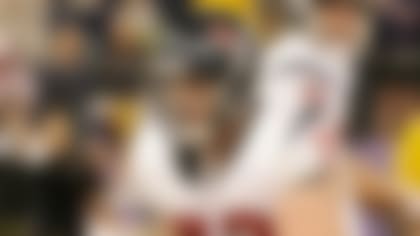 Eric Winston -- T, 2006-11
Winston started 87 consecutive games for the Texans and developed into one of the best right tackles in the NFL. A third-round pick out of the University of Miami in 2006, he took over as a starter midway through his rookie season and went on to start every game until the Texans released him after the 2011 season. He received a lot of media praise late in his tenure with the Texans but never made a Pro Bowl or All-Pro team. Winston's longtime running mate, Mike Brisiel, deserves honorable mention in this spot for becoming a five-year starter at right guard after going undrafted and working his way up from NFL Europe and the Texans' practice squad.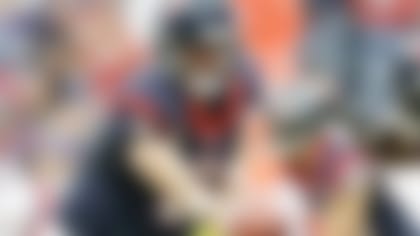 Matt Schaub -- QB, 2007-present
Schaub has been to two Pro Bowls, but his tenure in Houston has been marked by rampant criticism. Wherever he may rank in the pantheon of NFL quarterbacks, consider this: In their first five seasons, the Texans were 24-56 (.300) with five losing seasons. In the six seasons since Schaub arrived in 2007, the Texans are 53-43 (.552) with one losing season and two AFC South titles. Schaub ranks seventh in NFL history in completion percentage (64.3), ahead of Tom Brady and Joe Montana. He ranks 11th all time in passer rating (91.9) and 12th in passing yards per attempt (7.77). Since 2007, he's ninth in the NFL in passer rating (93.3), ahead of Matt Ryan (90.9), Michael Vick (87.8), Eli Manning (86.5) and Joe Flacco (86.3). And Schaub's 261.4 passing yards per game since joining the Texans would rank third in NFL history behind only Drew Brees (270.1) and Peyton Manning (265.6). Elite? Maybe not, but certainly better than he gets credit for.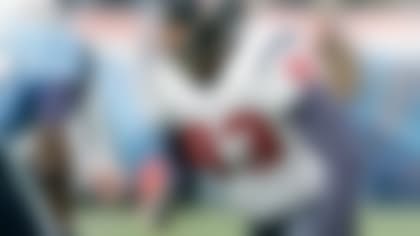 Jason Babin -- OLB, 2004-06
When most NFL fans think of Jason Babin, they recall the Titans/Eagles pass-rusher who recorded over 30 sacks from 2010 to 2011. Yet, what did Babin accomplish before those two magical years? Not a whole heck of a lot. The reason Babin makes the list is partly because of his two flashy seasons in a nine-year career that has spanned six teams, and partly because the Texans traded away four picks in the 2004 draft to move up and take Babin. When a team trades that many picks to move back into the first round, you'd hope that player would have more of a Clay Matthews type of effect (42.5 sacks in his first four years). That was not the case with Babin, which unfortunately for him lands him on the overrated list.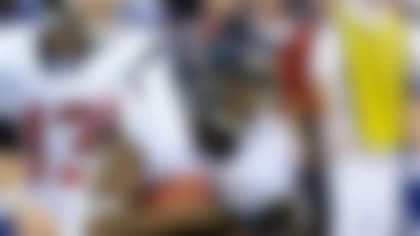 Jacoby Jones -- WR, 2008-11
Were it not for his epic postseason run and deep run on the latest season of Dancing with the Stars, it's likely Jacoby Jones would hardly be known by the common football fan. Unless of course, that football fan was a Houton Texans fan. Then, they might remember Jones for never developing into the No. 2 receiver they wanted him to be. Jones, a third-round pick for the Texans in 2007, had flashes of potential, like when he caught six touchdowns in 2009 on only 27 receptions. Yet, the next year, he saw his yards-per-catch average drop by five, and his touchdown total was cut in half -- on 24 more receptions. It's not as if the expectations for Jones were ever sky-high, but Jones' flashes of potential outweighed his actual performance, and as such he's an unfortunate victim on the overrated list.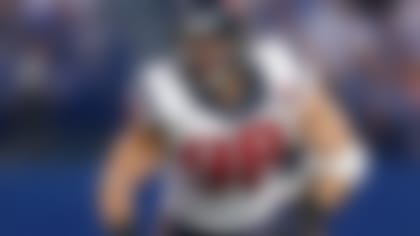 Connor Barwin -- DE, 2009-12
Barwin makes the list more as a victim of his own success than anything else. Barwin exploded in his third season, recording 11.5 sacks a year removed from a season ending ankle injury. The only reason Barwin makes the list, is because expectations were set sky-high for him heading into the 2012 season, when he failed to deliver and only recorded three sacks. Another reason I've added Barwin to the list, is the hefty contract the Philadelphia Eagles threw at him to pry him away from Houston. Barwin is a good player and an awesome guy, (I mean, did you see his goodbye ad to Houston?) but in the end the Texans might have ended up on the better end of the deal in not keeping an overrated outside linebacker at a steep price.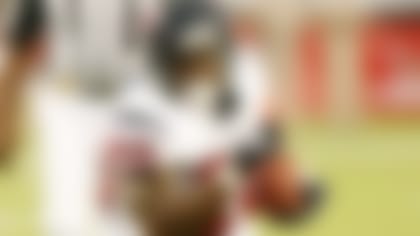 Steve Slaton -- RB, 2004-09
Slaton won the hearts of the Texans' faithful -- and fantasy football players -- when he had a breakout rookie season in 2008, rushing for 1,282 yards and adding 10 total touchdowns. Sadly, injuries and a dip in his play contributed to Slaton's precipitous fall from grace. His numbers dropped every year from 2009 to 2011 before he was waived by the texans at the beginning of the 2011 season. Part of the reason the Texans passed on Reggie Bush in the 2006 NFL Draft was because he was "too small" to be a three-down back, yet they believed Slaton could be, who is smaller than Bush? Slaton likely will have a place in the hearts of most fans for that one great year, but his place in Texans' lore is deservedly on the overrated list.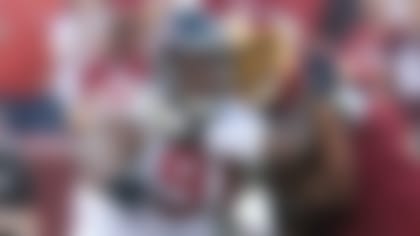 Amobi Okoye -- DT, 2007-2010
Sometimes the brightest lights burn out the fastest. Okoye shot out of the gates after being drafted in 2007, earning Defensive Player of the Month honors for September after he recorded four sacks in his first four games. Sadly, for both Okoye and the Texans faithful, it would take him until the 2009 season to record four total sacks (yes, that's including the 1.5 sacks he tacked on to his rookie campaign). Okoye eventually was released by the Texans, and has bounced between the Chicago Bears and Tampa Bay Buccaneers from 2010 to 2012. He's currently a free agent.