There's nothing quite like the madness that takes place in the first few days of free agency. It seems like every time I click refresh on my phone, three more players find new homes!
After taking a step back and studying all of these moves with the 2013 NFL Draft in mind, I've come up with 10 key takeaways that will impact next month's big event:
1) Andy Reid is clearly unimpressed with the quarterbacks in this draft class. When Reid joined the Philadelphia Eagles organization, he used his first draft selection on quarterback Donovan McNabb. If Reid felt like there was a franchise quarterback in this draft, I'm confident he would pull the trigger with the Kansas City Chiefs' No. 1 overall pick. Following his decision to trade for Alex Smith, it's clear he doesn't feel that this draft features a marquee signal-caller worthy of the top selection. However, earlier this week, I still felt like there was a possibility Reid would use K.C.'s third-round pick to select his quarterback of the future. I no longer see that happening, following the signing of Chase Daniel. Those two moves seem to indicate Reid wasn't enamored with any of this year's QB prospects.
2) Cleveland Browns could target cornerback Dee Milliner in April. Following the additions of Paul Kruger and Quentin Groves, Cleveland might be out of the edge rusher market when it comes to their first-round pick (No. 6 overall). Pairing those two players with Jabaal Sheard gives the Browns three outside linebackers capable of getting after the quarterback. Milliner is a name that makes a lot of sense when you look at their current roster.
3) Despite the Andy Levitre signing, the Tennessee Titans might still take a guard in Round 1. I love the Titans' decision to add Levitre. He is one of the top interior linemen in the NFL and will be a major upgrade in Tennessee. Despite this addition, I could still see the Titans selecting either Jonathan Cooper or Chance Warmack with their first-round pick at No. 10 overall. Cooper makes the most sense because of his ability to play all three interior spots. The addition of Shonn Greene to pair with Chris Johnson proves that Mike Munchak is committed to running the football. Adding two elite interior blockers (Levitre and Cooper or Warmack) would make this one of the top offensive lines in the NFL.
4) The Minnesota Vikings are likely to target a wideout with at least one of their first-round picks. Following the trade of Percy Harvin, the Vikings are desperate for receiving help. They likely will add a few veteran free agents, but all signs point to them using at least one of their two first-round selections (Nos. 23 and 25) on a wideout. I'd expect the Vikings to come away with one of these three players: Tavon Austin, Cordarrelle Patterson or Keenan Allen.
5) Look for the Indianapolis Colts to consider the best player available in Round 1. The Colts have filled several holes on their roster with a flurry of free-agent signings. The decision to aggressively address issues on the offensive line should allow them to take the best player available with their first-round pick (No. 24) instead of slightly reaching for an O-lineman.
6) The San Diego Chargers must continue to fortify one area. The Chargers entered this offseason with major holes on their offensive line. Following the first few days of free agency, they've lost a starting guard (Louis Vasquez) and added a couple of middle-of-the-road veterans (OT King Dunlap and OG Chad Rinehart). There is still a lot of work left to do in order to better protect Philip Rivers. If the Bolts want one of the draft's top three offensive tackles, they likely will be forced to move up a few spots from No. 11. However, if they sit tight, they should be able to land one of the top two interior blockers (Warmack, Cooper).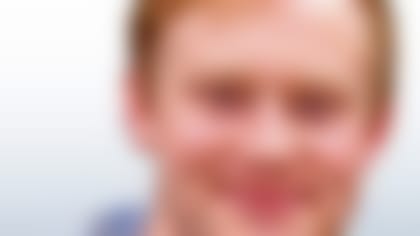 Free agency began with a flurry of activity. How does this affect the 2013 NFL
7) Following the departure of Mike Wallace, the Pittsburgh Steelers should at least have a discussion about selecting West Virginia's Tavon Austin. He has the tools to replace the explosive element Wallace provided while also impacting the game as a returner. The Steelers have several needs to address on the defensive side of the ball (there are still plenty of players available in free agency), but I'm sure Austin will be discussed in their draft meetings over the next month.
8) The Detroit Lions could address their offense in the first round. Detroit entered the offseason with two major needs on the defensive side of the ball: at cornerback and defensive end. They've already addressed both spots in the early portion of free agency by bringing back cornerback Chris Houston and agreeing with defensive end Jason Jones on a three-year deal. Detroit could still elect to spend its top pick on either of these spots, but I wouldn't rule out offensive tackle, either. I believe the top OTs (Luke Joeckel, Eric Fisher and Lane Johnson) are three of the safest bets in the entire draft. Adding more protection for Matthew Stafford isn't a terrible idea.
You're probably quite familiar with the big-name prospects, but Gil Brandt identifies 12 sleepers in the 2013 NFL Draft. **More ...**
10) Offensive line remains a chief concern for the St. Louis Rams. The Rams moved quickly to secure a visit from free-agent offensive tackle Jake Long. They desperately need to upgrade their offensive line. Even if they lock up Long -- at the time this was posted, the two sides were "hammering out a deal" -- the Rams shouldn't stop there. They have the ammunition to move up and secure one of the five elite linemen in this draft. If they're hesitant to make that move, they could fill other needs with their two first-round picks (Nos. 16 and 22) and address the offensive line at the top of the second round.