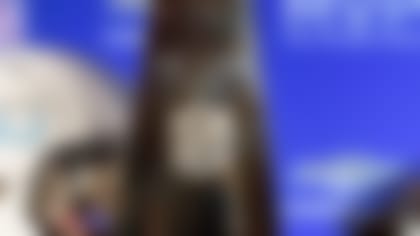 The NFL playoff picture is shaping up as teams head deeper into the 2014 season. Who looks promising? Who's on the edge? Check it out
The Saints watched their biggest rivals return a fumble for a touchdown as time expired, the final insult in a fifth straight home loss, a season series sweep at the hands of the Falcons and elimination from playoff contention. It gets no lower for this Saints franchise, and we wonder if there will be any surprising shakeup moves ahead.
Matt Ryan has been a better quarterback than Drew Brees on balance this season. He was definitely the better quarterback on Sunday. Ryan was aggressive going down the field early, and his impressive numbers (322 yards on 40 attempts) would have been even better if not for some costly drops. Ryan throws so well in a crowded pocket and didn't let the Saints' blitzes bother him.
While Drew Brees is hardly at fault for this Saints season, it felt fitting that he threw an interception to end a Saints rally. New Orleans' defense played well enough to win. They forced two fourth-quarter punts from Atlanta, giving the Saints a chance to drive for the game-winning touchdown. But costly interceptions from Brees have been too common in close games.
Jimmy Graham's disastrous end to the season reached its nadir on Sunday. He was not on the same page as Brees multiple times and made a poor effort on a crucial third down throw down the middle. The key play of the game was where Graham fumbled on the goal line after a contested catch. It was a very close play, but replays didn't clearly show that Graham scored. The NFL needs to find a way to work with the networks and get cameras on the goal line as a rule.
Julio Jones looked just fine in his return from a hip injury. He finished with 107 yards and looked sharp on a leaping contested grab and some good moves after the catch. His presence made a huge difference.