New York Giants quarterback Eli Manning is an 11-year NFL veteran, a two-time Super Bowl champion and MVP and currently holds the record for most consecutive starts among active players with 164. Manning's ability to stay on the field week after week is not a result of luck, but rather a testament to his training routine and diet.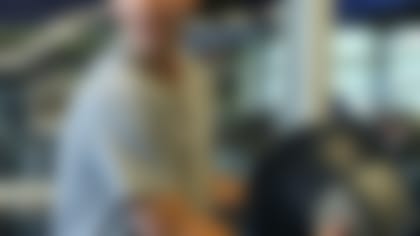 Manning recently demonstrated some of his workouts for NFL Up! and spoke about his keys to staying fit, including multi-sport training and proper nutrition.
While much of Manning's in-season training is geared towards helping him stay fit at the quarterback position, the Giants quarterback said he is a big proponent of multi-sport training, something he's done all his life and continues to do in the offseason.
"I think playing different sports is so important, and I think in this day and age a lot of people are saying you have to concentrate on one sport, and I think that's dangerous for young people," Manning said.
Manning said training one muscle constantly can eventually wear your body down, causing your other muscles to grow weaker as a result. Growing up, Manning looked forward to the break from football once the season ended because it gave him a chance to play other sports and put his body through a different type of conditioning.
"After football I went right into basketball, (and) I thought playing basketball made me a better football player," said Manning. "I'm doing more jumping, more running and it's a totally different type of conditioning. Same with baseball. It's a different throwing motion."
To this day, Manning makes sure to rest his arm in the offseason and change up his training regimen, and encourages younger athletes to do the same.
"I think as a young athlete, you can have your favorite sport and you can concentrate on it a little bit more, (but) I think playing other sports is very important."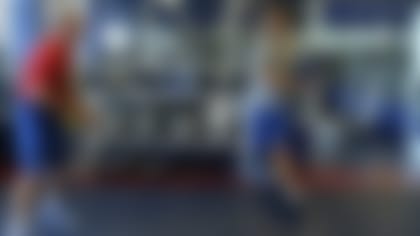 After putting his body through the grind of a game, Manning spends the early part of his week focusing on recovery. While workouts are a vital component of the process, he also puts a great deal of emphasis on his nutrition.
"Getting a great meal [the night after a game] to kind of restore that energy, and then same deal on Monday," Manning said. "Part of my recovery is not just the stretching and the workouts; it's the eating correct."
For Manning, a proper diet coupled with hydration and sleep is the best way to get his body ready to go every week.
In his meals leading up to the game, the quarterback sticks to simple foods like chicken and pasta, with fruits in particular being a "go-to" food before games. But Manning's diet and eating habits don't stop once he takes the field. The quarterback makes sure to stay hydrated and energized throughout the game.
"The Gatorade bars are a great thing kind of right as we come in from our pregame," said Manning. "Same thing at halftime: get another bar, get a banana, get some food in there to get a little bit more energy for that second half."