There are 32 starting quarterbacks in the NFL, but there aren't really 32 players who can succeed at being a starting quarterback in the NFL.
If you don't have a proven commodity at the position, the preseason can be a period during which you're rationalizing over small sample sizes and the fact that you haven't installed a full game plan yet. But the season opener constitutes the harsh light of day, when a coach sometimes sees his worst fears realized.
So it was for a few guys this past weekend.
I would say seven to 10 teams entered the 2013 campaign with (at least) lingering doubts about the identity of their starting quarterback. For the New York Jets, Tennessee Titans and Oakland Raiders, Sunday's results offered good news -- both for the young starting quarterbacks on those respective teams and for their embattled head coaches, who might also have their jobs hanging in the balance. But four other teams weren't so fortunate.
The Jacksonville Jaguars, Minnesota Vikings, Tampa Bay Buccaneers and Cleveland Browns came out of opening day not merely losing, but doing so in a manner that could hint at an early quarterback controversy. Coaches never want to acknowledge such things, especially in the first half of September, but sometimes early-season slip-ups can cause you to confront the larger questions about your long-term plan at the game's most critical position.
Let's start in Jacksonville, where the Jaguars had a new head coach, new two-tone helmets (which look ridiculous, I must add) and a mascot bungee-jumping from the top of their stadium. But when the game started, the Jags still had Blaine Gabbert at quarterback, and he looked woefully ineffective. Gabbert was still recovering from a broken finger suffered in preseason, but it wasn't just his throwing mechanics that seemed off. The third-year signal-caller either didn't audible out of sure-to-fail plays or wasn't allowed to (perhaps because he was being held on a tight chain by the coaching staff). He didn't elude the pass rush well, and even when he had time, Gabbert compounded his other mistakes with two heinously bad interceptions.
Debate: Week 1's biggest stunner?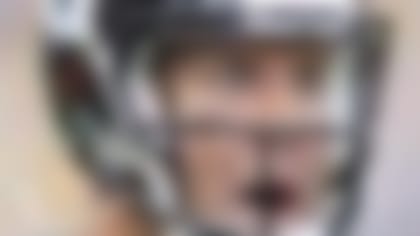 Big trouble for Big Ben? Was Pittsburgh's disturbing loss the most surprising development in Week 1? Our analysts react. **More ...**
When Gabbert gashed his hand on a fourth-quarter scramble, he paved the way for veteran quarterback Chad Henne to take over for a time. Henne is a game manager who does not inspire confidence, but he does possess a baseline level of pro competency. In this case, Gabbert's hand injury -- which required 15 stitches and sidelined the quarterback through at least Week 2 -- makes the Jaguars' job a little easier. Henne will start on Sunday against the Oakland Raiders, and if he's effective, new coach Gus Bradley will probably stick with him. If he's not, Jacksonville can revert to Gabbert once he's healed. Of course, either way, the problem isn't solved -- it's merely postponed.
The situation is more urgent elsewhere. The Vikings went to the playoffs last year on the back of Adrian Peterson. Heading into this season, everyone around the team spoke about young quarterback Christian Ponder stepping up in Year 3. But based on his performance against the Detroit Lions on Sunday -- which included three costly interceptions and additional decidedly ugly throws -- he doesn't seem ready yet. Ponder, who was taken with the 12th overall pick in the 2011 NFL Draft, is the poster child for a group of recent QB draftees who jumped into the first round because of a drafting team's need as opposed to pure ability. This group includes Jake Locker (taken No. 8 overall in 2011), Gabbert (No. 10 in 2011), Ryan Tannehill (No. 8 in 2012) and Brandon Weeden (No. 22 in 2012). Ponder spent a lot of time operating a pro-style offense at Florida State. The problem is that the same issues that troubled him as a Seminole -- being too mechanical in the pocket, staring down receivers and employing a slow throwing motion -- continue to hinder him in the pros. Minnesota has assembled a fairly talented group of players; now Ponder needs to prove he can win games with his arm.
In Tampa, it's an even tougher case. Josh Freeman is the centerpiece of the franchise, though he came on board before coach Greg Schiano arrived. The fifth-year quarterback was voted a team captain in each of the past three seasons, but his teammates did not give him that designation this time around. And last Sunday, Freeman looked underwhelming in Tampa Bay's crushing loss to the Jets.
There's growing concern over Freeman's long-term viability in Tampa Bay; with a few more games like Sunday's clunker, some will start calling for rookie Mike Glennon. Schiano held Freeman accountable in his Monday press conference, saying that "we missed open guys" and "you're going to have to be able to throw the football effectively, consistently, accurately." Now, Schiano called out other elements of the team's play, too, including in pass protection, but in sum, he did not sound like a coach who was full of confidence in his quarterback.
Freeman is different than Gabbert in that he has shown, in previous seasons, both the leadership skills and physical ability to be a successful quarterback in the NFL. Freeman bears a lot of similarities to Buffalo Bills rookie EJ Manuel -- both have all the tools (size, arm, intelligence) to be successful in the league. Freeman set the bar high in 2010 -- throwing 25 touchdown passes to just six interceptions -- but he has not been able to maintain that, tossing 44 touchdown passes to 40 interceptions since then. There's more pressure this season, because the team isn't just determining if Freeman is right for this year -- the Bucs must decide if he's right for the next four or five years. Sunday's game in the Meadowlands was a bumpy start to that process.
Then there's the case in Cleveland, where Brandon Weeden is just in his second year, but has an accelerated timeline because he's almost 30 years old. Weeden threw three first-half interceptions, though it must be noted that he was without his best receiver (talented knucklehead Josh Gordon) and was playing against a stout Miami Dolphins defense. Still, like Gabbert in Jacksonville, Weeden has a proven, competent pro behind him (Jason Campbell). If the second-year man continues to be both ineffective and mistake-prone, his position is in doubt. For Cleveland's Rob Chudzinski and Bradley, two first-year head coaches, there will be time to go find a different quarterback if the current guy doesn't get the job done.
The dominant mode in the NFL is one of building. But when a team tries to build its program around an incompetent quarterback, a series of events eventually takes place: the quarterback is exposed, the coach is fired and the team goes back to square one. That's the cold, hard truth in a quarterback league.