Offensive guards aren't sexy. They don't provide sizzle. They don't boost your fan base. They rarely appear on the cover of your media guide or as the featured player on your game-day ticket.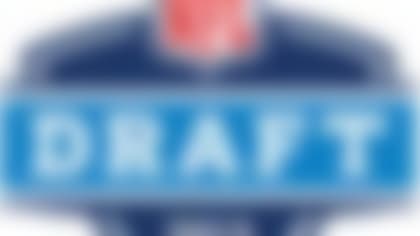 With the draft right around the corner, NFL.com ranks the top prospects available at every position on offense and defense. More ...
How often do you hear someone refer to a "franchise guard?" Think about it. You hear the "franchise" classification with regard to almost every other position.
Yet, in the NFL, you either have an offensive line, or you don't. In the NFL, you either have a group that can pass protect and open up holes for your running back, or you have major problems. Which leads us to the league's annual exercise in team building ...
This is one of the wildest and riskiest drafts in NFL history. Teams shouldn't overthink what is staring them in the face: Two of the best and safest picks in the 2013 NFL Draft are offensive guards.
The offensive guard isn't going to draw cheers inside Radio City Music Hall. Some "gurus" might not be inclined to gush about the pick or give a passing draft grade. Who cares? Do you want to "win the draft" in the court of public opinion or do you want to win games?
Take a look at the teams drafting in the top 10. There is a common denominator: They need help -- major help -- on the offensive line. Yet, how many mock drafts have guards going in the top 10?
I think you can make the case that Alabama guard Chance Warmack is the single safest player in the draft. You can also make the very intelligent case that he is the single best player in this draft. Other than sheer foolishness or stubbornness, there is absolutely no reason Warmack shouldn't be a top-10 pick. The Arizona Cardinals, who hold the seventh overall pick, fielded a complete mess of an offensive line last year. The Buffalo Bills (picking eighth) lost Andy Levitre via free agency. The New York Jets (ninth) have a plethora of needs, including at both guard positions. If, for some reason, Warmack gets out of the top 10 -- the Tennessee Titans (10th) are the one team consistently projected to take a guard -- the San Diego Chargers (11th) and Miami Dolphins (12th) will be foaming at the mouth. And the Dallas Cowboys and Chicago Bears -- picking 18th and 20th, respectively -- have to be hoping teams picking ahead of them are stunningly ignorant and reluctant. Line play for the Chargers, Bears and Cowboys was embarrassing last season.
And if, for some reason, Warmack gets out of the top 10, NFL executives who pass on him will rue the day. Warmack has "immediate impact" and "10-year All-Pro" written all over him. As one NFL executive I talked to gushed: "There's no weakness in his game. He is a physical road grader. Plus, he started 40 games at a football factory and played for Nick (Saban). He's ready. And he loves football." Another exec said, "I don't want to compare anyone to Will Shields, but he's Will Shields." That's high praise, indeed.
North Carolina's Jonathan Cooper is also an excellent guard prospect who can step in right away and shine for a decade. All of the aforementioned teams should be salivating over this guy, too. As one NFL GM told me on Monday regarding the UNC product: "We are talking about a rare, rare athlete."
If guards can't go in the top 10 now, then when?
Some executives don't believe there is a single franchise quarterback in this draft. Still, there will be 1-3 quarterbacks taken in the first round. If more than one is selected, it's simply because there is a need for the position -- and an overall shortage of quality QBs walking the Earth.
There's a good chance no running backs will go in Round 1. I'm a huge Tavon Austin fan, but he's a slot receiver. And then that position gets sketchy. Which other receivers, if any, are consistent enough to warrant a first-round selection?
The pass rushers are a boom-or-bust group with major questions sparked by inexperience, injury issues and inconsistent motors. There are some classic combine warriors as well as guys in line for position changes.
Alabama's Dee Milliner, the best cornerback in the draft, will be a top-10 pick -- but he's not as good as Joe Haden.
The salaries of picks are slotted. You don't have to worry about busting your salary cap by taking an offensive guard early (even though such worries were foolish in the first place).
Jacksonville Jaguars star running back Maurice Jones-Drew recently said on my SiriusXM Radio show that if he ran an NFL team, he would "draft like a baseball team" and always focus efforts "up the middle." He would put an emphasis on guards and centers. He called guards "the unsung heroes of a football team" and a "necessity to win."
Let's see if archaic biases are in the past. Let's see if teams are interested in taking the best player and winning, as opposed to merely winning the moment.
I will stand and applaud the teams that draft Warmack and Cooper, two of the best players in the draft.