Who will deliver epic performances in this week's matchups?
Air & Ground matchup of Week 5
The Packers have won 10 consecutive home games, a streak that dates back to Week 16 of the 2013 season against the Pittsburgh Steelers. However, Rodgers did not play in that game due to an injury, so the Packers' last home loss with Rodgers at the helm was Week 1 of the 2012 season against the San Francisco 49ers. Individually, Rodgers has thrown 48 touchdown passes since his last interception at Lambeau, a streak that has lasted 19 games and 580 pass attempts.
On Sunday, Rodgers -- who enters Week 5 with 11 touchdown passes and no interceptions -- will attempt to become just the third quarterback since 1960 to have 11 touchdown passes and no interceptions through his team's first five games. Roman Gabriel of the Los Angeles Rams in 1969 and Steve Bartkowski of the Atlanta Falcons in 1983 are the other two.
The last time the Rams made the playoffs was in 2004, which is when Rodgers was in his final season in college at Cal.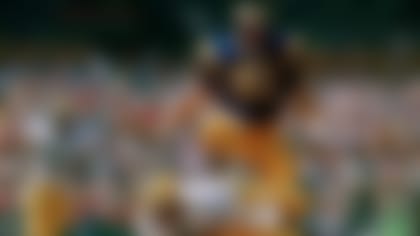 Great Moments in Air & Ground History
L.A. Rams 41, Packers 38 (Week 3, 1989 season) -- The Rams -- then of Los Angeles -- stormed out to a 38-7 halftime lead in a home game at Anaheim Stadium, only to see "The Magic Man," Don Majkowski lead a valiant Packers second-half comeback that fell just short of historical proportions. Majkowski, who threw three first-half interceptions, threw two second-half touchdown passes. He finished the game with 335 yards passing. The Rams got a major contribution in the ground game from running back Greg Bell, who went for 221 yards and two touchdowns in the win. This game actually had major playoff implications down the road. While the 11-5 Rams made the postseason as a wild-card team, the 10-6 Packers just missed out on their first postseason appearance since 1982 and just their third since the end of the oft-celebrated Lombardi era.