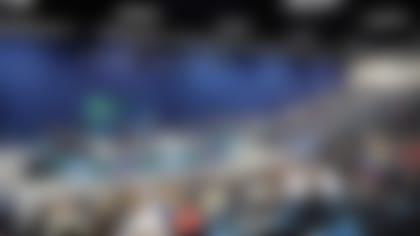 Get in on the action like never before at NFL Combine Experience at the Indiana Convention Center from Wednesday, February 26-Saturday, February 29. Watch the bench press up-close, take a photo with the Vince Lombardi Trophy, get an up-close look at the complete display of Super Bowl rings and more!
Download the NFL OnePass app for up to date information regarding the event and enter to win the ultimate prize, a trip for two to the 2020 NFL Draft in Las Vegas April 23-25!
NFL Combine: Inside Look:
More fans than ever will be able to watch the top NFL prospects compete live from inside Lucas Oil Stadium. Fans participating in the NFL COMBINE: INSIDE LOOK will have the opportunity to watch skills and drills from inside the stadium just like NFL coaches and GMs. Fans will also receive in-ear radios with access to the NFL Network broadcast as well as exclusive insight from NFL Legends.
Free tickets are required for entry and correspond to a particular day and time:
All attendees must go through airport level security screening so please no backpacks or bags over 12"x12"
Prospect Bench Press Viewing
Come enjoy the excitement of the NFL Combine and watch future NFL stars bench press in front of NFL scouts and NFL Network cameras! Fans are encouraged to wear their favorite NFL team gear and cheer on NFL prospects as they start their journey to becoming a member of the NFL family. Take the opportunity to take a photo with the ColtsSuper Bowl XLI Vince Lombardi Trophy and view all 53 Super Bowl rings up close!
Location: Indianapolis Convention Center Hall J 100 S Capitol Avenue Indianapolis, IN 46225
The NFL Network is your official television home for Combine week. Check out our live broadcasts from inside NFL Combine experience!
Take your photo with the Vince Lombardi Trophy, the most prestigious trophy in sports.
Shop for your favorite NFL and 2020 NFL Scouting Combine gear at the NFL Shop located at Pan Am Plaza.
Prohibited Items for 2020 Combine:
Alcohol or Alcoholic beverages

Animals (except for certified service animals trained to do tasks for people with disabilities). "Comfort", "Therapy" "Emotional support" animals do not meet the definition of "Service Animal" and are not permitted.

Bottles, cans, coolers, thermoses, hard containers. Plastic baby bottles are permitted if an infant is present

Cameras with lens that exceed 6" in length. Camera cases or bags are not permitted. Small cameras are permitted

Chairs, bicycles, blankets, furniture or hammocks

Drones or Unmanned Aerial Vehicles of any kind

Electronic stunning devices, aerosols, pepper spray or mace

Explosives or combustibles of any kind

Fireworks, air horns, noisemakers, laser pointers and any other item deemed dangerous or inappropriate

Flyers, Samples, Giveaways or promotional items

Glass or metal containers of any kind

Illegal drugs of any kind

Inflatables or stuffed animals

Selfie sticks, poles of any kind

Skateboards, hover boards, scooters of any type or any self-propelled vehicle except for ADA or medical purposes

Smoking, vape, e-cigarettes, lighters, matches

Umbrellas more than 12" in diameter

Unauthorized vending or solicitation

Video recorders or professional photography