I hate to be a hater, but it's time someone talks you out of drafting some of this season's most overvalued players at the tight end position. If you're going to reach at the position, do it with a game-changer like Rob Gronkowski, Travis Kelce or ... well the list stops there. Anyway, I've managed to collect enough evidence to preach caution on the following list of tight ends, given their current average draft position (via FantasyPros.com). So scoop up depth at running back and wideout, and pump the breaks where this handful of tight ends are coming off the board.
Delanie Walker, Tennessee Titans (ADP 74 overall, TE7)
Delanie Walker has seen at least 100 targets in each of the last three seasons and has collected a combined 17 receiving touchdowns in that span, with a career high seven scores last year. So how in the heck did he make this list of overvalued tight ends for the upcoming season? Isn't he one of the best for fantasy purposes? Sure, Walker is a legitimate talent at the position and a dominant player in the NFL. But with the added depth in the pass-catching corps in Tennessee, Walker is in line for a serious downtick in opportunities.
Let's start with Walker's already decreasing target share over the last two seasons. In 2015, he had very little competition and saw 24.53 percent of the team's targets. That year, the Titans' leading receiver was Dorial Green-Beckham (recently released by the Eagles), and the second-highest receiver in terms of targets was Harry Douglas (now buried on the depth chart). In 2016, Walker's 102 targets accounted for 20.9 percent of the team's share. Rishard Matthews led the team with 108 and Tajae Sharpe was third with 83. Better competition, but not great.
Heading into 2017, Tennessee has added elite talent in the form of first-round draft selection Corey Davis, and veteran free agent Eric Decker. Davis, the number one receiver prospect in the 2017 class, put up 19 touchdowns in his final year at Western Michigan. And the rookie is already making ridiculous catches in camp like this one.
Decker, who missed much of last season with serious injuries, is healthy again and is one of the biggest red zone threats in the league. In fact, Decker posted 12 scores in 2015, his last fully healthy campaign. And since 2012, Decker is second in the NFL with 33 red zone touchdowns (his former Jets teammate Brandon Marshall leads with 35). Not to mention running back DeMarco Murray who scored three receiving touchdowns near the paint a season ago.
So before you sink a Round 7 pick into the 33-year-old Walker as your starting fantasy tight end, be sure to consider how the upgrades on the Titans offense affect his outlook for 2017.
Martellus Bennett, Green Bay Packers (ADP 84 overall TE8)
The hype is real when it comes to Marty Bennett. Perhaps none more bullish on the Black Unicorn than our own James Koh. Koh penned a positive-spin deep dive into Bennett's outlook and why there's a chance for him to be a stud fantasy tight end this coming season.
Alas, I must disagree with Koh.
Look, it's a nice life when you go from winning a Super Bowl with Tom Brady as Bennett did, to landing in Green Bay with Aaron Rodgers as your quarterback. But I have a problem with Bennett's ADP despite the fact that he's again playing in one of the highest scoring offenses in the NFL.
Bennett is being drafted as a top-10 tight end because Rodgers throws all of the touchdown passes. That's fine logic, I guess. But lest we forget the numerous mouths to feed in the Packers offense. In his informative overvalued wide receiver write-up, Alex Gelhar recently pointed out that Jordy Nelson has absorbed about 30 percent of Green Bay's red zone looks since 2012 (sans 2015). Davante Adams, a top-10 wideout last year, is also a threat in that area as we saw him post 12 total touchdown receptions (seven of which came from red zone targets) and a 20 percent share of red zone looks. The Pack is getting a (hopefully) healthy Randall Cobb back and when healthy in 2014 and 2015, Cobb posted 12 and six touchdown receptions respectively. Toss in running back Ty Montgomery, a dangerous threat out of the backfield as a pass-catcher, how much opportunity will there be left for Bennett?
The Packers' tight ends combined for just nine red zone receptions and three red zone scores last season, and a mere 16 percent of targets went to the tight end position. Over the last three seasons combined, Richard Rodgers is the only Green Bay tight end with more than three total scores during that period. Sounds like a limited ceiling to me.
Furthermore, a glance at some of Bennett's NextGenStats rankings from last season are concerning. He ranked among the bottom five tight ends in the NFL in yards of separation created (1.1) when pressed at the line of scrimmage (players like Travis Kelce [2.9] and Jordan Reed [3.3] were leaders at the position).
2016 TEs w/LOWEST yds of separation created when pressed @ LoS

GBarnidge 1.0
MBennet 1.1??
EEbron 1.2
JThomas 1.3
TBurton 1.4#NextGenStats

��� Matt Franciscovich (@MattFranchise) August 2, 2017
He was also bottom five in lowest air yards per target (6.4) at his position (players like Greg Olsen [11.5] and Jimmy Graham [10.1] were leaders at the position).
2016 Lowest TE air yards per target

L.Kendricks 5.8
?? M.Bennett 6.4 ??
W.Tye 6.4
D.Pitta 6.6
J.Doyle 6.8#NextGenStats

��� Matt Franciscovich (@MattFranchise) August 2, 2017
The takeaway here is that Bennett is being treated in fantasy like he'll produce numbers similar to that of Olsen or Kelce. But these NextGenStats results forecast otherwise. It's not because he played in a bad offense or with a bad quarterback last year either. I mean, the Patriots and Brady, come on. And yes, Bennett shared the field with Rob Gronkowski for eight games. But Bennett's production was worse when Gronk was out with injuries than it was when he was the team's top option at tight end.
So before you jump on the Bennett bandwagon, remember that Franchise warned you otherwise (yes, I just referred to myself in the third person).
Zach Ertz, Philadelphia Eagles (ADP 107 overall, TE11)
Congratulations. You have arrived at the portion of the article where I hate on perennial tight end breakout candidate, Zach Ertz. Fun!
Unless you've been living under a rock for a few years, you know that Ertz is notorious for getting off to a sluggish start in the stat sheets, only to explode late in the season. Last year, 59 percent of Ertz's fantasy points were scored in the final five weeks of the season, propelling his final numbers into the top-10 range at his position. His early/late-season game splits are even more apparent when you expand the time frame to cover 2013 through 2016:
Zach Ertz splits
Looking ahead to this coming season, we have a similar situation to that of Delanie Walker in Tennessee. The Eagles went out and added several weapons in an attempt to improve the team's 24th-ranked passing offense from a season ago. Arguably the biggest free agent wideout acquisition of the offseason, Alshon Jeffery will likely command most of the team's red zone targets. The aging but still speedy deep threat, Torrey Smith will open things up down field. And the addition of power back LeGarrette Blount to the backfield suggests that the team wants their second-year quarterback to attempt fewer passes (Carson Wentz ranked fifth in the NFL last season with 607 attempts). We can't forget about Darren Sproles, who saw 70-plus targets last year, and rising prospect Nelson Agholor in the slot (Jordan Matthews' role remains a question mark).
With all of this added depth, it's not very likely Ertz ranks second on the team in targets as he did last season. He tied for the team lead in red zone looks (14) last season too, but with Jeffery and Blount now the probable go-to guys near the paint, Ertz's opportunities may be more limited. Plus, despite averaging about 90 targets per season in his four years as a pro, Ertz has failed to post more than four touchdowns in a single campaign.
Let someone else deal with the early-season headaches that Ertz will induce, and consider yourself better off with a more consistent option.
Hunter Henry, Los Angeles Chargers (ADP 96 overall, TE9)
What Hunter Henry did as a rookie tight end was impressive. He tied Cameron Brate for the lead at the position for receiving touchdowns, eight, and averaged 13.3 yards per reception on his 36 grabs for 478 yards. Eight touchdowns seems great, but the inconsistency from week to week plagued Henry's fantasy owners. Plus the ageless Antonio Gates still had slightly more fantasy points than Henry last year--the duo finished as TE10 and TE11 respectively.
In terms of targets, Gates saw 93 last year which ranked him ninth at the position. Henry saw 53 which ranked him 27th among all tight ends. With Gates on his way out and Henry on the rise, those numbers should balance out a bit this coming season. But Gates, likely in his final season, is still chasing the all-time tight end touchdown record--he tied it late last season. It's no secret that Gates and Philip Rivers have a mind-meld near the end zone. They're the most prolific quarterback/tight end duo in history with 84 touchdown connections over the years.
But even if Gates sees a downtick of, say, 20 targets, he should still see enough work for a productive fantasy season. Gates led the team in red zone targets (18) last year, Henry was second (15) and wideout Tyrell Williams was third (14).
Henry is an exciting prospect and is poised to have an illustrious career. But as long as Gates is around, Henry's ceiling is going to be capped, especially around the end zone. And, as is the case with most of the tight ends on this overvalued list, Henry may be a victim of a too-many-mouths pass-catching corps. Keenan Allen is back healthy, the aforementioned Williams should play a big role again and Travis Benjamin, Dontrelle Inman and even running back Melvin Gordon are threats to siphon targets.
So before you consider Henry an elite option at tight end this season, keep in mind that the team will want to send the well-respected and future Hall-of-Famer Gates out with a bang and as long as he's around Henry will be playing second fiddle.
O.J. Howard, Tampa Bay Buccaneers (ADP 111 overall, TE13)
The Tampa Bay Buccaneers landed one of the top offensive prospects in the 2017 draft when tight end O.J. Howard fell to them at pick 19 overall in April. Fantasy Twitter was quick to quip about the downfall of Cameron Brate, and Howard's ADP soared into borderline TE1 range. All of this despite reports from Tampa Bay beat writers all spring that Brate would remain the team's main pass-catching tight end and a red-zone magnet. So this doesn't make sense at all: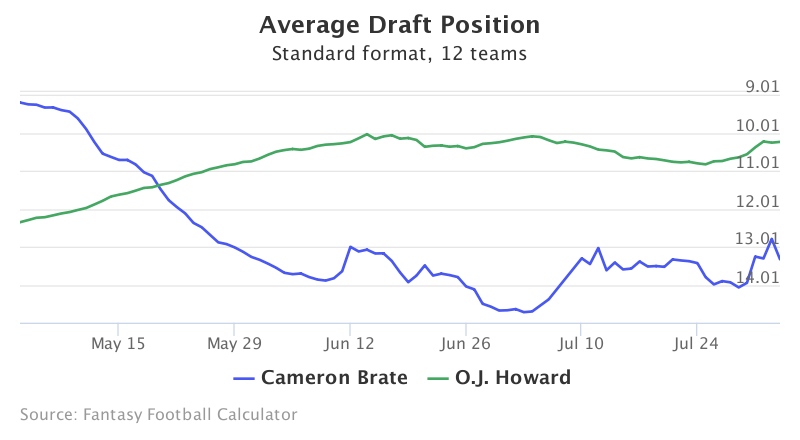 As Michael Fabiano pointed out a few months back, rookie tight ends rarely make an impact in fantasy football (maybe you've heard about this). "Since 2007, only four tight ends out of 148 drafted have finished in the top 12 in fantasy points at the position," Fabs explained.
Even the most talented of tight end prospects need time to round into fantasy-relevant form. Take Eric Ebron for example, who was selected 10th overall by the Lions in the 2014 draft but has taken a couple of years to garner much fantasy attention. The fact that the Bucs' official website has reported that Howard is focusing on the "details" of the position in camp show that he's still raw as an NFL talent, and that's not a surprise.
When you consider the target share factor and added depth all around the offense in Tampa Bay in the form of DeSean Jackson, Chris Godwin and incumbents Mike Evans and Brate (who both dominated red zone looks last year), it's hard to envision Howard getting a ton of opportunities as a rookie. Howard would, at best, be the third option in red zone situations.
I'm not saying to avoid Howard altogether. There's always a chance he puts up solid numbers and bucks the rookie tight end trend, a la Hunter Henry in 2016. But Brate needs to be the first Bucs tight end taken in fantasy drafts. For more on why I'm riding the Brate train this season, check out my late-round tight end values list from last month.
NFL Fantasy season is here! Get in on the fun and join or create a league for FREE.
-- Follow Matt on Twitter @MattFranchise, on Instagram @mattfranchise and like his page on Facebook