Quarterback guru George Whitfield -- who has worked with Cleveland's Johnny Manziel and Oregon's Marcus Mariota -- says he wouldn't be surprised to see the duo wind up as teammates.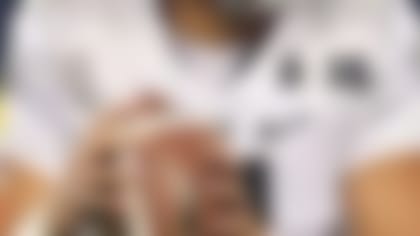 In advance of the draft, Marcus Mariota and others will look to showcase their skills at the combine (Feb. 17-23), only on NFL Network. SCHEDULE
"It's a very real situation, it's always going to be a business and bottom-line situation," Whitfield told Mary Kay Cabot of Northeast Ohio Media Group at the NFL Scouting Combine. "And here they are with two first-round picks, and there are some talented young guys in this draft again that can play quarterback, and if they make that decision to bring him in, that's big for him to get a chance to go in and compete with Johnny."
NFL Media's Albert Breer noted this month that Farmer has "shown a liking" for Mariota, with the general manager telling reporters that coach Mike Pettine has asked the front office to find him a starting quarterback.
Whitfield doesn't know what the Browns will do -- none of us do -- but he does work closely with Kevin O'Connell, the passing tutor who is helping Mariota before moving to Cleveland to become the Browns quarterbacks coach. On the chance of playing in Cleveland, Mariota told reporters Thursday: "That would be an awesome opportunity though. I would love to play for the Browns."
It's worth noting that both Pettine and Farmer dished out lukewarm praise for Manziel, refusing to call him their starter. Currently mired in rehab, last year's No. 22 overall pick is destined to face stiff competition this spring and summer from a gaggle of Browns passers gathered through free agency and the draft.
Still, we'd be surprised to see the Browns -- a team with plenty of needs -- use multiple first-round selections to move up and grab Mariota, who NFL Media's Mike Mayock called a "projection" for every team but Chip Kelly's Eagles.
It boils down to what Cleveland thinks about the former Oregon star and whether they believe he can solve their decades-long black hole at the quarterback spot. It would be highly unusual to see them pick another first-round passer, but nothing the Browns do this offseason would surprise us.