The Bears are slogging through the long end of a fruitless season, but have a chance to do some serious damage to Dallas' future on Thursday night in Chicago. Here are a few things we're watching for at Soldier Field.
Battista: Five Faces of Romo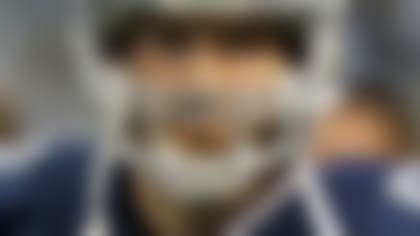 We often balk at weather-related stats attributed to a quarterback unless the sample size is glaring. But by the end of this stretch, we'll have a decent look at how Tony Romo performs outdoors, in cold temperatures and in must-win games. According to Football Outsiders, Dallas' playoff chances are hovering around 50 percent, which means winning out is the safest bet. That also means taking down the Bears in Chicago, the Redskins at FedExField and the Eagles in Philly. For those curious, Romo is currently 2-5 with a 60 percent completion rate in games played under 40 degrees.
DeMarco Murray is still on pace for 384 regular season carries, which would put him 13th all time, just ahead of Ricky Williams in 2002. This is going to get interesting down the stretch because Murray is such a focal point. Dallas is playing in games that should highlight the ground game, but do they run the risk of wearing him down too much if they hit the playoffs?
What a difference a year makes. The last time these two teams played, almost a year to the day, Josh McCown ripped through Dallas' defense for 348 yards and four touchdowns. At the moment, the Marc Trestman hire was still gaining momentum and now we're wondering if he'll see 2015. With games against the Cowboys, Vikings, Lions and Saints to finish out the season, some of the 2013 flavor could go a long way to easing the tension.
It's hard to see a Bears defense that looks like this. Outside of having the No. 10 rush defense in the league, the Bears have been getting torched through the air. Their defense is 30th against the pass, 30th in scoring, 16th on third down and 16th in the red zone. When management attempts to bolster this roster, we'll be curious to see how much desire there is to return to their classic identity.
Dallas often catches heat for losing games like this. It's difficult not to consider the long-term implications of dropping one to the Bears, which would almost certainly derail their chances of reaching the postseason altogether. Jason Garrett and his revamped staff would not survive another collapse.