Is this dude serious right now?
It was borderline weird, if not just a little quirky.
As the clock neared midnight, Griffin was running sprints in a dark hotel parking lot in Aurora, Ohio, where the NFL had just begun its annual rookie symposium. Hundreds of his fellow rookies were inside, hanging in the lobby or relaxing in their rooms, since they weren't allowed to leave the property.
RG3, instead, was doing his best impression of Batman, literally sprinting into the darkness for nearly 100 yards, to the point where you could no longer see him, and could hear only the rapid patter of his feet. He would then turn around and walk back to his starting point, a process he repeated deep into the early morning.
I've come to know Griffin in the months since -- in the wake of dozens of conversations with teammates and coaches -- and he has proven to be everything he appeared to be: Quirky to a refreshing degree. Confident on the fringe of cocky. And one of those guys who has a relentless work ethic that is, well, just a little bit weird.
These are the character elements we're all learning on the fly about one of the most entertaining athletes to hit football in years. They are the lessons that could teach us why he'd stay in last week's wild-card loss to the Seattle Seahawks when his knee was clearly out of service. In the wake of the intense, four-hour surgery on Griffin's right ACL and LCL on Wednesday morning, they are the lessons that should draw close and cautionary attention from the Redskins.
Lombardi: Adding insult to injury
Michael Lombardi says the Redskins must improve FedEx Field's poor surface in the wake of Robert Griffin III's injury. **More ...**
Griffin is unequivocally one of the most enjoyable athletes I've covered. He is everything he represents himself to be, on and off the field, a sentiment that has been shared during conversations with everyone from Redskins offensive coordinator Kyle Shanahan to teammates Rex Grossman and Chris Cooley.
But he is also -- and this is meant in the most complimentary way possible -- his own worst enemy.
As Griffin prepares to begin rehabilitation, his recovery will no doubt be compared unfairly to running back Adrian Peterson's own recovery from major knee surgery. Peterson's recovery, which spanned just seven months before he kicked off one of the greatest seasons ever by a running back, should never be used as a measuring stick. But it will still help drive Griffin's hope -- as well as the hope of an entire region -- as he battles back.
So somebody, please monitor him. Somebody, please keep him from pushing too hard. Somebody, please be brave enough to tell Griffin that his future in the NFL is far more important than the first few games of the 2013 season.
On Wednesday, even Griffin's surgeon, Dr. James Andrews, set high expectations, stating that Griffin's "high motivation" should allow him to make it back in time for next season. That's probably true. But the football world should only hope Griffin doesn't worry about any arbitrary timetables.
After Sunday's game, in the wake of coach Mike Shanahan's highly controversial decision to let Griffin remain on the field because the rookie quarterback told him he could handle it, Shanahan provided a small dose of perspective that has barely resonated in any of the debates that have occurred since.
"I get to know Robert better as time goes on, and I'll know how stubborn he is -- probably more so as time goes on," Shanahan said.
Yes, in some ways, that sounds like a bad excuse, since it didn't take any relationship with Griffin for plenty of viewers to recognize he probably shouldn't have been in the game. After all, if you want a 22-year-old to wear sunscreen at the beach, you'd better squeeze the lotion into his hand, because no warning of future wrinkles is going to make his skin crawl. Plenty of 20-somethings feel invincible -- especially those with a Heisman Trophy. That's not rocket science.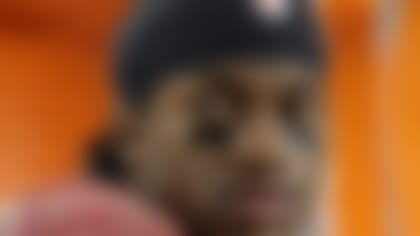 Should Mike Shanahan have pulled Robert Griffin III from Sunday's high-stakes playoff game earlier than he did? **More ...**
Griffin isn't your average 20-something, either. He plays and acts with a maturity beyond his years. He is charming. He is easily capable of convincing a coach, or anyone else, for that matter, to let him keep battling, even at the risk of hurting his knee. But he is still stubborn, just like any other 22-year-old. This is something that Shanahan, based on his postgame comments, seemingly understood too late.
So it is true, in retrospect, that Shanahan erred. We need no more proof than the fresh cut in Griffin's knee to agree on as much. Let this now be a lesson learned -- a harsh and cruel lesson for everyone, from Shanahan to Griffin to any doctor who willingly advised Shanahan that Griffin was healthy enough to stay in the game.
As this organization moves forward, may everyone involved now have a deeper understanding of Griffin's insatiable desire to play through pain. May they recognize his relentless work ethic. May they realize he is unwilling to let anything get in his way -- and may they be sure to step up if he tries to fight too hard to return too soon from Wednesday's surgery.
On the night when Griffin was running sprints in the parking lot in June, he stopped to chat with me for a few brief minutes. We talked about each of us being relatively young, in our chosen professions, as it pertained to our stature in the NFL.
After Robert Griffin III's surgery, Michael Fabiano reveals what fantasy owners should expect from the QB in 2013. More ...
"Well, let's do this thing together," he said. "We've got a long future ahead."
Then, without saying a word, Griffin grabbed a football from the sidewalk. He tucked it into his side. And he sprinted into the night during a surreal moment I'll never forget.
For the sake of his own health, for the sake of the legacy he is capable of leaving behind, let's hope he is patient in his recovery. And let's hope for a long and prosperous future ahead.