Technology is changing the way that NFL teams are training. Performance monitoring systems introduced over the last few years have shaped the way that teams analyze their players during workouts and plan their practices.
Athlete monitoring devices (also known as GPS devices) are designed to track a football player during intense activity. By measuring both the quality (speed of a rep) and quantity (amount of total reps), these devices keep both athletes and coaches aware of the player's workload during a practice and/or an offseason training session.
Leading the athlete tracking industry are companies like STATSports, Catapult and Zebra who make the devices and also provide support to NFL teams who use their products. The cost for each of these devices is around $1,000. These units are used to track how many total yards a player will run during a given workout, how many times they accelerate or decelerate and even how fast they run on a given play.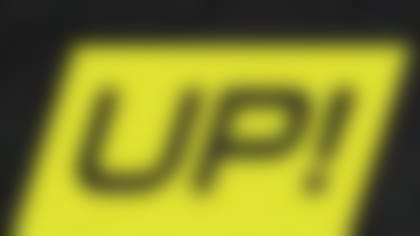 Looking to Up! your game? Take a look at NFL Up! to view workouts and tips from NFL players and trainers to ensure you're ready for game day.  More...
Nearly every NFL team tracks players through a sports science coach. That person typically works under the direction of the head strength and conditioning coach. The Cincinnati Bengals have hired Ignition Athletics Performance Group to help with their sports science initiatives. Jamey Mroz, an employee at Ignition, works under the direction of the Bengals' head strength and conditioning coach, Chip Morton, on a daily basis to monitor players. Mroz tracks players during practice and gives the data to position coaches.
During the season, athlete-monitoring systems are implanted in the jerseys of the football players and removed after practice. During the offseason, players will wear the device inside of a tight fit compression shirt. The data from the devices is then downloaded for the coach to analyze. The Bengals, Carolina Panthers and Kansas City Chiefs are among the teams that use STATSports technology to monitor their players and keep them in peak physical condition.
Zebra Technologies has secured the opportunity to monitor players during games. Feedback from these devices has been outstanding for teams, while also giving fans an inside look at how fast a player is moving during a game and how many yards are covered in a given play.
As technology improves, so should coaching and the fan experience. Athlete monitoring devices have the potential to impact almost all facets of the game.
- Clif Marshall is the Performance Director at Ignition Athletics Performance Group. He also serves as a consultant to the Cincinnati Bengals Strength Staff. Since launching an NFL training business at Ignition in 2008, Marshall has trained hundreds of NFL athletes on all 32 rosters, including league MVPs and top-10 draft picks. Ignition has trained a number of players who hold all-time NFL Combine records.
*Looking to get fit? Check out NFL Up! for workouts and tips and the NFL Up! Instagram feed for quick images and videos. *