College football is finally here! The season kicks off Thursday night with a few games before a full slate of matchups Saturday.
There are must-see games every weekend of the college football season, but I've picked 12 contests on the 2012 slate that stand out above the rest:
Michigan vs. Alabama (in Arlington, Texas), Sept. 1: These two programs have combined to win 25 national championships (at least according to each school). Michigan coach Brady Hoke returns a Heisman hopeful (QB Denard Robinson) and several key defenders, but Alabama has as much young talent as any team in the county.
USC at Stanford, Sept. 15: Behind Andrew Luck, Stanford has won the past three meetings with USC. Fortunately for Lane Kiffin and the Trojans, Luck is now taking snaps in Indianapolis for the Colts. This will still be a tough early test for a USC team that is talented enough to run the table in 2012.
College football predictions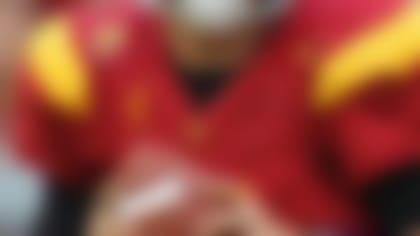 How will Matt Barkley's USC Trojans fare in 2012? NFL.com's analysts share their predictions for the season. **More ...**
Wisconsin at Nebraska, Sept. 29: There definitely will be a lot of red and white in the stands when these two powerful programs meet in Lincoln, Neb. Both teams have legitimate Rose Bowl aspirations in 2012. A win here would give the Cornhuskers a huge boost for their trip to Ohio State the very next Saturday.
Georgia at South Carolina, Oct. 6: This game definitely could decide the winner of the SEC East. Both teams return top talent on defense, while the Bulldogs also bring back one of the top quarterbacks in the entire country, Aaron Murray.
Texas vs. Oklahoma (in Dallas), Oct. 13: This is always a must-watch affair. The Sooners should be the favorite in this contest, but the Longhorns will be a much-improved squad in 2012.
Michigan State at Michigan, Oct. 20: This in-state game will go a long way in deciding the Big Ten Legends division. Michigan State has one of the top defenses in the entire country, and the Spartans have won four in a row in this rivalry series.
Alabama at LSU, Nov. 3: Pretty simple: The winner of this game likely will be in position to play for the national championship -- again.
Oregon at USC, Nov. 3: The road team has won the past two meetings between the Ducks and Trojans. Both teams have a very good shot at entering this contest undefeated. This very well could be the first of two meetings in 2012, as both squads are favored to reach the Pac-12 title game.
Oklahoma at West Virginia, Nov. 17: The Sooners will face a very steep challenge in this game. West Virginia is loaded with speed, and Morgantown is one of the most hostile environments in all of college football. The Mountaineers have a legitimate chance to win the Big 12 in their inaugural season in the league.
LSU at Arkansas, Nov. 23: These two teams have played some incredibly entertaining games over the past decade. On offense, Arkansas has the quarterback (Tyler Wilson) and skill-position talent to challenge a vaunted LSU defense.
Florida at Florida State, Nov. 24: When these two teams met last year, neither was ranked in the Top 25. That shouldn't be the case when they get together in November. Florida State returns a veteran quarterback in E.J. Manuel and a loaded defense, while Florida should be much improved on offense in Will Muschamp's second season.
Michigan at Ohio State, Nov. 24: This is arguably the biggest rivalry in all of sports. Michigan finally ended a seven-year drought against Ohio State with a 40-34 win last November, but the Buckeyes will look to regain bragging rights in Urban Meyer's first season at the helm.