PITTSBURGH -- The starting defense the Pittsburgh Steelers thought they were getting when the season opened finally practiced together on Monday.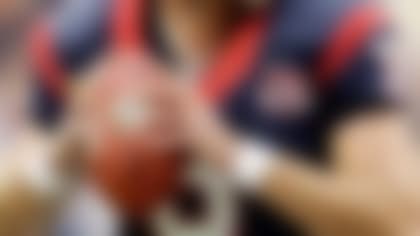 Our analysts provide Super Bowl picks with four Sundays in the books. Matt 
Schaub's Texans get love on the AFC side. More ...
The perennial Pro Bowl safety says he felt "pretty good" and was grateful to see a slew of familiar faces on the practice field, Harrison's included.
"We'll see what happens, but it's been a while since we've all been on the field together," Polamalu said. "There are some other new faces out there who have been permanent starters, so it's all about how well 11 guys mesh on our defense."
The Steelers have struggled to generate much of a pass rush and the secondary had trouble in a 34-31 loss in Oakland on Sept. 23. Having a pair of healthy former Defensive Player of the Years would certainly help.
"We just have to get ourselves on the winning side of things, because nobody cares about losing teams," Polamalu said. "We just haven't been executing that well, (so) whatever the call is that coach (Dick) LeBeau has made, we just haven't been executing it that well at all. It really has nothing to do with the scheme of things. It's just that we're not executing and not performing well."
The Steelers could also get a boost to the running game with the possible return of Rashard Mendenhall, who hasn't played since tearing the anterior cruciate ligament in his right knee against the Cleveland Browns on New Year's Day. He's practiced regularly over the last three weeks and a comeback is imminent.
"We're gauging it, me and the coaches, and when we get to the point where we all think I can play then I'll get back in there," Mendenhall said.
Copyright 2012 by The Associated Press