Niners general manager Trent Baalke on Wednesday wasn't in the mood to discuss his previous coach, telling reporters at the NFL Scouting Combine that he's finished talking about the split.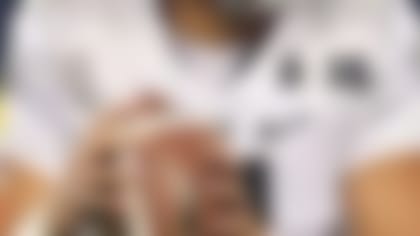 In advance of the draft, Marcus Mariota and others will look to showcase their skills at the combine (Feb. 17-23), only on NFL Network. SCHEDULE
"I have no response to that," Baalke said. "You know, Jim's moved on, we've moved on. He's done a heck of a job. We've got a new head football coach and we're trying to get ready for the draft, free agency and the offseason."
Asked again if he and team owner Jed York forced Harbaugh out the door after the new Michigan coach guided the 49ers to three NFC title game appearances in four seasons, Baalke again cut it off.
"Once again, he's moved on and we've moved on and I think the important thing for us now is just to look forward and that's what we're trying to do," Baalke said. "And we've got three important things happening here coming up and I know that's where my focus is."
Here's what else we learned from Baalke in Indy:
Beyond the Harbaugh drama, Baalke spent time Wednesday answering questions about a report from NFL Media's Albert Breer that former Broncos -- and current Bears -- play-caller Adam Gase likely would have landed the Niners job if he agreed to hire Jim Tomsula as his defensive coordinator. "The 49ers job was offered to one person and one person only," Baalke said. "Jim Tomsula."
Around The NFL cornered Baalke on his way out to ask about the team potentially re-signing wideout Michael Crabtree and guard Mike Iupati. Both are set to hit free agency next month, but Baalke told us: "It's important to us to always work on our own free agents first, so we'll be in discussions and see how those discussions go." Baalke also acknowledged: "It is a business, and you cannot, within the system, take care of everybody. So there are going to be players that you're going to have to move on from."
What about Frank Gore? The general manager compared the veteran free-agent back to the Energizer Bunny, saying: "Frank just keeps on ticking. I still think he's got it in him." Baalke told reporters that he even spoke to Gore last week about the future, but we remain unconvinced the team will bring him back.
Baalke praised the "hard-working" Colin Kaepernick for going out of his way to spend the offseason working with former NFL quarterback Kurt Warner. Asked what the Niners passer needs to improve about his game, Baalke told us, "You'd have to ask him."