With 50 Super Bowls in the books, Dave Dameshek -- with the help of Elliot Harrison and Gil Brandt -- has taken a look at how our perception of superior quarterback play has evolved in the Super Bowl era, using every 10th Super Bowl as a check-in point. Watch NFL Network every Monday night for "Monday Night Quarterback," which answers all the burning questions surrounding football's leading men.
Undeterred by the challenge of having tried -- and succeeded -- in 100 percent correctly ranking NFL QBs over the last half century, I feel ready to take on the world ... or at least the near future of NFL QBs. We already have approached the preceding rankings in 10-year increments ... so, just for fun, let's project how the list might look a decade from now, just after Super Bowl LX has been committed to history in February 2026.
Before we get to my order, let's consider the forecasts of two of my NFL Media colleagues -- Elliot Harrison, who has a special affinity for NFL history, and Gil Brandt, who served as the vice president of player personnel for the Cowboys from 1960 to 1989: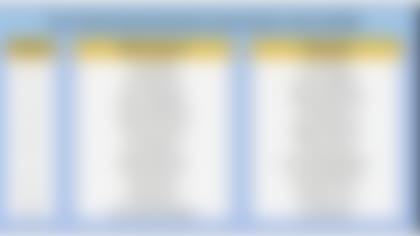 OK, now allow me to reveal the findings in my own crystal ball:
Even if he decides to hang 'em up right now (which I don't anticipate him doing now that he's got Gronk and Martellus and Hogan and Edelman and Dion Lewis, etc. ... adding up to Brady having as good a chance as any QB to claim the next available Lombardi), it's tough to conjure who could reasonably catch him over the next 10 years.
He'll be 33 by the end of 2016, but that's no reason to sweat the window closing on his prime just yet. Then again, maybe Brady and Peyton Manning have created a false sense of what's possible for a QB in his late 30s. A-Rod's skills combined with one more ring will vault him to the second spot, and it says here that he and the Pack will get it. By the way, there are plenty of ways to verify Rodgers' greatness, both viscerally and statistically. While I prefer just using my eyeballs, one remarkable stat -- even understanding the generational advantage he and his peers have -- is his career TD-to-INT ratio of 257:65.
Why is Montana losing ground? Well, this is operating under the assumption that Rodgers has two rings -- as predicted above -- despite playing with a roster that (at least to this point) has never come close to several of the ones with whom Joe Cool won his.
If Big Ben can win a third Super Bowl ring while continuing to rack up the sorts of big numbers he has the last few seasons (and we're gambling he will), it'll be hard to conjure a case against his lofty placement here.
Remember a few years ago when the Pistol, spread option and their close cousins were gonna change pro football forever? Well, RGIII got hurt, Kap flamed out, and now, only Superman is left standing. And whether you consider his celebrations delightful or a sign of the apocalypse, Cam is one of the most distinctive, dynamic, productive performers in quarterbackin' history. Starting with his rookie season (which was nothing less than the best ever for an NFL quarterback), he's been just plain dominant: He's the best runner the position's ever seen; he's won three straight division titles (and let history never forget that he went 15-1 with Ted Ginn Jr. and Philly Brown as his starting WRs!); he's played in a Super Bowl; and he's claimed an MVP. You still think No. 5 is too high for him 10 years from now?
Unless gunslinging heroics go out of style over the next decade, the five-time Super Bowl participant's place on "Best Ever" lists is secure.
Here's what's working against Marino and his generation's contemporaries when comparing them to 21st-century QBs: Back in Marino's prime, it was (mostly) only the high-end guys putting up big numbers. These days, every Tom, Dick and Matty throws for 4,000 yards and 30 TDs. In 1985, Marino was the only QB to throw for over 4,000 yards (4,137 to be precise). In 2015, 12 guys did it with Derek Carr missing by 13 yards and Roethlisberger falling just short in spite of only playing parts of 12 games. In '85, Marino's 30 TDs led the league, while in '15, 11 guys threw at least 30 TDs. (Also interesting: Eight '85 passers threw at least 20 INTs, while Blake Bortles' 18 led the league in '15.) When it comes to lists like this one, Elway and Montana can overcome those generational shortcomings because of their postseason success, but Marino has no such luxury.
Even assuming the aforementioned inflation of numbers here in the 21st century continues, Peyton's combo of statistical production and longevity sets the bar (impossibly?) high for his successors to reach in 2026. Matter of fact, 2026 might hold No. 18 in even higher regard as the specifics of his performance in 2015 grow fuzzy, that second Lombardi on his résumé may be all that stands out.
Whether you like it or not, the résumé of the soon-to-be Mr. Ciara is in good shape heading into the new decade of Super Bowls: two appearances, one victory (What if he'd just handed off to Lynch?!), and he's just 27. Diminish him because of the great roster he's gotten to lead if you want, but he is already one of history's most bedeviling scramblers, rarely turns the ball over (single-digit picks in each of the last three seasons) and just plain has that rare sense of relentlessness when things get darkest. In other words, he's clutch.