Akbar Gbajabiamila, an analyst on "NFL Fantasy Live," played defensive end for three NFL teams from 2003 to 2007. In his "Inside Out" column, he offers a player's perspective on topical events around the league.
Training camps are still a few months away, and already, every team in the NFL has made a major mistake:
They've overlooked the winning record of Tim Tebow.
Tebow is not currently on an NFL roster -- and likely won't be in the 2013 season -- for a few asinine reasons. First, teams fear the media distractions he'd bring to the locker room. And second, there seems to be a persistent perception that his flaws will prevent him from being a productive NFL player. However, if decisions about Tebow were based on his past performance, he would still have a job.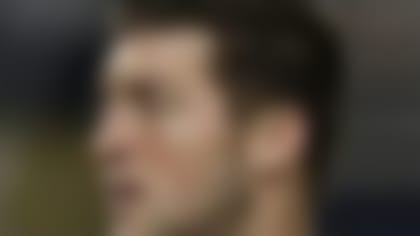 Pundits have tried to erase the success Tebow had in 2011 with the Denver Broncos, but make no mistake: It all happened. He did mount multiple fourth-quarter comebacks and notch four overtime victories; he did rush for 118 yards and throw for two touchdowns in one game; he did complete 66 percent of his passes and throw for two touchdowns in another. And who can forget about the wild-card matchup with the Pittsburgh Steelers, in which the quarterback who once had the Bible citation "John 3:16" painted into his eye black threw for, yes, 316 yards and two touchdowns -- including an 80-yarder to win the game in overtime?
In the locker room, we had a word to describe that kind of personal highlight reel: ballin'.
Last season, Quinn "finally" got his (second) chance to start for a team on a weekly basis. The result? Two touchdown passes, eight interceptions and a 1-7 record in eight games. Yet, he still landed a job backing up Russell Wilson with the Seahawks -- the same team whose general manager, John Schneider, responded to the suggestion that he might sign Tebow with a disdainful "Uh, no." How does it make sense to hire someone who has known only failure while ignoring a proven winner? Even the most ardent anti-Tebow football fan has to admit that Tebow played better than Quinn did in 2011.
NFL general managers seem to think that a team can't win a Super Bowl with Tebow at quarterback. However, there was also a time when they thought a team couldn't win a divisional championship or a playoff game behind him -- and they were wrong about that.
When Tebow was waived by the New York Jets, it was hardly a surprise, considering that the Jets went out of their way to avoid giving Tebow a legitimate chance to lead their offense.
Players who are found lacking in one area often grow in another, in order to justify having a spot with a team. Tebow has definitely developed what I would call "gamer swag." Yet, in Week 17 of last season, with third-string quarterback Greg McElroy injured, the Jets turned not to Tebow, but back to struggling starter Mark Sanchez. Why did the Jets seem so determined to keep Tebow and his "gamer swag" off the field?
Here's the truth as I see it: Many coaches let pride or fear of media and fan scrutiny affect the decisions they make about star players.
Tebow reminds me of Doug Flutie, who was run out of the NFL in 1990 -- not because of an inability to play, but because people didn't believe someone as short as he was could be a franchise quarterback. It took a prolific eight-year stint in the Canadian Football League for Flutie to get a shot to prove everyone wrong. And he did just that, making the Pro Bowl in 1998 and leading the Buffalo Bills to their last two playoff appearances in 1998 and '99.
As a former player, I know athletes want to be judged by their performance. Flutie, dismissed out of hand by a quick-to-judge football world, had to leave the country before that could happen for him.
I fear Tebow might have to follow in Flutie's footsteps before he gets another chance to show he can do what we've all seen him do: win in the NFL.