FOXBOROUGH, Mass. -- The New England Patriots announced today that Tedy Bruschi has been voted by fans as the 19th player and 21st member to enter the PatriotsHall of Fame. Bruschi will join Gil Santos, the Voice of the New England Patriots, at an induction ceremony during training camp scheduled for Sunday, Aug. 11. The induction ceremony is open to the public and Patriots fans are encouraged to attend. Bruschi will also be honored during a halftime ceremony at the 2013 home opener when the Patriots host the New York Jets on Thursday, Sept. 12.
Debate: Pats due for a setback?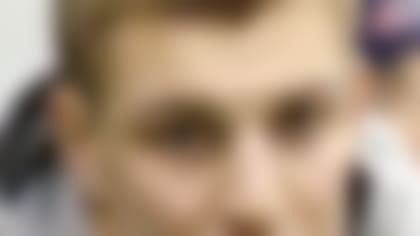 With Rob Gronkowski still not healthy, our analysts debate whether the Patriots are bound to take a step backward in 2013. More ...
"We knew when we drafted him in 1996 that 'Bruschi' was going to be a fan favorite in New England," said Patriots Chairman and CEO Robert Kraft. "But, he was so much more than that. During the most successful era in the history of the franchise, Tedy was the heart and soul of the defense and proved to be a champion, both on and off the field. He was a high-energy, tenacious defender whose playmaking abilities helped propel the Patriots to three Super Bowl championships in four years. His remarkable and courageous return to the field following a stroke only added to his legend and solidified his place among the most iconic Patriots in franchise history. We look forward to celebrating his induction with our fans."
Bruschi joins Drew Bledsoe (2011) and Troy Brown (2012) as the only players to be selected by the fans into the PatriotsHall of Fame in their first year of eligibility.
In April, a 19-person nomination committee, comprised of media, alumni and staff, selected three candidates for consideration for the PatriotsHall of Fame. The three finalists were Bruschi, head coach Chuck Fairbanks and offensive tackle Leon Gray. Fans had a month to vote on Patriots.com for the candidate they believed was most deserving of Hall of Fame induction.
Bruschi was called the "perfect player" by Patriots Head Coach Bill Belichick at the press conference to announce Bruschi's retirement prior to the start of the 2009 season. As a seven-time team captain, Bruschi's relentless work ethic and on-field intensity helped set the tone for the entire team.
Bruschi was originally drafted by the Patriots in the third round of the 1996 NFL Draft. That year, the Patriots won the AFC Championship and appeared in Super Bowl XXXI. It was the first of five Super Bowl appearances by Bruschi during his 13-year NFL career. Bruschi helped propel the Patriots to 11 winning records, nine playoff seasons, including eight as division champions, five conference crowns and three Super Bowl titles. In Bruschi's 211 career games (including regular-season and playoffs), the Patriots had a 144-67 (.682) record, including a 16-6 (.727) playoff mark.
Bruschi earned his first Pro Bowl honor following the 2004 season after co-captaining a Patriots defense that allowed just 16.25 points per game, the third fewest in franchise history. Bruschi is the only player in NFL history to return four consecutive interceptions for touchdowns and his career total of four picks returned for scores ranks second in Patriots history. Bruschi is the only Patriots linebacker to return multiple interceptions for scores in a single season (2002 and 2003), which is tied for fourth in NFL history among linebackers.
Beyond his impressive numbers, fans and peers alike revered him for his accomplishments off the field. After Bruschi suffered a stroke in February 2005, he dedicated himself to raising funds and awareness to fight stroke along with the American Stroke Association. He established "Tedy's Team" to help raise funds and awareness to battle stroke, the number one cause of disability in the United States.